Dow Jones Elliott Wave view in short-term cycles suggests that the rally to 24827 on 4/17/2018 high ended Intermediate wave (X). Below from there, Intermediate wave (Y) remains in progress as overlapping structure suggesting that the move lower is corrective in nature. The move lower from 24827 peak is proposed to be unfolding as an Elliott Wave Double three structure.
Down from 24835 high, Minute wave ((w)) ended at 23786 and Minute wave ((x)) ended at 24461. The internals of Minute wave ((w)) unfolded as a Zigzag Elliott Wave structure where Minutte wave (a) of ((w)) ended at 24290, Minutte wave (b) of ((w)) ended at 24600, and Minutte wave (c) of ((w)) ended at 23786. The index then made a bounce higher & finished correcting cycle from 4/17 high (24827) in Minute wave ((x)) bounce at 24461 as a Flat structure.
After ending Minute wave ((x)) at 24461, the Index turned lower and it has managed to break below the previous wave ((w)) low (23786), adding conviction that the next leg lower in Minute wave ((y)) has already started. Down from 24461, Minutte wave (w) of ((y)) ended at yesterday's low 23753 and Minutte wave (x) of ((y)) may have ended at last high 24115. A break above 24415 from here means that Index is still within Minutte wave (x) of ((y)) and doesn't change the overall view as far as the rally stays below 24461. Near-term, as far as bounces fail below 24461 high and more importantly below the 24835 high, expect Index to resume the next leg lower towards 23416 -23170 area next before a bounce in minimum 3 swings takes place. We don't like selling it.
Dow Jones Elliott Wave 1 Hour Chart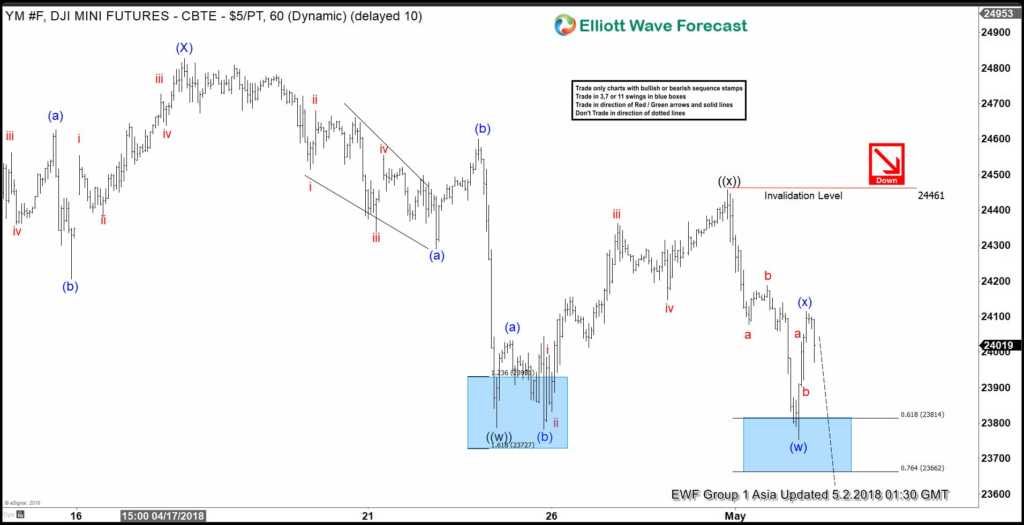 Back