In this blog, we will have a look at past Elliott Wave structures of the Dow Jones. In the chart below, you can see the 1-hour NY updated chart which we presented to our clients on the 04/16/18. Calling for an Elliott Wave double correction higher as the internals from red W-X-Y proposed to be unfolding in 3-3-3.
With the break of 04/05/18 high (red wave W high), we explained to our members that the index had space for an extension higher to around 24816+ areas. Which are the equal legs of red W-X. We mentioned that this is the area where a pullback to the downside should appear, according to Elliott Wave hedging. Consequently, we advised members that the right side remains to be to the downside.
Dow Jones 04.16.2018 1 Hour Chart Elliott Wave Analysis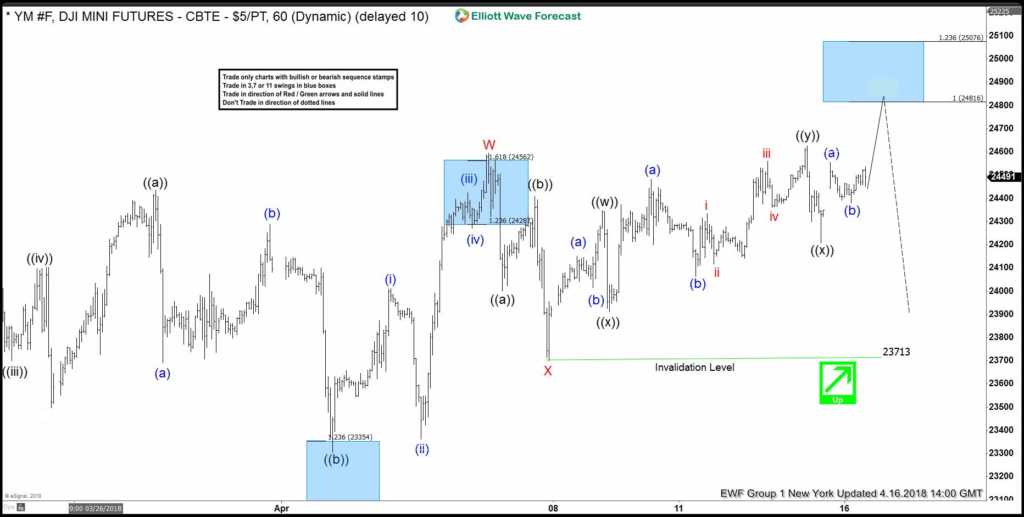 In the Elliott Wave chart below, you can see that Dow Jones made another push higher in red wave Y to the equal legs of 24807+.  Mentioned in the first chart.  It bounced from the 24807+ hedging area and continued the short-term weakness. From that top, the market was unfolding as a 5 waves Elliott Wave structure move lower. Where it has ended the first leg of the black wave ((a)). We ideally should end the correction soon followed by another leg of extension lower. As long as the pivot at 24835 in our distribution system stays intact.
 Dow Jones 04.25.2018 1 Hour Chart Elliott Wave Analysis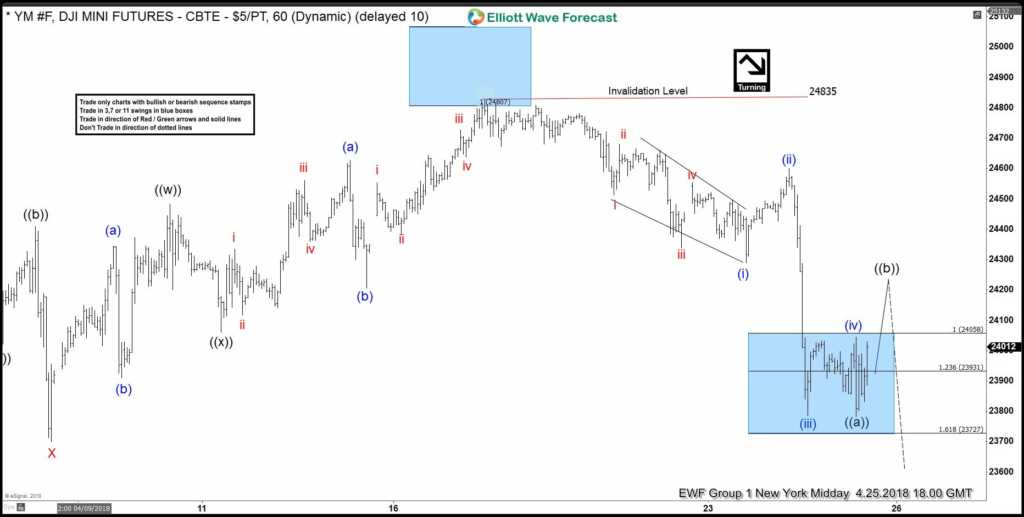 I hope you liked this blog and I wish you all good trades. Don't forget to sign up and get 30% Discount on Gold and Platinium plans!!
We believe in cycles, distribution, and many other tools in addition to the classic or new Elliott wave Principle. To get a regular update on the market and Elliott wave charts in 4-time frames.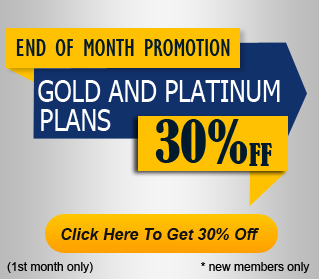 Back