The last time I took a look at Datadog was a few months ago.  At the time, my favoured view was looking for a pullback to correct the low from May 2021.  You can view this article here.
Lets take a look at the expectation in December 2021.
DataDog Elliottwave View December 2021: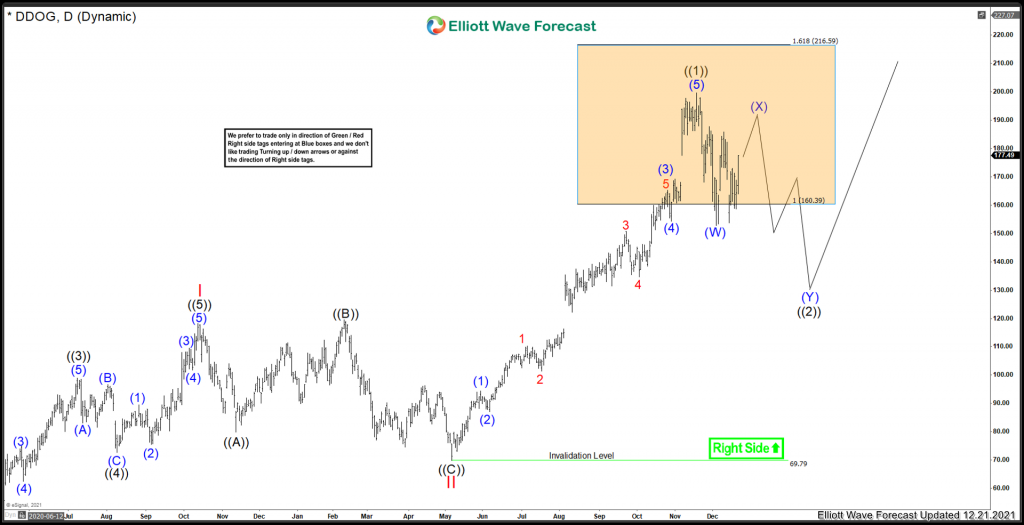 As mentioned above.  I was looking for the pullback to go deeper in ((2)) before resuming higher.  Lets take a look below at how this stock performed.
DataDog Elliottwave View February 2022: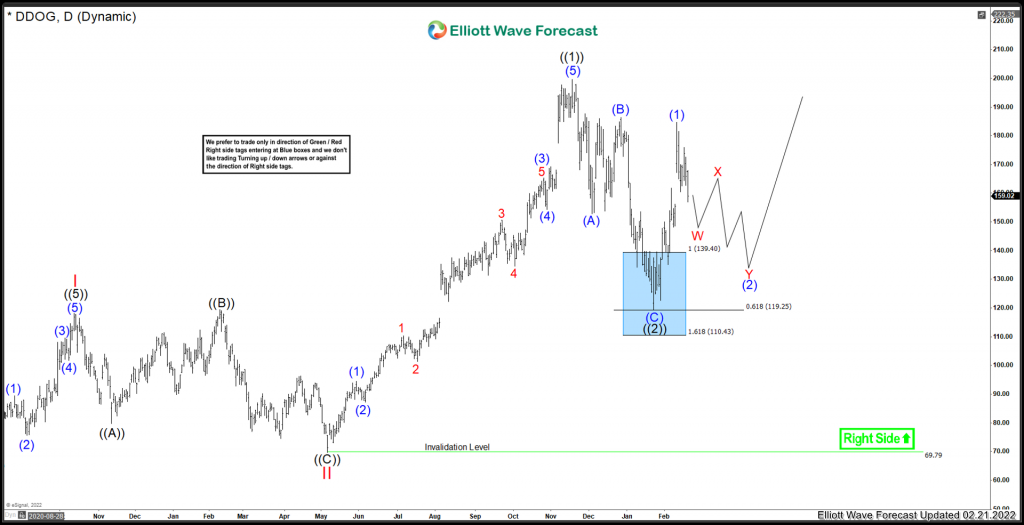 It is hard to get a better level for a dip than what the market provided for DDOG.  Once the connector was complete in (B) of ((2)), the market declined impulsively right into the blue box area.  In addition to entering the blue box, prices retraced to the 61.8 retrace of the rally from Red II to ((1)) peak.  This is a common area where a wave 2 retrace depth takes place.
The reaction from the blue box has resulted in a sharp reaction that is favoured to have peaked in blue (1).  Price action is suggesting a pullback against the Jan 24 low is now taking place.  In the absence of a connector for (2), we can look to the 61.8 retrace of the ((2)) to (1) rally, which comes in at 144.33.  This is the area where a bounce can take place for the next leg higher as long as the ((2)) low @ 119.19 remains intact.
Risk Management
Using proper risk management is absolutely essential when trading or investing in a volatile stocks.  Elliott Wave counts can evolve quickly, be sure to have your stops in and define your risk when trading.
Improve your trading success and master Elliott Wave like a pro with our 14 day trial today.  Get Elliott Wave Analysis on over 70 instruments including GOOGL, TSLA, AAPL, FB, MSFT, GDX and many many more.
Back