Consol Energy (NYSE:CNX) is the largest producer of bituminous coal in the United States and the largest exporter of U.S. coal, It managed to survive through the major disruption in the financial markets because of its diversification strategy around natural gas and other services. Despite being one of the oldest company in the industry, originally created in 1860 as the Consolidation Coal Company , Consol Energy only went public in 1999 in order to pay down some of its debt and in 2010 it was named by Forbes magazine as one of the "100 Most Trustworthy Companies."
In January last year, CNX price dropped to new all time lows before finding a bottom on 01/20/2016 then doing an amazing rally during the rest of the year to close for a total gain of +300% following the rise of Coal prices and outperforming the rest of commodities stocks. So let's jump to the technical chart to analyse the current situation and see the potential path for company.
Consol Energy Elliott Wave Analysis
CNX has a bullish sequence from January 2016 low as it rallied in 5 waves forming a leading diagonal in wave A which ended on 12/08/2016. From there it started doing wave B pullback to correct that cycle in a double three Elliott wave structure which missed equal legs area $14.41 by few points.
The cycle from the peak is mature and have enough number of swings in place to call it completed , so with a break above the descending trend-line we can have a confirmation that wave B is already in place and the stock has resumed the move to the upside or there will be at least a 3 waves bounce.

Zooming out to the weekly chart, Consol Energy is proposed to have ended a super cycle at $4.54 low and currently doing a larger 3 waves bounce which would ideally turn out to be the first leg of a new bullish cycle. The stock needs to break above December 2106 peak to resume the rally and open the extension higher toward equal legs $32.61 which will represent the first target area from the low.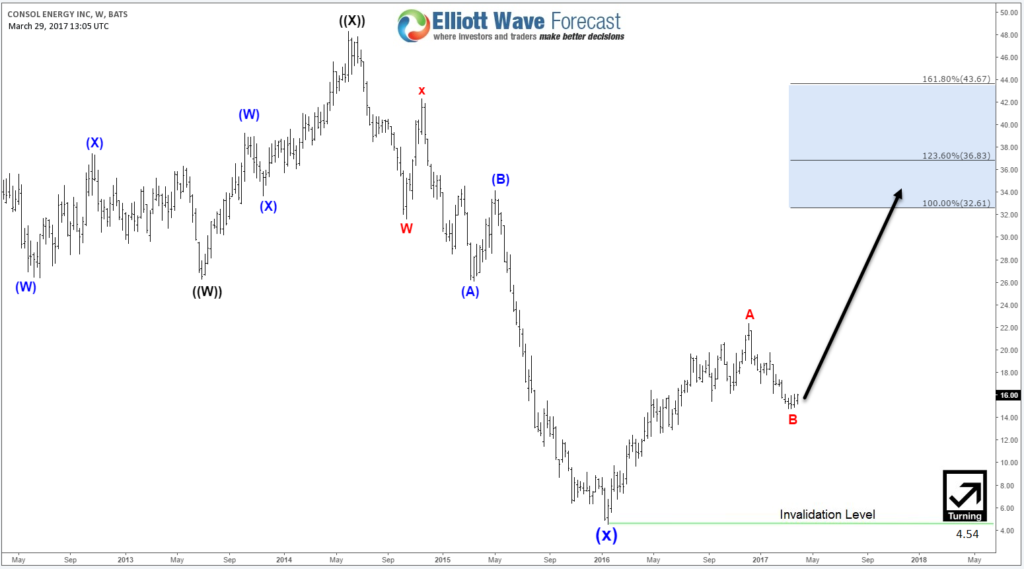 If CNX fails to break above $22.34 peak then it could be still correcting 2016 cycle and it will be looking to reach the 50%-61.8% Fibonacci retracement area at $13.44-$11.34 before the stock can resume the move higher as long as it keeps holding above $4.54 low.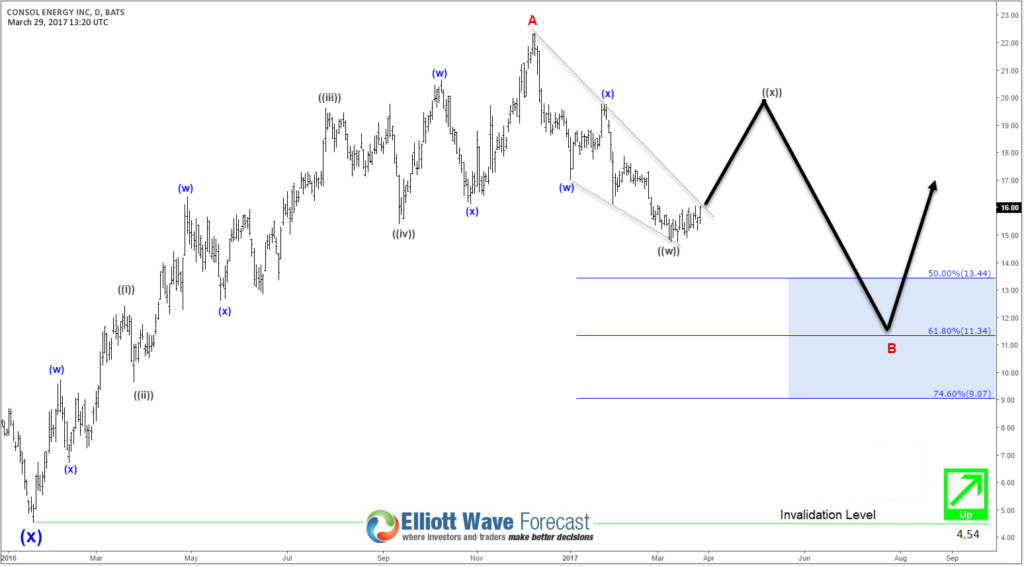 Recap :
Consol Energy is one of the United States's largest coal and natural gas companies that despite the falling of its stock price since the 2008 financial crises managed to pull it through. The company stock CNX  have a technical bullish Elliott wave sequence calling for more upside if it manage to break above 2016 peak that's why it would be a good idea to add it to the watch list for potential buying opportunities if not already long.
---
If you enjoyed this article, feel free to take a look at our Technical Blog and also check the Chart of The Day .
For further information on how to trade forex, indices, commodities and stocks using Elliott Wave Theory ,  try us 14 days for FREE . You will get access to our Professional Elliott Wave analysis in 4 different time frames, Daily Elliott Wave Setup Videos , Live Trading Room and 2 Live Analysis Session done by our Expert Analysts every day, 24 hour chat room support, Weekly Technical videos and much more so if you are not a member yet, use this opportunity and sign up to get your FREE trial .
Back