The last time I analyzed Camber Energy was back in March 2022.  At the time I was looking for one more high to take place before pulling back against the rally from Februray 2022 low.  Firstly, lets review what the company profile:
Camber Energy, Inc. ("Camber") is a growth-oriented, diversified energy company. Through its majority-owned subsidiary, Viking Energy Group, Inc. ("Viking"), or subsidiaries of Viking, Camber provides custom energy & power solutions to commercial and industrial clients in North America and owns interests in oil and natural gas assets in the United States. Viking also holds an exclusive license in Canada to a patented carbon-capture system.
Camber Energy Elliottwave View from March 2022: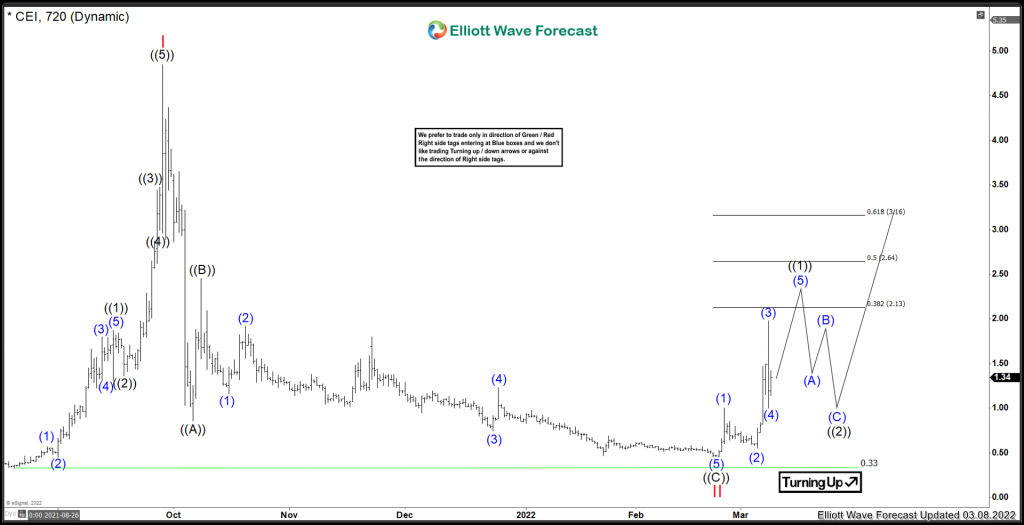 As mentioned above, I was expecting another push higher in black ((1)) before resuming lower.  The market had difference expectations.  This stock has failed to produce another high and instead pulled back to correct the cycle from the Feb 2022 low.  Lets take a look at the adjustment below.
Camber Energy Elliottwave View from May 2022: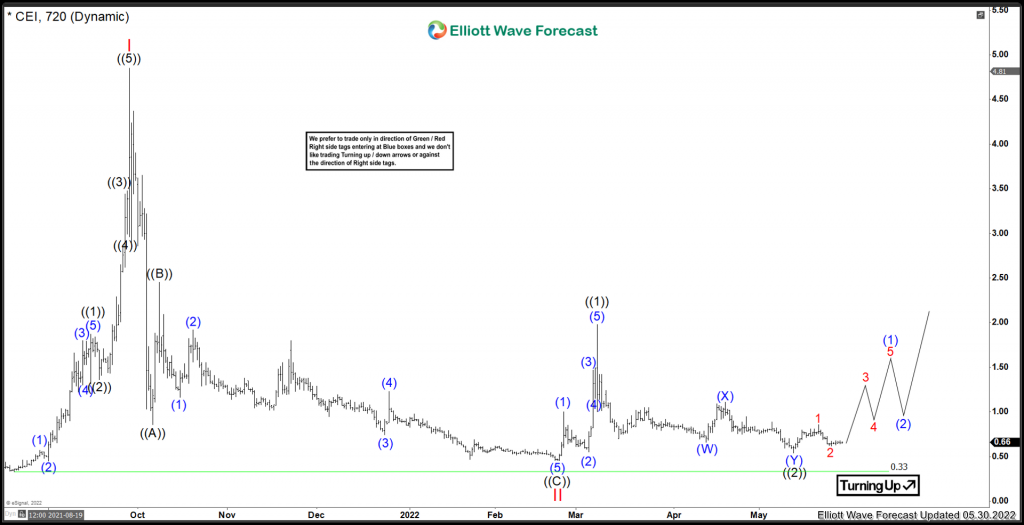 Medium term term view from the Feb 22/2022 low at 0.45.  The stock currently has 5  waves up from the Feb 2022 low, and has completed the pullback against the Feb 2022 low.  This pullback in ((2)) was completed May 12/2022 @ $0.54 .  As long as 0.54 remains intact further upside is still favoured to take place.  It is very important that the recent Feb 2022 lows remain intact.  Any breach of that level could suggest that new all time lows could be on the way.  On the upside, the target area for Red III is 4.98 to 7.78.
Risk Management
Using proper risk management is absolutely essential when trading or investing in a volatile stocks.  Elliott Wave counts can evolve quickly, be sure to have your stops in and define your risk when trading.
Improve your trading success and master Elliott Wave like a pro with our 14 day trial today.  Get Elliott Wave Analysis on over 70 instruments including GOOGL, TSLA, AAPL, FB, MSFT, GDX and many many more.
Back