Volkswagen AG is a German multinational automotive manufacturing corporation. It designs, manufactures, and distributes passenger and commercial vehicles, motorcycles, engines, and turbomachinery. Today, it is the largest automaker in the world in terms of sales. Founded in 1937 and headquartered in Wolfsburg, Germany, the company is largely owned by Porsche and Piëch family. Volkswagen is a part of DAX30 and Eurostoxx 50 indices. One can trade it under the tickers $VOW3 and $VOW at XETRA.
Volkswagen Monthly Elliott Wave Analysis 08.08.2021
The monthly chart below shows the Volkswagen stock $VOW3 traded at XETRA. From all-time lows, the stock price has developed an Elliott wave motive wave pattern. The cycle up in black wave ((I)) being of grand super cycle degree has ended by printing its top at all-time highs on March 2015 at 262.45. Within the grand super cycle ((I)), the blue waves (I), (III) and (V) of super cycle degree are impulsive waves. Moreover, wave (III) shows an extension. Between wave (V) and wave (III), one can see a divergence in RSI. All these characteristics supported the maturity of the grand super cycle in wave ((I)). After 5 waves up, according to Elliott wave principle, the price needs to retrace in 3 waves lower. Only then another advance higher can start.
Indeed, a correction lower in black wave ((II)) has developped a zigzag pattern. It has ended on March 2020 at 79.38. From there, a new cycle in black wave ((III)) has started and should break above 262.45 high. The target will be 342.17-504.45 area and possibly higher.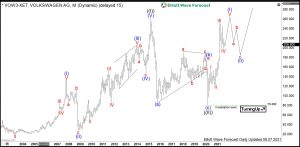 Volkswagen Daily Elliott Wave Analysis 08.08.2021
The daily chart below shows in more detail the advance higher in blue wave (I) of black wave ((III)). First, red wave I of blue wave (I) has developed a leading diagonal pattern ended in June 2020 at 155.54. From there, a pullback in wave II has found a bottom at 122.96. Then, wave III  has reached 252.20 in March 2021. A pullback, hereafter, in red wave IV saw a low at 198.18 in July 2021. While above there, expect more upside within wave V. Medium-term, Volkswagen can reach 265.02-285.77 area. Then a larger pullback in wave (II) should retrace a part of the advance in wave (I) before acceleration in wave (III) of ((III)) should take place.
Long-term Investors should not chase the BMW stock at current prices. Since the world indices might be ending their cycles from March 2020 in the second half of 2021, it is reasonable to wait for a pullback in the Volkswagen stock as well. Investors and traders can be looking to buy $VOW3 in a pullback against 79.38 lows in 3, 7 or 11 swings targeting 342.17-504.45 area in a long run.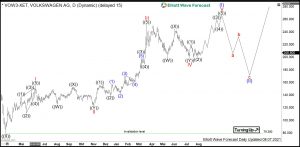 Get more insights about Stocks and ETFs by trying out our services 14 days . You'll learn how to trade the market in the right side using the 3, 7 or 11 swings sequence. You will get access to our 78 instruments updated in 4 different time frames, Live Trading & Analysis Session done by our Expert Analysts every day, 24-hour chat room support and much more.
Back