BNP Paribas is a French international banking group being within 10 largest banks in the world. Headquartered in Paris, it is a merger of Banque Nationale de Paris (BNP) and Paribas. BNP Paribas is a part of Euro Stoxx 50 (SX5E) and CAC40 indices. Investors can trade it under the ticker $BNP at Euronext Paris and under $BNPQY in US in form of ADRs. The group is engaged in retail banking serving more than 30 millions of customers and investment banking operations. BNP Paribas is present on five continents operating in 72 countries.
In the initial article from September 2020, we have predicted that a trampoline for a breakout is building up. We were right. Now, BNP Paribas provides an opportunity in a pullback. Here, we present an update.
BNP Paribas Monthly Elliott Wave Analysis 01.06.2022
The monthly chart below shows the BNP Paribas stock $BNP traded at Euronext Paris. From the all-time lows, the stock price is showing an Elliott wave motive wave pattern. The cycle up in blue wave (I) of super cycle degree has ended by printing its top on May 2007 at 92.39. After 5 waves higher in (I), the correction in wave (II) has ended on January 2009 at 20.08.
From the 2009 lows at 20.08, $BNP has developed a leading diagonal pattern higher towards 69.21 level in red wave I. Within that cycle, one can see 5 overlapping subwaves of primary degree. After 5 waves, subsequently, a deep correction in wave II has found a bottom in April 2020 at 24.50. From the lows, wave III has started. Break of the 69.21 highs, will confirm that. The target for wave III is 73.56-103.95 area and even higher.

BNP Paribas Daily Elliott Wave Analysis 01.06.2022
The daily chart below shows the first stages of the wave III from the April 2020 lows. The rally towards 63.59 highs is only the wave ((1)). Currently, a pullback in world indices might create the wave ((2)) pullback in $BNP. This pullback should find support in 3, 7 or 11 swings against the 24.50 lows for an acceleration higher in wave ((3)) of III.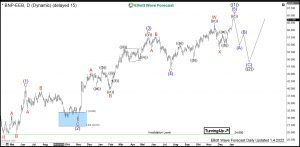 Get more insights about Stocks and ETFs by trying out our services 14 days . You'll learn how to trade the market in the right side using the 3, 7 or 11 swings sequence. You will get access to our 78 instruments updated in 4 different time frames, Live Trading & Analysis Session done by our Expert Analysts every day, 24-hour chat room support and much more.
Back