The Metals sector has been slowly coming back since the lows in late 2015 and is ready for prime time attention.  B2Gold Corp is a name that has an exceptional looking chart that is worth examining with Elliott Wave technicals.  B2Gold is a low-cost international senior gold producer headquartered in Vancouver, Canada. Founded in 2007, B2Gold has three operating gold mines and numerous exploration and development projects in various countries including the Philippines, Namibia, Mali and Colombia. In 2020, B2Gold forecasts consolidated gold production of between 1,000,000 and 1,055,000 ounces.
We are going to take a look at weekly and 4H view today to see what the chart says about this gold producer.
Elliott Wave B2Gold Weekly View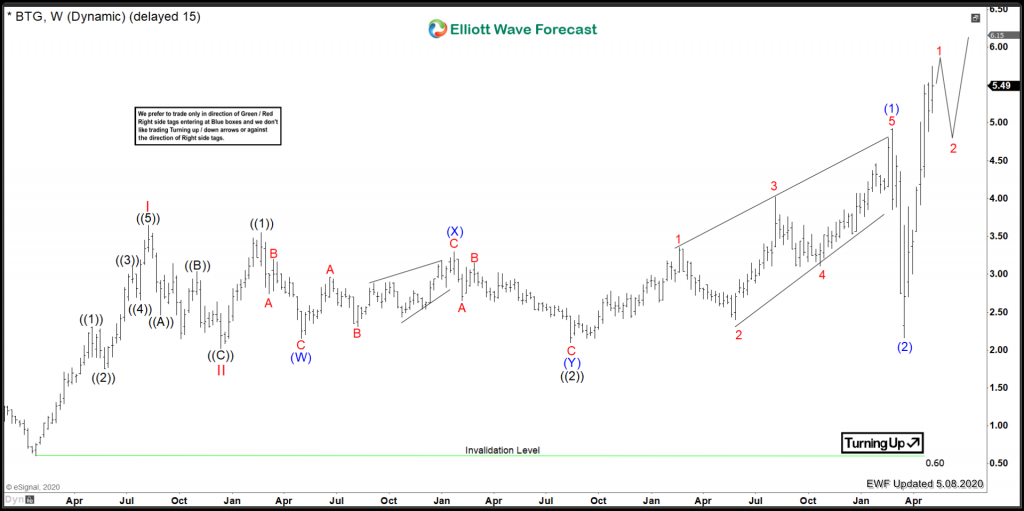 B2Gold doesn't have much chart history before the all time low in 2016.  But the cycles are lining up very well with the rest of the mining sector off that low.  From the all time lows of 0.60 set on Jan 16/2016, B2Gold has a Red I set a 3.65 on Aug 11/2016.  From there a Red II at 2.02 on Dec 15/16.  Then black ((1)) at 3.55 on Feb 24/2017, and Black ((2)) at 2.10 on Aug 16/2018.  then Blue (1) at 4.94 on Feb 24/2020, and Blue (2) at 2.15 on March 16/2020.
That is a lot of nesting, sometimes when charts are nesting this much, it is almost too good to be true, but considering the time frame of the nests (over the course of 4 years), I don't believe that to be the case on this name.  From the March 16/2020 lows a very sharp rally has taken place bringing B2Gold to new all time highs.  Lets take a look at the 4H view for more detail.
Elliott Wave B2Gold 4H View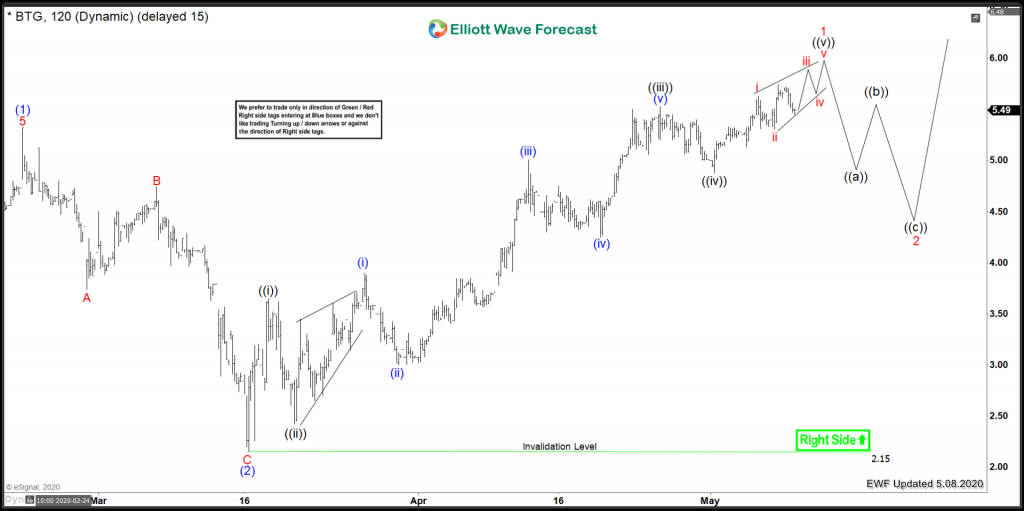 Since the March 2020 lows, the count is showing a clear impulsive structure.  Black ((iii)) has reached and exceeded the 161% fib extension of ((i))-((ii)).  It is higher risk to be adding positions up here as the count seems to be nearing a complete sequence from the March 2020 lows.  It is possible that the count will evolve in a more bullish manner and simply continue going up.  However, a larger pullback in the near future seems more probable at this point in time.
Risk Management
Using proper risk management is absolutely essential when trading or investing.  Elliott Wave counts can evolve quickly, be sure to have your stops in and define your risk when trading.
Improve your trading success and master Elliott Wave like a pro with our free 14 day trial today.
Back