Ahead of the trade negotiations this week, Chinese officials have indicated they are looking for a narrower scope instead of a grand deal. Vice Premier Liu He has said he will bring an offer to the Trump administration that won't include commitments to reform government subsidy. With the impeachment crisis and slowing U.S economy, perhaps China feels they have a strengthening hand. Trump on the other hand has repeatedly said he is only looking for a grand deal. People in his administration say he remains firm in that view.
The White House's negotiating team has explored a potential limited agreement with broader goal to be achieved next year. The sequence involves large-scale purchase of U.S agricultural and energy exports, intellectual property commitment, and then partial rollback of U.S tariffs. Prospect for progress however has been significantly hampered by the recent move by U.S. Commerce Department to black list 28 new Chinese entities over Xinjiang camps. The black list includes 8 Chinese tech firms which is at the forefront of artificial intelligence and video surveillance field. China has said they will retaliate and introduce US company black list. U.S. has also tried to limit government pension funds investment in China's stocks.
In addition, there is also a Chinese backlash to the tweet from Houston Rocket's General Manager Daryl Morey which supports Hong Kong's protest. China TV has halted NBA broadcast in the country. Hong Kong's protest has entered into the fourth month and it has escalated into violence and arson recently. Beijing views the U.S. support for the protests in Hong Kong as interfering with its sovereignty.
China's newspaper itself outlines three possible outcomes of the trade talk. First outcome is a fair deal for both parties, second outcome is a complete breakdown, and third outcome is to resume negotiation and retaliation at the same time. In addition, the newspaper said China has made sufficient and appropriate response plan if the talks completely collapse.
With the latest development, a grand bargain is unlikely to materialize. A limited agreement is the most likely scenario before the latest development. With fresh ban of 28 Chinese firms and promised retaliation, we can't rule out a complete breakdown in the talk. This week is the critical week which may dictate the market for the rest of the year. The two nations likely won't meet again until next year.
$SPX Weekly Chart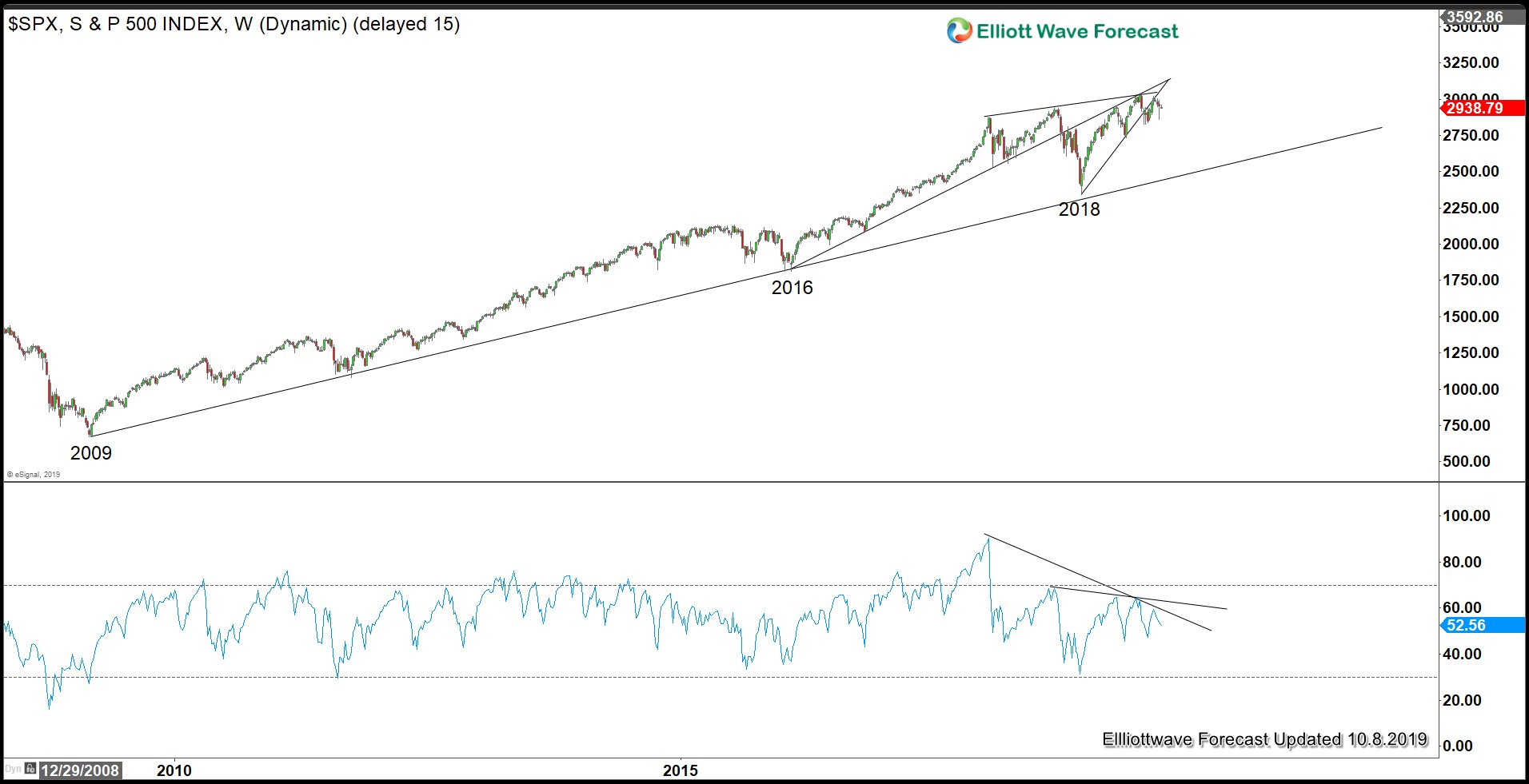 $SPX weekly chart above shows since the Index topped in 2018, it has been sideways in a range. So far it has not been able to break above the upper channel which connects the Index from January 2018 high. Lately it has closed below the rising trend line from 2018 low and thus remains sideways overall. If the talk this week can't yield meaningful progress, it's possible to see further correction in the Index before the next leg higher starts.
$SPX 4 hour Elliott Wave Chart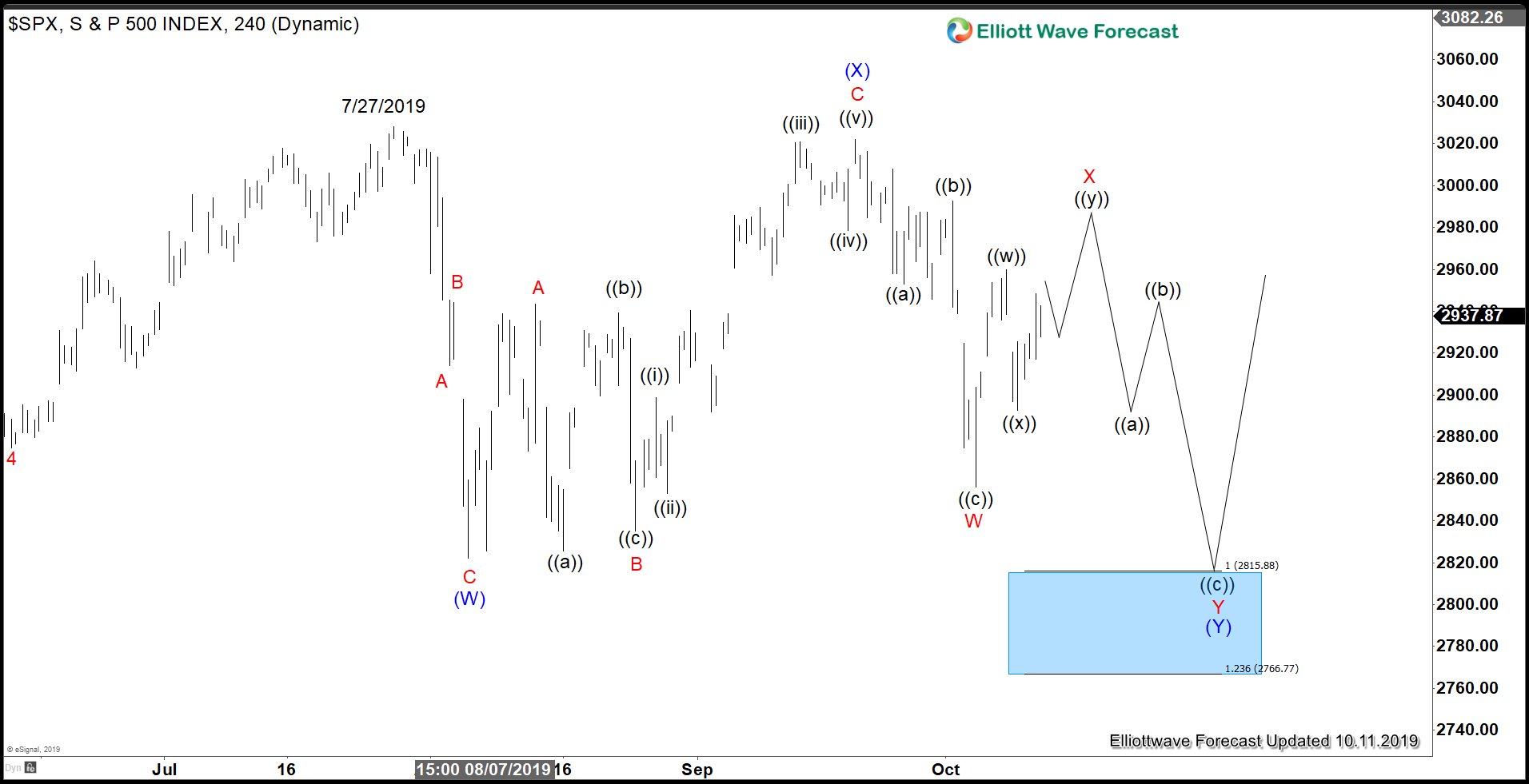 4 Hour Elliott Wave chart on $SPX above suggests that the Index has scope to extend 1 more leg lower. The Index potentially completes a double three (WXY) structure from July 27, 2019 high towards 2766 – 2815. Afterwards, buyers may come from the blue box for 3 waves bounce at least. If there's a grand deal between U.S and China which rolls back all existing tariffs, Indices may power to new high. However, this outcome is less likely with the current condition. If the negotiation completely breaks down, then a bigger selloff is possible. However, Trump enters an election year, so he has all the incentive to make sure stock market does not tank.
The most likely scenario then is a limited agreement. What they will do most likely stop further escalation and then continue the talk next year. Thus, in this mini deal, further correction in $SPX is possible but limited due to the perception that the trade war has not been resolved fully. The main overall bias however still remains to the upside, thus after one more leg lower, $SPX may have chance to resume higher again from 2766 – 2815 or at least bounce in 3 waves. For further update on $SPX, Indices, forex, or commodities, join our service with 14 days FREE trial.
Back