IBEX shows an incomplete sequence from November 2007 high and still favors more downside while below 2.19.2020 high (10093). Near term, the Index ended the rally from 3.16.2020 low in 3 swing as a zigzag Elliott Wave structure. Up from 3.16.2020 low, wave (A) ended at 7209.7, wave (B) ended at 6421.4, and wave (C) ended at 7995.3. The 3 waves move higher from 3.16.2020 low also ended wave ((4)) in higher degree. The move higher in wave (C) of ((4)) ended at the 100% – 123.6% equal leg area from 3.16.2020 low at 7824 – 8153 area.
Index has since turned lower in wave ((5)). Technically it still has to break below wave ((3)) at 5814.6 to avoid a double correction. Near term, the decline from wave ((4)) high at 7995.3 unfolded as a 5 waves impulse Elliott Wave structure. Down from wave ((4)), wave 1 ended at 7685.3, and bounce in wave 2 ended at 7859. Index extended lower in wave 3 towards 7205.80 and wave 4 bounce ended at 7425.20. Finally, wave 5 of (1) ended at 7065.2
IBEX is now correcting cycle from 6.8.2020 high within wave (2) before turning lower again. As far as pivot at 7995.30 high stays intact, expect rally to fail in the sequence of  3, 7, or 11 swing for more downside.
IBEX 15 Minutes Elliott Wave Chart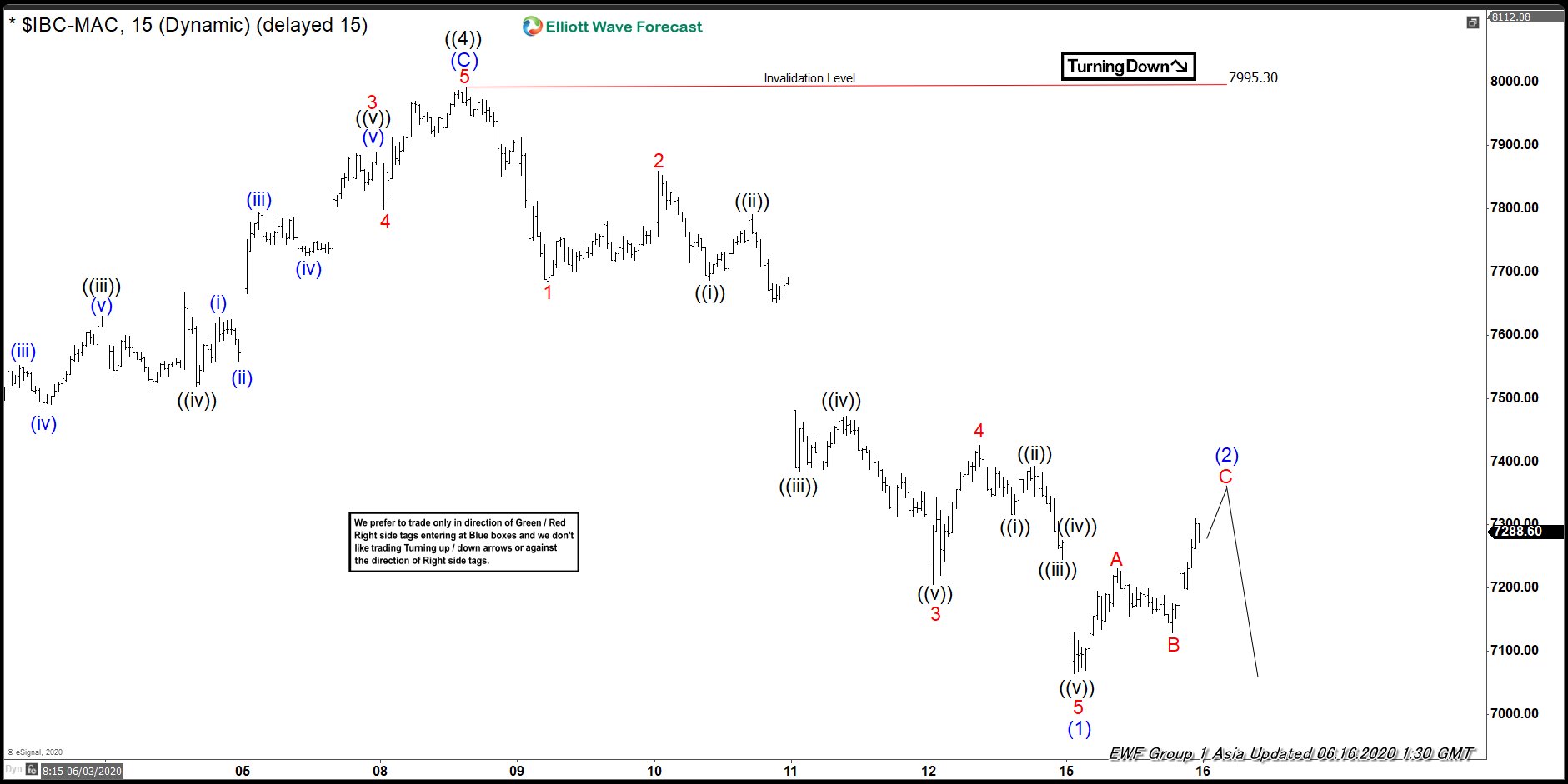 IBEX Elliott Wave Video
Back