Germany suddenly found itself in a political turmoil on Monday after the month-long talk to form a three-coalition party between Angela Merkel's conservative bloc (CDU/CSU), the pro-business Free Democractic Party (FDP) and environmentalists Greens has failed. The crisis definitely challenges the idea that Germany is the anchor of democratic stability in Europe. FDP walked out of the negotiations on Sunday, saying they could not find a common ground on migration and environment.
From the image of the eternal chancellor and leader of the free world, Merkel now is battling to keep her power as the fourth term is not guaranteed. This could leave Germany stuck for months with lameduck government and spell bad news for the stability of European Union. The parties would now have three weeks to attempt the negotiation again. But unless the deadlock ended, Germany has three options:
1) Merkel's CDU could form a coalition with the opposition Social Democrats (SPD). After all, they have the experience of working together from 2013-2017. However, SPD has clearly ruled out working together again with CDU. In the last election, SPD received a historic low 20.5% in the poll, suggesting that the coalition with Merkel's party didn't provide any political benefit.
2) CDU could try to govern in a minority government. In this case, CDU would need to seek majority support for each bill it presents to parliament. However, Germany has never had a minority government since the end of second world war. This is an option with inherent instability and Angela Merkel herself has indicated that she would rather have fresh election.
3) Fresh election in Spring 2018. This option however is difficult to execute as Germany's Basic Law requires the German President to first nominate Merkel as chancellor. Then she would need to earn a majority of votes in the German parliament / Bundestag. After she fails to gain majority 3 times, then the President will dissolve the Bundestag and calls for new elections within 60 days. And even if this step is successful, a new election does not guarantee a different outcome as German voters may not make different choices.
Recall that in September 2017 election, Ms. Merkel and her conservative party CDU won, but it was weakened. The surprise is the strong result from nationalist and populist right-wing AfD (Alternative for Germany) party, and also the return of pro-business FDP to the Bundestag. Below is the result of the September election and a new election doesn't necessarily boost Merkel's party vote share.

If the uncertainty persists and the parties couldn't come into agreement, then most likely fresh election will be the outcome. This could potentially affect the stability of Germany and the European Union. It may also provide a cap to potential Euro dollar strength.
EURUSD Euro Dollar Daily Elliottwave Chart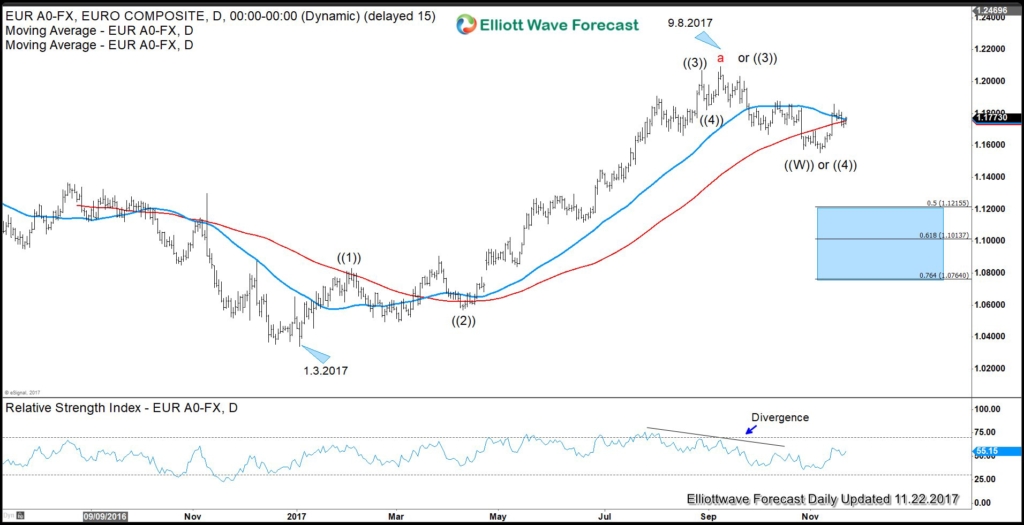 The entire rally from 1.3.2017 low to 9.8.2017 peak can be labelled as a 5 waves with momentum divergence clearly observed. In this view, pair could see further downside to correct the rally from 1.3.2017 low. 50% – 61.8% retracement can bring the pair down to 1.1215. Alternatively, pair could see another leg higher in wave ((5)) before ending the 5 waves up from 1.3.2017 low. Pair is at the crossroad now with SMA (Simple Moving Average) 50 about to cross below SMA 100. If the political uncertainty persist and there's no immediate solution, then we may see pair correcting further.
If you enjoy this article, check our work and join 14 days Trial to see Elliott Wave Forecast in 78 instrument, including Oil, Gold, and Dollar Index (DXY) as well as getting access to Live Trading Room, Live Session, and more. This week new members can also enjoy 50% OFF Black Friday Sale for any plan.
Back