One of the most common structures in today's market is the double correction, or sometimes called WXY. A double correction WXY is called a double zigzag if the subdivision of the W and the Y is in an ABC zigzag. Below is the general structure of a 7 swing WXY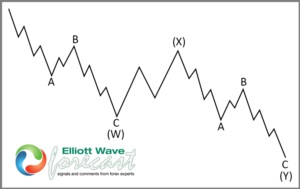 As can be seen from the graph above, the subdivision of the (W) is in 3 waves (an ABC zigzag) and the subdivision of the (Y) is also in 3 waves (an ABC zigzag). Thus, internal of WXY is a 3-3-3 structure. A more common subdivision of (W) and (Y) however is another WXY of a lesser degree like the Daily $USDZAR chart below shows.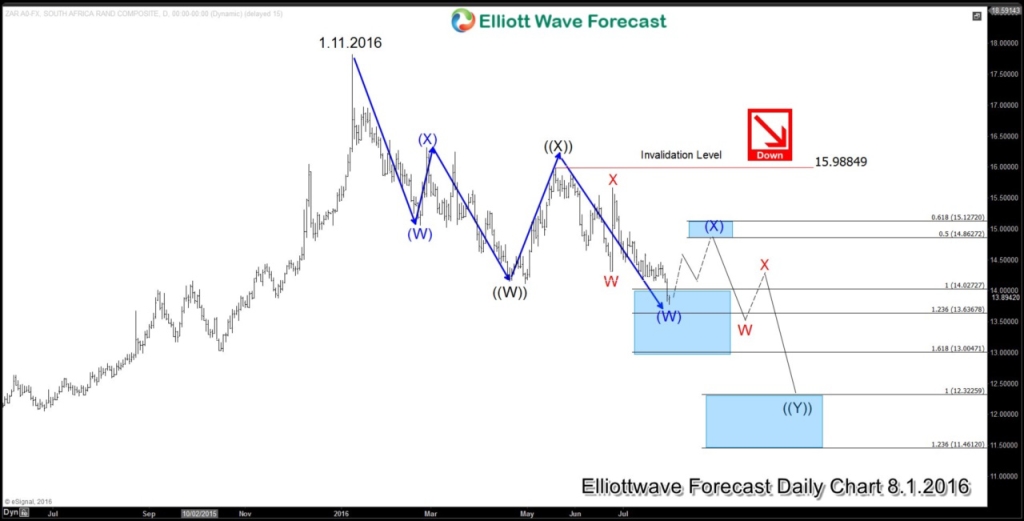 USDZAR Daily Chart is showing a possible 7 swing WXY structure where the pair has made 5 swing sequence so far from 1.11.2016 peak (indicated by the blue arrow). Short term, pair may bounce in the 6th swing wave (X) soon to correct the decline from 15.98 before pair resumes lower towards 11.46 – 12.32 area in the 7th swing wave ((Y)) and end the cycle from 1.11.2016 peak.
Sixth swing wave (X) bounce is expected to unfold in 3, 7, or 11 swing towards potentially 14.86 – 15.12 (50 – 61.8 retracement) before pair resumes lower again as far as 15.98 pivot stays intact. We don't like buying the proposed bounce and prefer selling bounces in 3, 7, or 11 swing. Potential setup for this trade is to sell at 14.86, stop at 16, with a target of 12.4. This setup has a 2 to 1 reward and risk ratio.
For more trading setup and idea like this for popular forex pairs, commodities and indices, be sure to join our Live Trading Room everyday at 7 AM EDT / 11 AM GMT for 1 hour of live trading action. Live Trading Room access is included for Platinum members and also 14 days FREE trial
Back