We have 3 important news events for US Dollar on Friday 01.15.2016  at 8:30 AM EST/ 1:30 PM GMT (UK Time)  which are hopefully going to make some movements in the market.
-Core Retail Sales
-Producer Price Index (PPI)
-Retail Sales

These Fundamentals are released once a month ,  and they usually bring some volatility into USD pairs, however there is no way to make good trade decisions based on the news. Technical Analysis is always a step ahead of Fundamental Events and future paths are already included in current price action.  We are reading the market through Cycles, Elliott Wave patterns and Correlations and we already have the Forecasts ready in advance.
EURUSD makes up 57.6%  weight of USDX basket, so a news release which is going to move US Dollar Index is sure to move EURUSD as well. The pair has been trading in a range and there are many possible paths and Elliott wave structures that could take form in near future so we turn our attention to the German stock market for now which often has inverse correlation with EURUSD.
Chart below shows DAX with 5 swings down from 11/30/2015 peak and as this is not an impulse wave, we think this is an incomplete sequence and as far as pivot at 12/30/2015 (10864.95) remains intact in our system, we like the idea of DAX making another swing lower towards 9527 – 9220 area to complete 7 swings sequence from 11/30/2015 peak.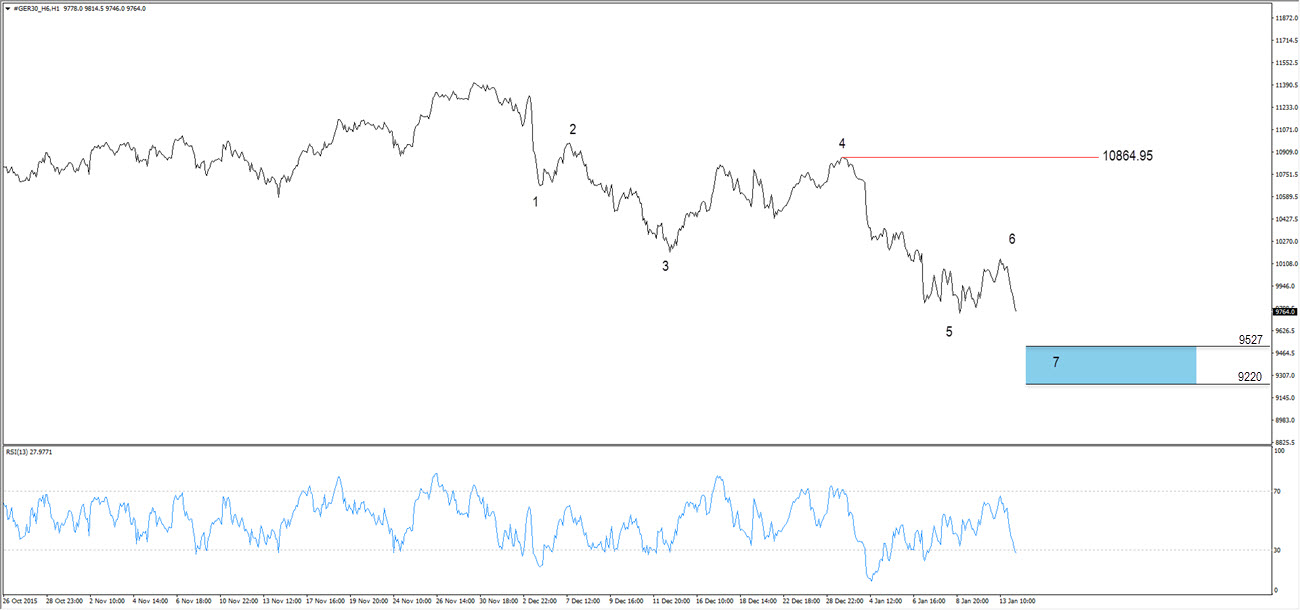 The index is missing a swing to the downside toward 9527 – 9220 area. EURUSD often moves inverse to DAX, therefore, If DAX is going to make this proposed push lower, we can assume that EURUSD will also make another push higher to retest 12/14 (1.1060) peak before pulling back again in 3 waves at least and could get more sideways after that. The current analysis of $USDX, $DAX and $EURUSD  could be found in membership area of Elliott Wave Forecast.
If you want to get full 24h support from our market Experts, sign up for 14 days Free Trial so you can trade on right side of the market with EWF.
In Free Trial  you get access to Professional Elliott Wave analysis of 50 instruments in 4 different time frames, Daily Elliott Wave Setups Video, 2 live Analysis Session done by our expert analysts every day, live trading room, 24 hour chat room support, market overview, daily and weekly technical videos and much more…
If you have any question, contact me through e-mail vlada@elliottwave-forecast.com or in twitter.
Welcome to Elliott Wave Forecast !
Back