Recent U.S economic data has been mixed. Good data came from the job report, with July's Non Farm Payroll number came out strong at 217K, which is comfortably beating the market expectation of 170K. Despite the good news, job number has been volatile and unpredictable. Recall that May's job number only came out at 25K vs 152K consensus expectation.
Apart from strong job report, other economic data has shown weaknesses. Inflation data in July remains tepid at 0.8%, below market expectation of 0.9%. It's the lowest inflation figure since December. Retail sales showed no growth in July from June 2016, missing the market expectation of 0.4% growth. Other than automobile, furniture and online sales, other products saw declining growth.
Due to the mixed data, the Fed may not be in a hurry to raise rate, especially a few months before U.S presidential election in November. The Fed won't risk making a move which may trigger financial instability when they could have waited until after the election is over. The Fed has a chance to hike rates in December if there's no adverse shock in the financial system and economic data is stable.
Due to the mixed result, USD may remain range trading in the next few weeks.
Let's take a look at the chart of USD Index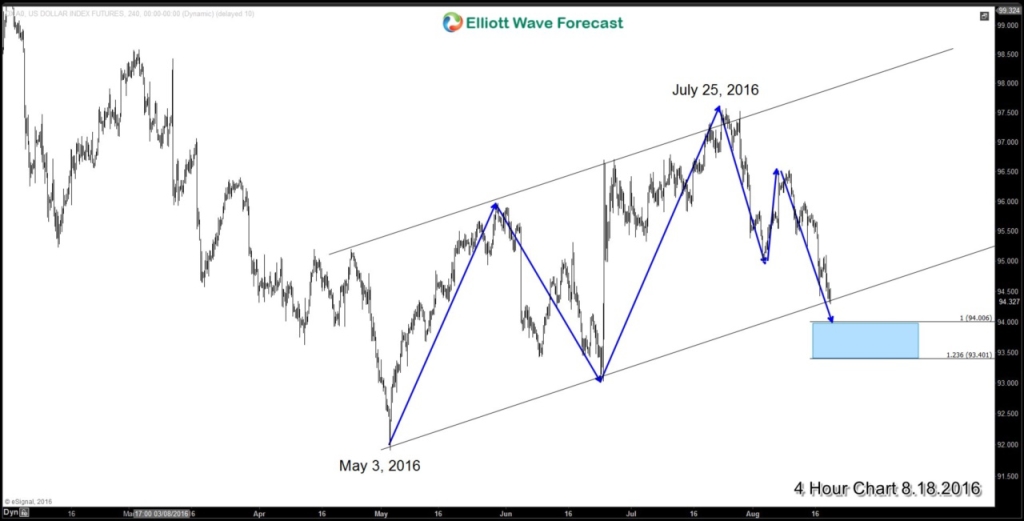 USD Index has been trading sideways since March 2015 peak at 100.39. The recent move from May 3 low to July 25 is in corrective 3 swing. Then the move lower from July 25 peak is also in corrective 3 swing. The Index is soon going to reach the extreme area from July 25 peak at 93.4 – 94 area. This area is also the bottom of the channel. As far as the decline does not accelerate and the channel is not broken with conviction, we may see at least a 3 waves bounce in the Index.
If you are interested to learn more about Elliottwave and find inflection area to trade USD Index, $EURUSD, or other forex, indices and commodities, welcome to take our FREE 14 Day Trial and be sure to try our Live Trading Room. We provide detailed open and pending trade analysis in Live Trading Room utilizing Elliottwave and our unique 3, 7, 11 swing system with very disciplined approach and tight risk control. In addition, our services provide Elliott Wave chart in 4 different time frames, up to 4 times a day update in 1 hour chart, two live sessions, and 24 hour chat room moderated by our expert analysts, market overview, and much more!
Back