We argued in our article on Dec 30, 2015 titled Will Euro Referendum and Brexit affect GBP that Poundsterling can perform poorly in 2016 due to the domestic and political uncertainty surrounding U.K's membership in the European Union (Brexit). For brief background about the Brexit issue, you can read the old article from the link above.
In the same article, we pick $GBPJPY to extend lower due to the 5 swing move from 2015 peak and this proved correct as the pair continued to drop 7.4% after we published our article from 177 to 164 before the Bank of Japan helped the pair to regain some of the losses.
In fact, other than New Zealand dollar, Poundsterling is one of the weakest currencies in January 2016 as table below shows

February however can be an important month for Poundsterling as the UK Prime Minister David Cameron starts the negotiation with European leaders on UK's relationship with the European Union. UK's demands consist of 4 points:
1. Allowing Britain to opt-out the European vision of the "ever closer union"
2. Giving greater powers to UK and other EU members outside Eurozone to block unwanted EU proposals.
3. Restricting welfare benefits to EU migrants until they had been working in the UK for four years.
4. Securing recognition that the Euro is not the only currency in the European Union, and UK does not need to contribute to Eurozone bailouts.
Out of the 4 demands, the most difficult one right now is the welfare benefits as it breaches the EU's principle of non discrimination against EU citizens. Cameron made it clear that he will support and campaign for UK to remain in the EU once they secure a compromise.
If Cameron can secure a deal this month, then the referendum can take place as early as June, but if the negotiation drags longer, then the referendum likely will take place in September. Both parties understand it's in their best interest for the UK to remain in the EU and try to settle this issue as soon as possible.
There are two important dates to watch this month. February 5 is the first date where senior officials from all 28 members in the EU begin discussion on the proposal. This is going to be the first test to get an idea how far the differences between the two camps are. Second date is Feb 18-19 European summit, which is the deal's target date.
Pair to watch
It's still not known at this point whether a deal can be made this month. However, even if there's no deal, if there's enough encouraging progress with the discussion, it's still possible to see Poundsterling reacts positively to the development. In the event of good news with the talk on Feb 5 or Feb 18-19, interesting pair to watch is $GBP/AUD below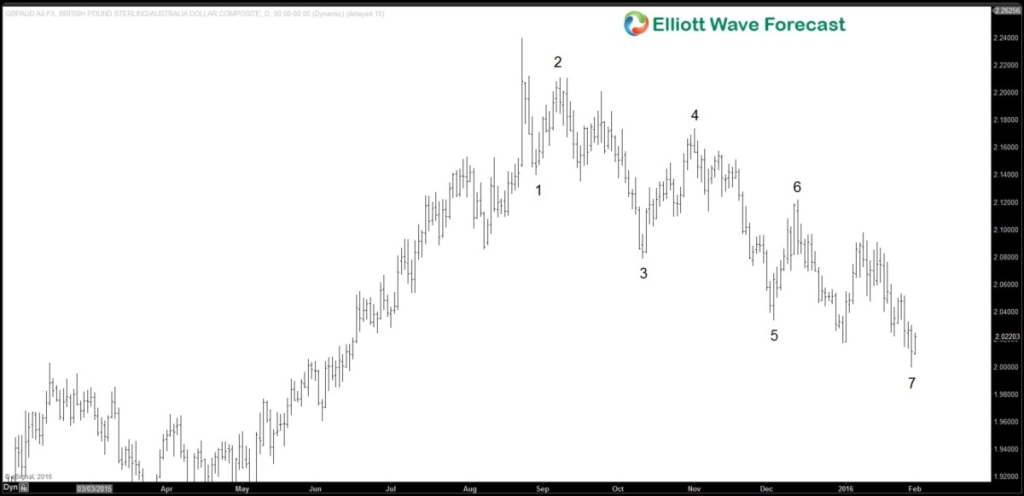 From the peak at 8/24 last year, this pair has made a 7 swing lower, which is a corrective sequence. Although a marginal low still can't be ruled out to complete swing #7, this pair may start to rally to correct at least the cycle from November 2015 peak in anticipation of good news coming out from the negotiation.
If you want to know further how to use this information to trade $GBPUSD, $GBPJPY, $GBPAUD, $GBPNZD or other forex pairs using Elliottwave technique, sign in today for a limited 14 days FREE trial to see our Hourly, 4 Hour, Daily and Weekly Elliott wave chart and find inflection areas to trade.
Back