The UK election result pushed GBP higher after the Conservatives, led by Prime Minister Boris Johnson, won the majority in parliament with a landslide victory.  This is the Tories' biggest victory since Margaret Thatcher days. Johnson can finally get his Withdrawal Agreement Bill passed now that the Parliamentary blockage out of the way.
However, getting the bill passed is just the starting point for the Brexit process. Johnson will have to negotiate a future trade deal with EU by 31 December 2020. If the UK and EU cannot agree to a trade deal during the transition period next year, no- deal Brexit is very much a possibility. UK can still request an extension before July 2020.  But, Johnson has ruled out the possibility of any extension, which would prolong the Brexit uncertainty longer.
Pound climbed higher after the election and reached 1.3515 high, but it has dropped considerably since the election high.  One of the reasons is the aforementioned possibility of a no-deal Brexit. Johnson has said the UK will either have a comprehensive trade deal with the European Union or it will leave without a deal. The other reason is because market is back to focusing on what Bank of England (BoE) will do with the rate decision. BoE is still in wait-and-see mode right now. Though, 2 members of MPC dissented and voted to cut rate by 25 bps at the last meeting. The probability of BoE rate cuts is pretty high if UK data don't improve next year. So, with uncertainty in Brexit deal and the possibility of BoE rate cut, Pound could see more decline in the near term.
GBPUSD 1 Hour London 12.18.2019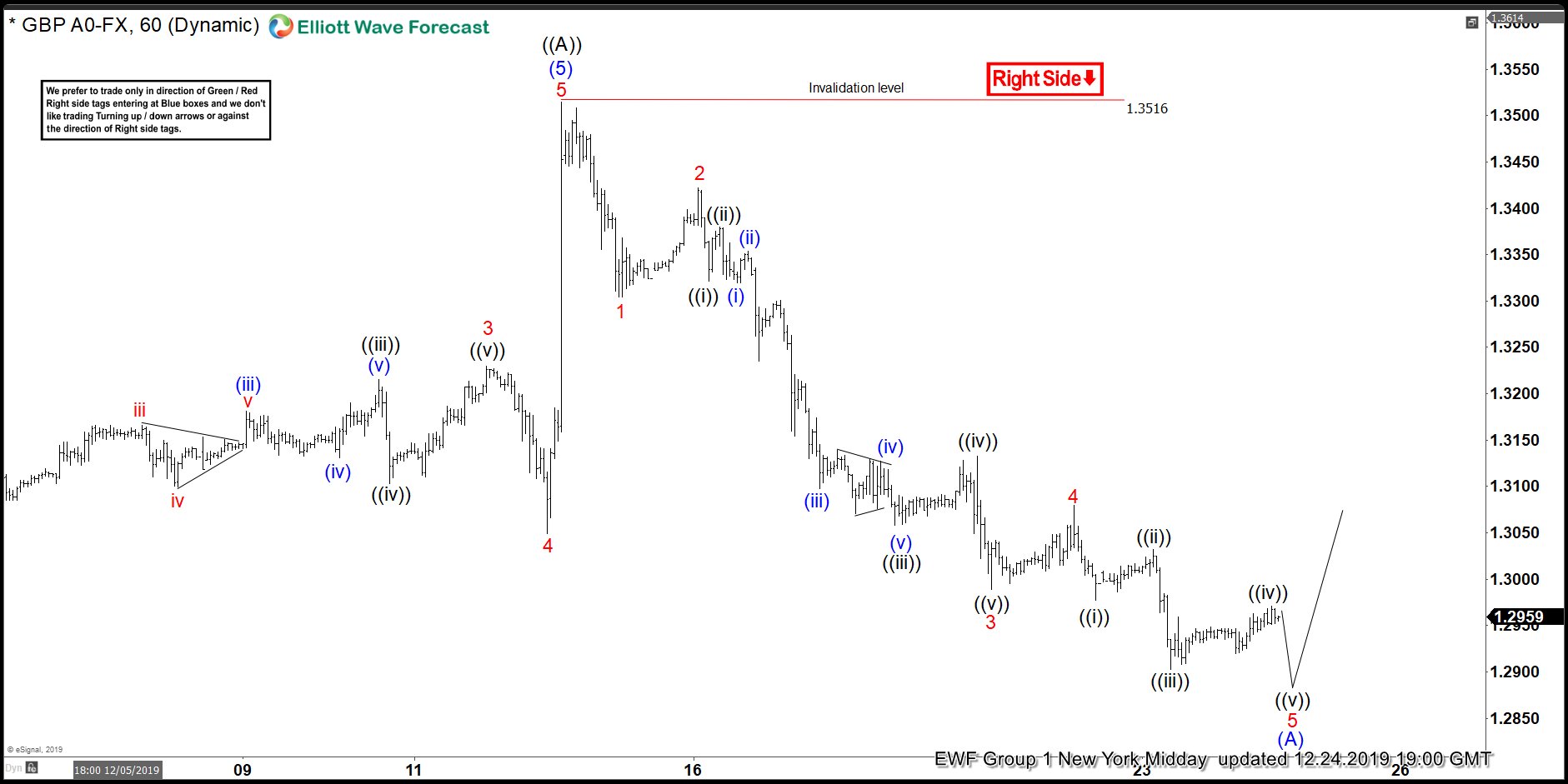 Looking at the chart, GBPUSD have ended the cycle up from 09.03.19 low at 1.3516. The pair is correcting that cycle in a wave ((B)) pullback.  In the near term, wave (A) remains in progress and could be ending the 5 waves move down soon.  The pair could see a bounce in wave (B) in 3,7,11 swings afterward.  As long as 1.3516 high remains intact, expect the bounce in 3,7,11 swings to fail. Subsequently,the pair should resume lower to complete wave (C) of ((B)).
We cover 78 instruments in 4 different time frames. Please check out our services Free for 14 days to see and learn how to trade blue boxes using the 3,7, or 11 swing sequence. We are also running our 2 for 1 Xmas promotion on all monthly plans.
Back