Pound Sterling remains strong as the U.K. will go to poll this coming Thursday December 12. The general election normally should be held every five years. However, this election will be the third time since 2015 as it's necessary to break the country's Brexit impasse. It will determine whether the U.K. will quit the European Union after more than 3 years after the EU referendum.  Every election usually has different issues. For this coming snap election, the prominent issue is how and whether the U.K. should pursue Brexit.
2019 Election – Brexit Dominates as Major Issue
The incumbent Conservative party (Tories) and main opposition Labour party have presented a radically different solution. Prime Minister Boris Johnson from Conservative Party pledges to deliver Brexit by the end of January if he wins a majority. Labour party leader Jeremy Corbyn on the other hand would like to renegotiate the divorce deal with EU and hold second referendum on revised agreement within six months. In addition, he would provide an option to remain within the EU.
Latest UK Election Poll Shows Tories Maintain Lead over Labour
The chart above is a tracker by UK newspaper Guardian based on various UK-wide polls by reputable pollsters. Based on the tracker, the Tories are leading with 43% ahead of Labour on 33%. Compared this with 2017 election where Tories achieved 42.4% while Labour got 40%.  Thus although Conservatives position is stable, Labour's relative position today is worse. Electoral Calculus, one of the popular public predictive models, predicts a Conservative majority with the current polls.

Brexit creates a lot of uncertainties in the U.K.'s future, hurting the UK economy and Pound Sterling. The UK faces the risk of recession in case it withdraws from the EU without a deal. A majority win to the Conservative party can remove this uncertainty. It can also boost Pound Sterling which has been battered in the past 3.5 years.
Pound Sterling Remains Strong Against Australian Dollar – GBPAUD Bullish Weekly Elliott Wave Sequence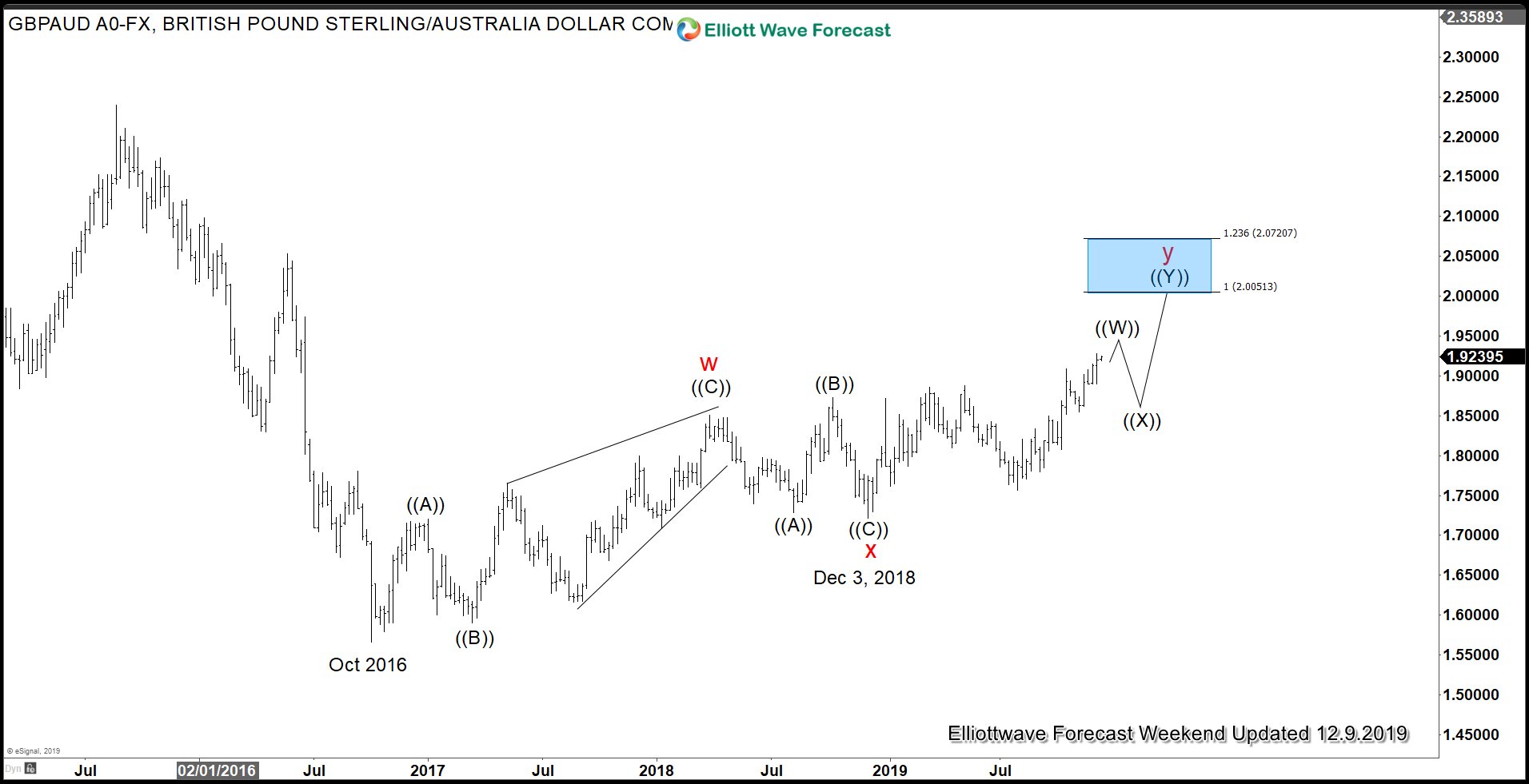 Pound Sterling has maintained strength against all major currencies. Above is the chart of Pound Sterling against Australian Dollar which is near 3 year high. The Elliott Wave sequence from October 2016 low remains bullish with 100% target towards 2.00 – 2.07. Near term, it has reached 100% from December 3, 2018 so it may pullback first in wave ((X)) to correct cycle from December 3 low. However, it's not a sell due to the bullish sequence as pair can also extend higher directly to the blue box.
To get the latest Pound Sterling forecast in this critical week, try our service 14 days Free here –> 14 days FREE Trial. We provide Elliott Wave chart update, live sessions, Live Trading Room, and more in our service.
Back