The Federal Reserve once again pushed back plans to raise interest rates at the September meeting, a widely expected after a series of mixed economic reports and various signals Fed officials measure. After its policy meeting two-day Federal Open market Committee voted to keep the federal funds rate from 0.25% to 0.50%, citing progress in economic growth and labor market and improving risk perspective. Judges Committee in the case of an increase in the federal funds rate has been strengthened, but decided, for the moment, to wait for more evidence of continued progress toward its goals, "the central bank wrote in its statement.However, the positive economic general statement of the Fed follows a series of mixed data in August, including weak retail sales, manufacturing and ISM readings soft services, and hiring slower than expected. The unemployment rate has remained at around 5% last year, a level that many economists believe it is near full employment. However, output growth has been less than impressive. Real GDP is now estimated to have increased only 1.1% in the second quarter. The growth of economic activity has picked up in the modest pace seen in the first half of the year, "wrote the Fed said in its statement." Although the unemployment rate has changed little in recent months, rising employment have been solid on average. "Meanwhile, inflation, which has remained below the target of 2% of the Fed for years, has begun to show signs of improvement. The index of personal consumption expenditures, preferred measure Fed price inflation, increased 0.8% in July compared with the previous year as core inflation rose 1.6%. Another measure of inflation, the core CPI reading, rose 2, 3% year-on-year in August. However, the Fed sees inflation "low in the short term." keeps expectations the Fed short-term GDP growth and long term was reduced to 1.8% from 2%, while forecasts for unemployment remained almost unchanged, with officials expecting the rate to fall to 4.6% in 2019. The outlook for underlying inflation fell to 1.8% in 2017. Projections of Fed officials' for the federal funds rate is also decreased, indicating an increase of a quarter point this year, instead of the two planned increases in June. Shortly after the Fed began raising rates last year for the first time in more than a decade turmoil in US markets and uncertainty in the foreign convinced many officials to delay still further rate increases. Long term expectations for the federal funds rate also declined to 2.9% from 3.0% forecast in June. As shown below.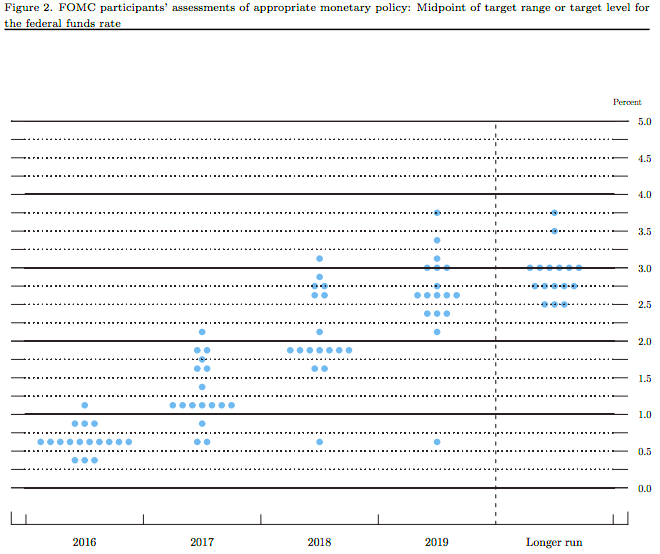 Also it is worth noting that three members of the committee Kansas City Fed President Esther George, Cleveland Fed President Loretta Mester and Boston Fed President Eric Rosengren voted against the decision, preferring to raise rates federal funds to 0.50% to 0.75% at this meeting. In the weeks ahead, traders will be focusing on non-farm payrolls on Friday, seen by many as the clearest signal about the health of the labor market, amid speculation ongoing on whether interest rates in United states will rise this year. The next Fed meeting is schedule to be in November, but a rate hike before the presidential elections is considered to be unlikely. Investors currently the price of a 55.7% chance of a rate hike at the December meeting of the Fed; according to futures federal funds tracked by CME Group.
 $USDCHF, Dollar Swiss France chart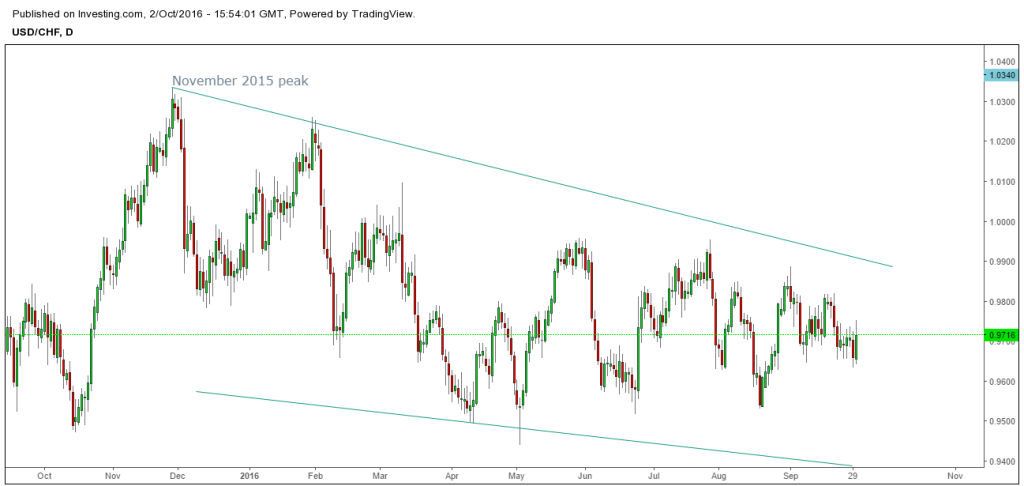 Above is the Daily chart of $USDCHF, which is showing sideways to lower price action since November 2015 peak & expected to trade lower within the descending channel from the peak due to weakness in it's other counterparts also limiting the strength in Dollar index as any rallies are likely to be contained at the top channel line.
 Proper Elliott Wave counting is crucial in order to be a successful trader. If you want to learn more on how to implement Elliott Wave Theory in your trading and to learn more about next trading opportunities in the Market, Try us free for 14 days. You will get access to Professional Elliott Wave analysis in 4 different time frames, Daily Elliott Wave Setup Videos ,Live Trading Room and  2 live Analysis Session done by our Expert Analysts every day, 24 hour chat room support, market overview, weekly technical videos and much more. If you are not member yet, use this opportunity and Sign up for your Free Trial now. 
Back