The last ditch Brexit talks between British and Irish leaders last week yield unlikely breakthrough. Both leaders issued an upbeat statement after the meeting, saying they see a pathway to a possible deal. The issue of Irish border and the proposed backstop has become the bottleneck in Brexit negotiations.
Irish leader Leo Varadkar reportedly said the UK wants a Brexit deal and they can get one by 31 October. Both leaders also believe that a deal is in everybody's best interest. Sterling surged sharply against other major currencies on signs of meaningful progress. Against the US dollar, Sterling climbed to the highest levels in three months, hitting $1.27. The pound also hit a near 1 year high against New Zealand Dollar of $2.003.
However, the excitement faded after European Commission cast doubt about Johnson's proposal. Much uncertainty remains as UK and EU continue to negotiate the deal and time is running out. Both are in intense negotiation this week to reach a deal before the EU summit on Thursday and Friday. There are three possible outcomes:
Brexit Extension
A deal
No deal
$GBPNZD under Brexit Extension Scenario
Under Brexit extension scenario, the pair likely holds below October 2018 high (2.053). It should turn lower again and trading in a sideways range between October 2016 low (1.636) and October 2018 high (2.053). Currently pair has reached 100% extension from Dec 2018 low and waiting for the outcome of the EU-UK negotiation.
$GBPNZD under a Brexit Deal Scenario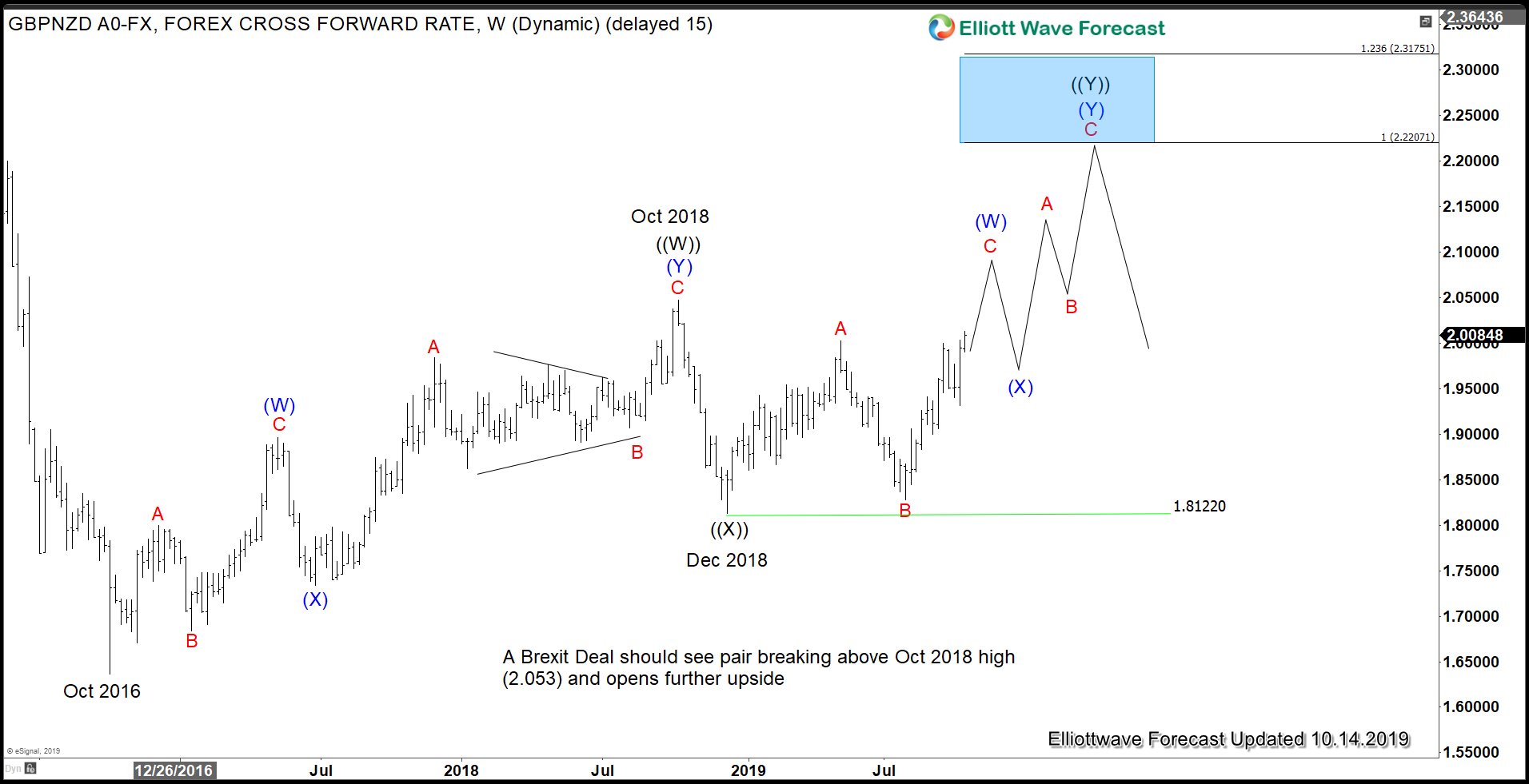 Under Brexit deal scenario, $GBPNZD may break above October 2018 high (2.053). A break above the level will create incomplete bullish sequence from October 2016 low, opening up more upside to 2.22 – 2.317 next. One possible strategy is to wait for the break above October 2018 high (2.053) and especially if combined with Brexit deal. In this scenario, pair will become buy in the dips against 1.8122 in 3, 7, or 11 swing.
$GBPNZD under a No Deal Scenario
Under no deal scenario, Sterling can collapse. In the case of $GBPNZD above, it may hold below October 2018 high (2.053). It can then turn lower and break below October 2016 low (1.636) which should open up further downside.
It's difficult to assign the odds of each scenario above. Traders however do not need to speculate on the outcome and can wait for confirmation before entering into positions. We shall let members know how to take advantage and trade it in Live Trading Room when the time comes. If you'd like to get more updates on Sterling or other forex pairs, commodities, and Indices,  join our service with 14 days FREE trial.
Back