NZDUSD Trade Video Clip from July 20th Live Trading Room
Below is a video clip of NZDUSD Long Trade on July 20th in Live Trading Room.
NZDUSD 1 Hour Elliott Wave Chart
1 hour chart below shows a bullish 5 swing sequence from 7/11 low (0.7198), favoring further upside towards 100% area (0.7430). Near term, while the dips stay above 0.726, pair is expected to see resume rally higher. We bought wave ((x)) dips in 3 waves at 0.743 with stop at 0.28 on July 20th and hit 0.743 target the next day for 100 pips profit.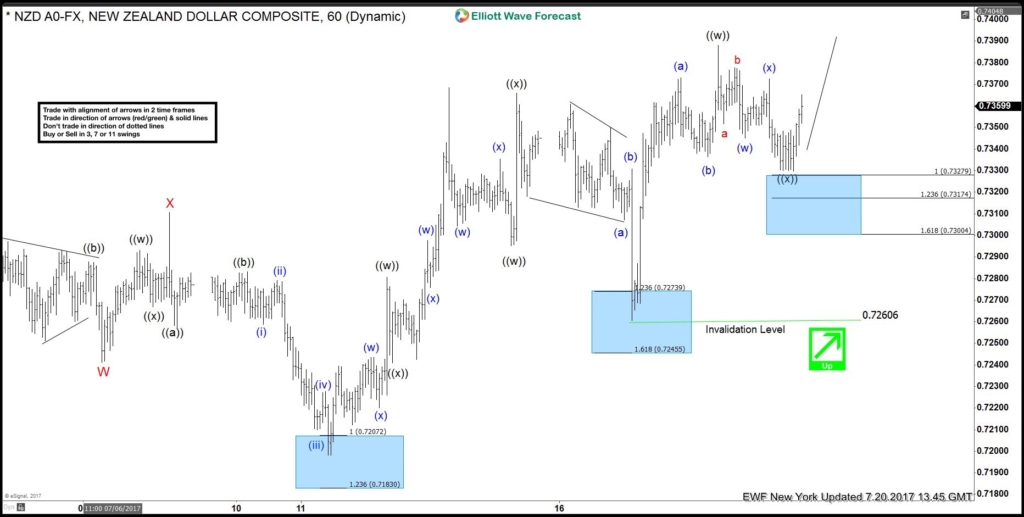 We hold Live Trading Room daily at 7 AM EST / 11 AM GMT and Plus Live Trading Room at 8 AM EST / 12 PM GMT. Join us daily to get trading idea and learn how to execute trades using our technique of 3, 7, and 11 swing. Members will also receive a trading journal with entry, stop, and limit.
We provide precise forecasts with up-to-date analysis for 78 instruments. These include Forex, Commodities, World Indices, Stocks, ETFs and Bitcoin. Our clients also have immediate access to Market Overview, Sequences Report, 1 Hour, 4 Hour, Daily & Weekly Wave Counts. In addition, we also provide Daily & Weekend Technical Videos, Live Screen Sharing Sessions, Live Trading Rooms and Chat room where clients get live updates and answers to their questions. The guidance of ElliottWave-Forecast gives subscribers the wherewithal to position themselves for proper entry and exit in the markets. We believe our disciplined methodology and Right side system is pivotal for long-term success in trading
Back