For the last few months EWF members knew that NZDUSD has been in bearish cycle, which has given us a lot of nice selling opportunities. Suggested strategy was selling rallies in 3,7 or 11 swings.
Let's take a quick look at H1 Elliott Wave charts from the 25. May 2015 to see how we were guiding our members through the NZDUSD price structure.
$NZDUSD (5.25.2015 NY Update) This chart suggests wave (x) recovery needs marginal push toward short term equal legs area at 0.73223. After X is done futher decline should resume.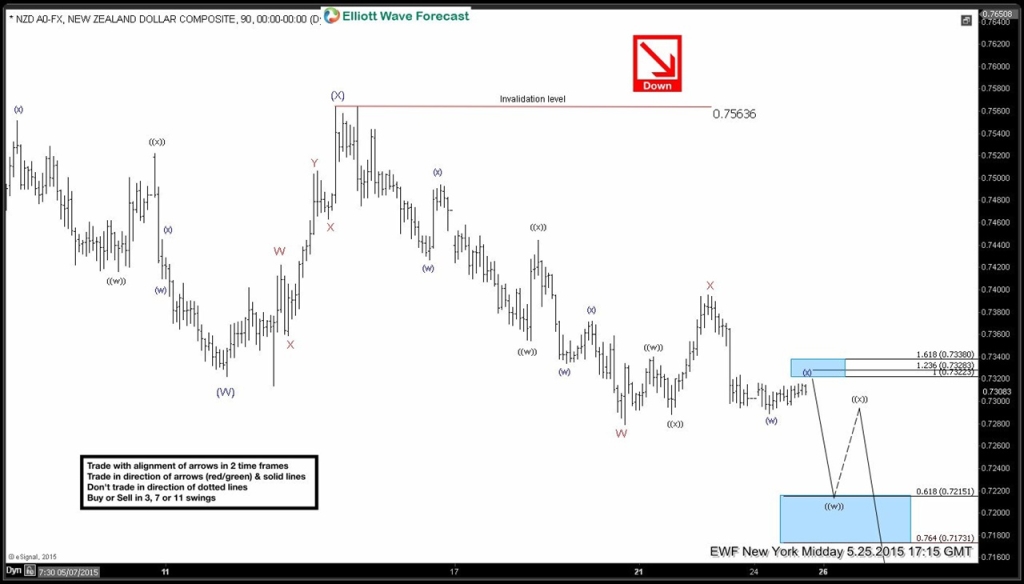 $NZDUSD (5.26.2015 London Update) Wave (x) connector reached short term equal legs area at 0.73223 and we got nice reaction from there. The low has been broken and more downside is expected toward next technical level: 0.72151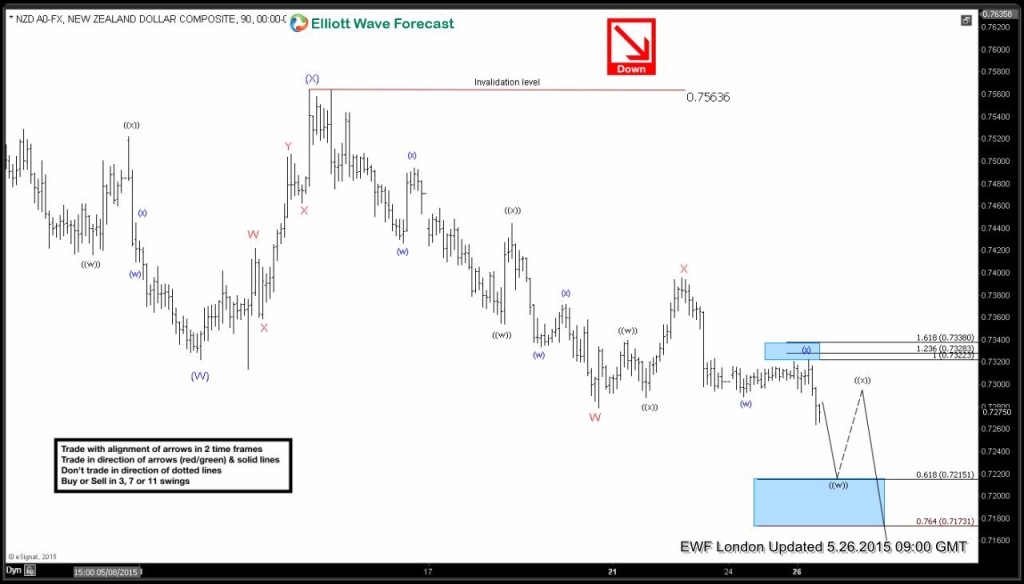 $NZDUSD (5.26.2015 NY Midday Update) The price is approaching 0.618 fib ext area at 0.72151. Elliott wave chart is suggesting bounce in wave ((x)), and continuation of the downtrend.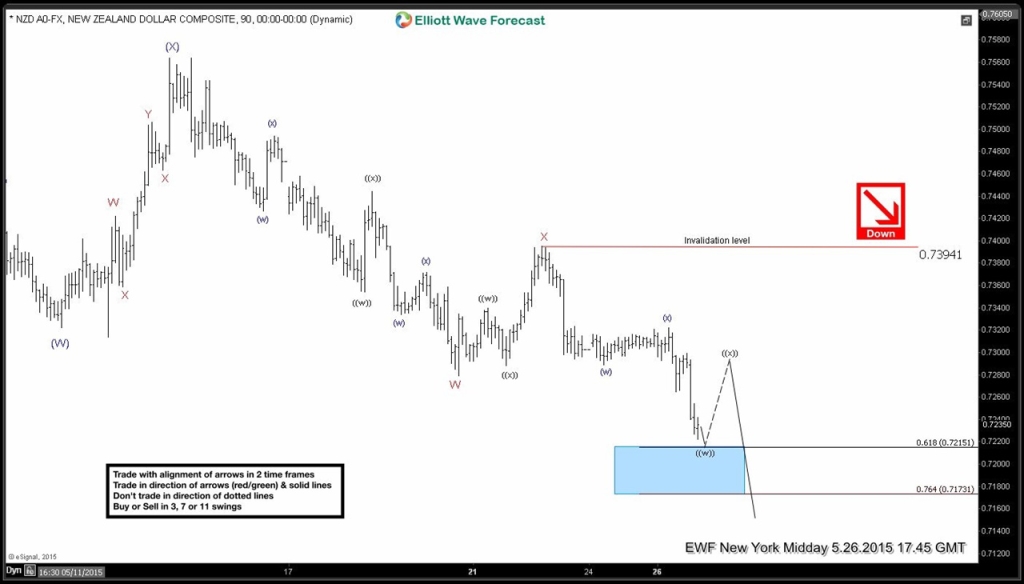 $NZDUSD (5.28.2015 London Update) Wave ((x)) has almost reached trend line and completed as shallow recovery, more downside is expected toward 0.71369-0.71052 region.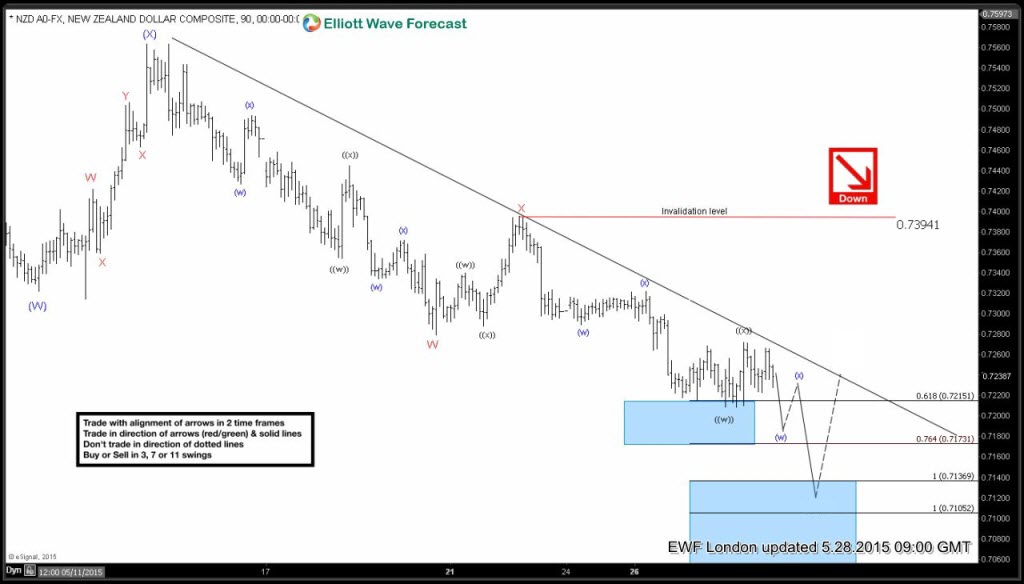 $NZDUSD (6.5.2015 NY Update) We got new lows as forecasted. Current Elliott Wave chart suggests potential bounce in wave ((x)) before further decline resumes toward new lows.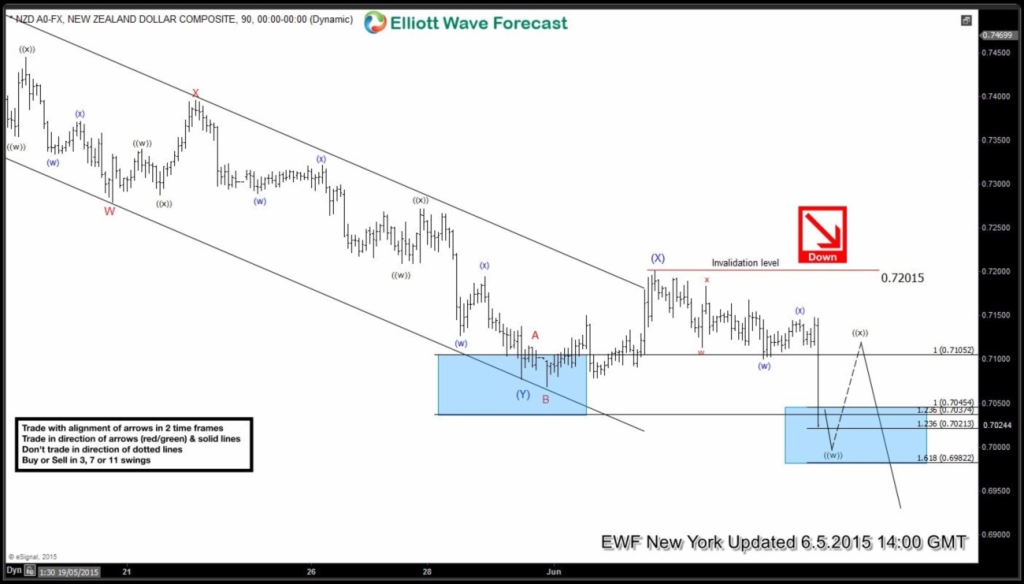 $NZDUSD (6.9.2015 H4 Update)   Second X connector is in progress. We expect another push higher toward  0.7220-0.72528 area to complete X connector before further decline resumes.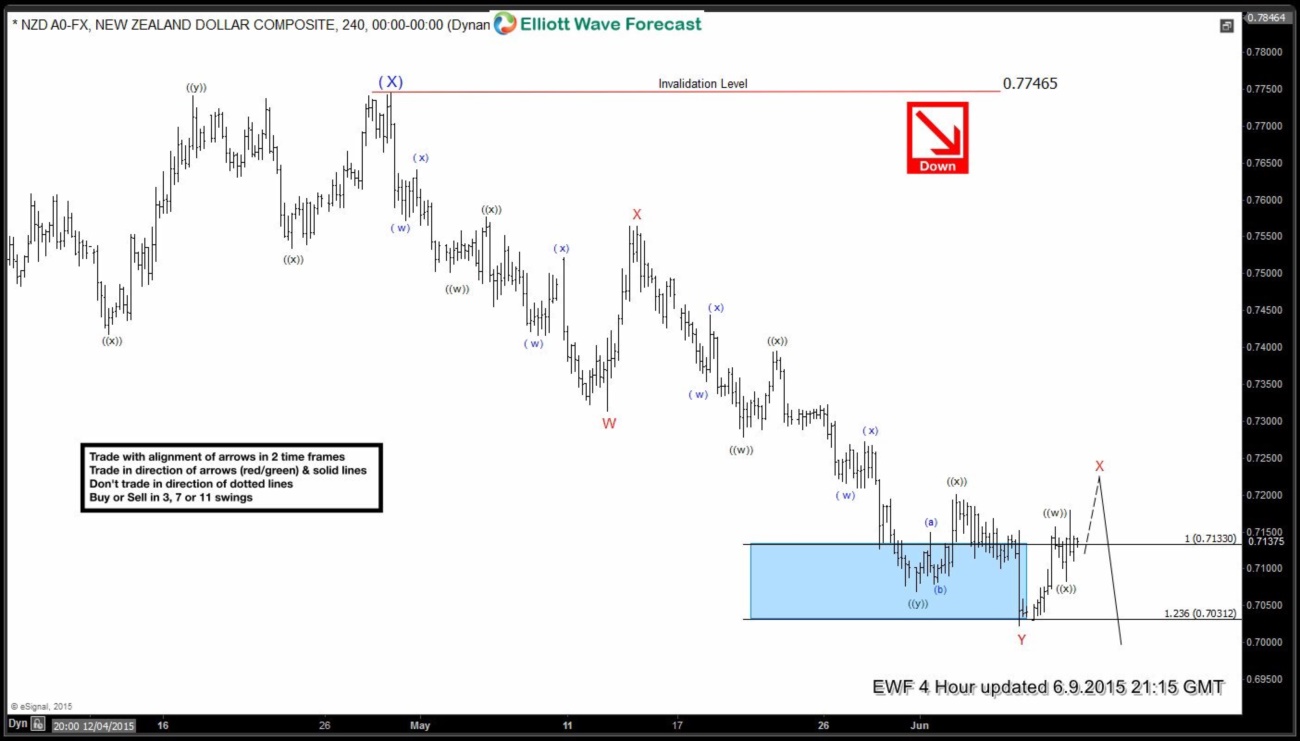 $NZDUSD (6.11.2015 Asia Update) 7 swing structure has reached new equal legs area. Wave X completed at 0.72323 and the price turned lower from there.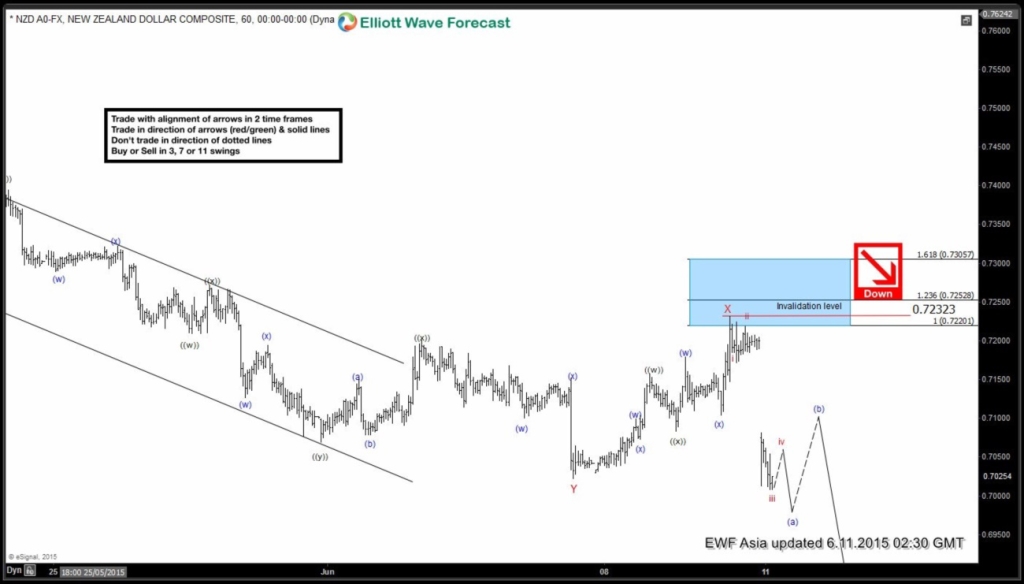 $NZDUSD (6.26.2015 Asia Update) ((x)) short term recovery has corrected the decline from the 0.70143 high . Elliott Wave analysis suggests  ((x)) recovery is done at 0.6924 and further decline should take place any moment.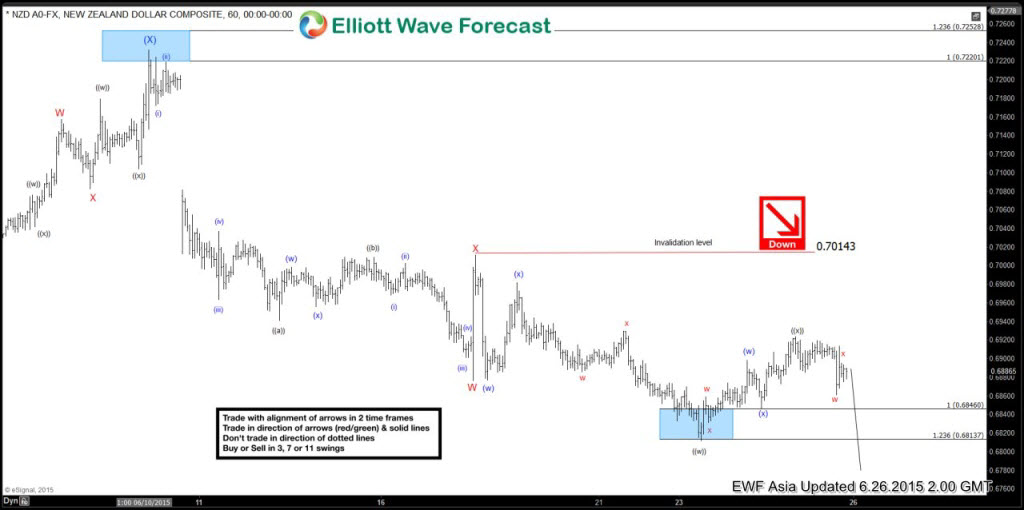 $NZDUSD (7.1.2015 NY Update) The price held nicely below the 0.6924 and we got new lows as expected. Note: Some labels have been removed to protect client privileges.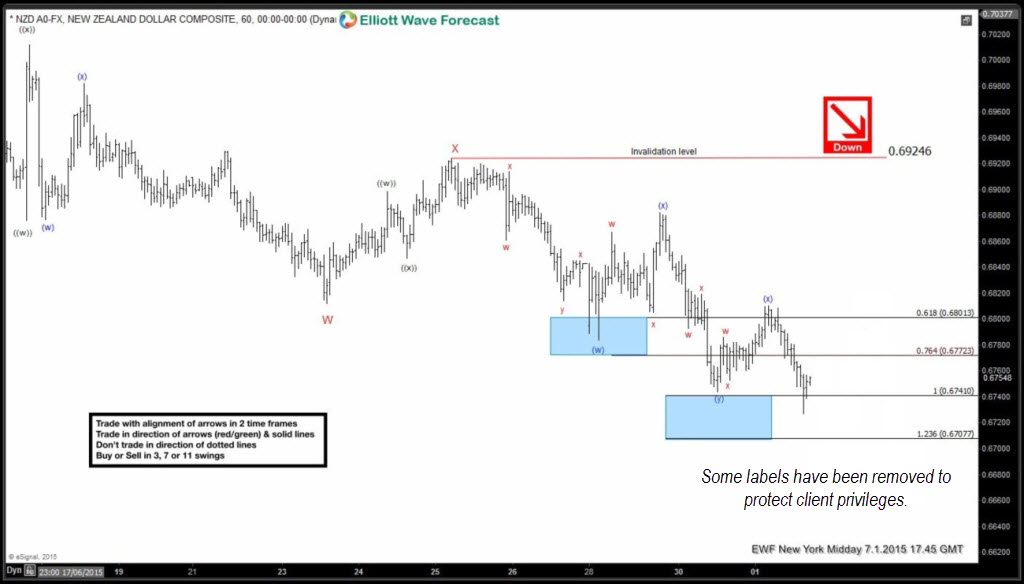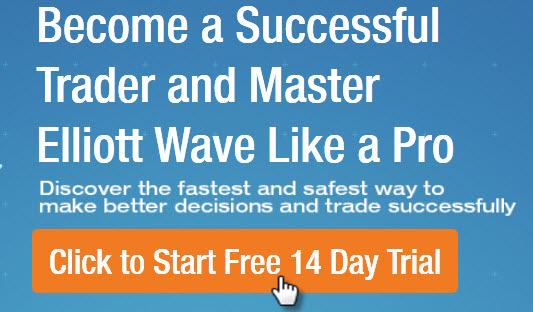 If you would like to have access of EWF analysis in real time, feel free to join us. Now You have an opportunity to sign up for 14 Days Trial here and get Full access of Premium Plus Plan in 2 weeks. We provide Elliott Wave charts in 4 different time frames, 2 live webinars by our expert analysts every day, 24 hour chat room, market overview,daily and weekly technical videos and much more.
If you want to improve your Elliott Wave analysis and Trading Execution Skills, we advise you to check 3 Educational seminar recordings , you will learn a lot from our Market Experts. As our member you'll get discount on them.
Back