In the last Monetary Policy Statement (MPS) in March, Reserve Bank of New Zealand (RBNZ) is not happy with the currency's continued appreciation. They cited the New Zealand Dollar trade-weighted exchange rate is more than 4% higher than projected in December. In subsequent meeting in April 28, RBNZ decided to stay put with the OCR (Official Cash Rate) but RBNZ Governor Graeme Wheeler said in the statement that New Zealand Dollar's exchange rate is higher than appropriate and a lower rate is desirable. RBNZ continues to say that a further policy easing may be required. Indeed, with current OCR at 2.25%, RBNZ remains to be one of few central banks today who can still use conventional tool (i.e. rate cut) to ease monetary policy further.
Latest CPI reading accelerated to 0.4% yoy in the first quarter of 2016, mainly due to the rise in housing cost. This latest number rebounded from the 15 year low reading in the previous quarter (Q4 2015) at 0.1%. Despite the improvement in CPI reading, it's still below the long-run inflation expectation of 2%. With the outlook of global growth still sluggish, low inflation, and high trade-weighted exchange rate, RBNZ may have no option other than to ease the monetary policy again in the coming months.
Technical Analysis
Let's take a look at several New Zealand dollar charts below
NZDUSD Daily Chart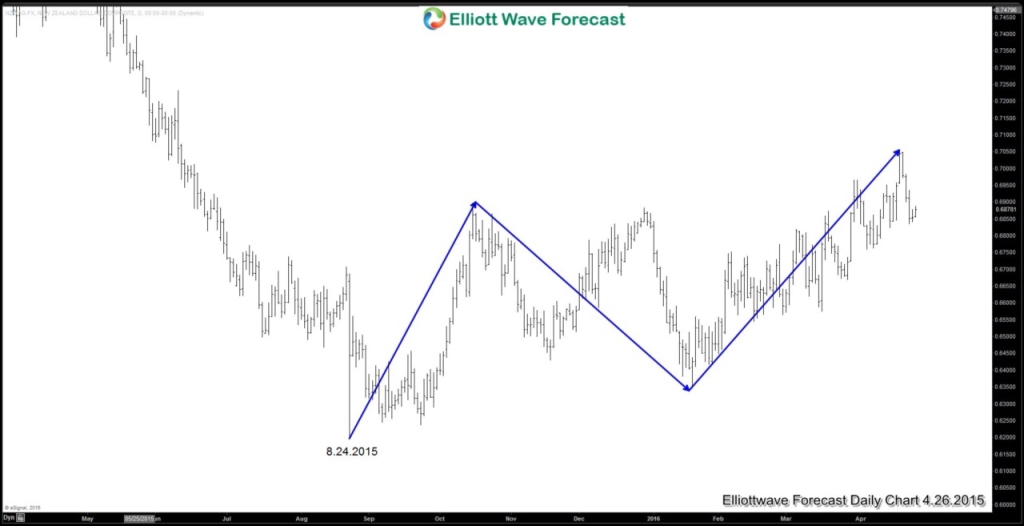 NZDUSD is showing 3 swings move from 8.24.2015 low and it has reached equality. Further upside and extension higher can't be ruled out, but cycle from 8.24.2015 low is expected to come to an end this quarter, and pullback should then be expected to correct 8.24.2015 cycle. Overall this suggests the outlook for New Zealand Dollar in the Q2 might be weaker when it starts the pullback.
GBPNZD Weekly Chart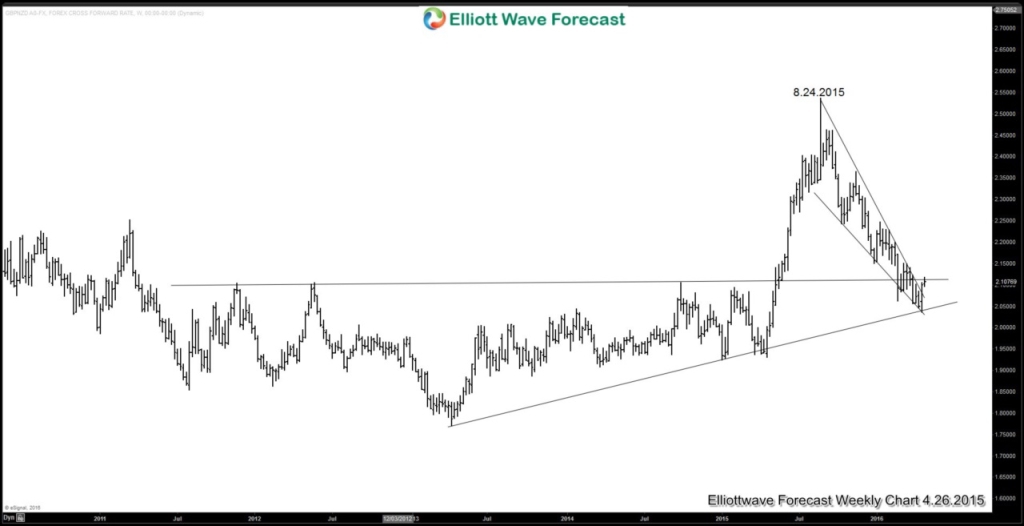 GBPNZD Weekly chart above shows that the decline from 8.24.2015 peak looks like it's taking the form of a wedge. There's also a trend line support from April 2013. The pair has since broken above the wedge. Overall this suggests that the pair may have ended the cycle from 8.24.2015 peak and may start doing a correction to this 8.24 cycle in Q2. A higher GBPNZD suggests relative weakness in New Zealand Dollar.
AUDNZD Weekly Chart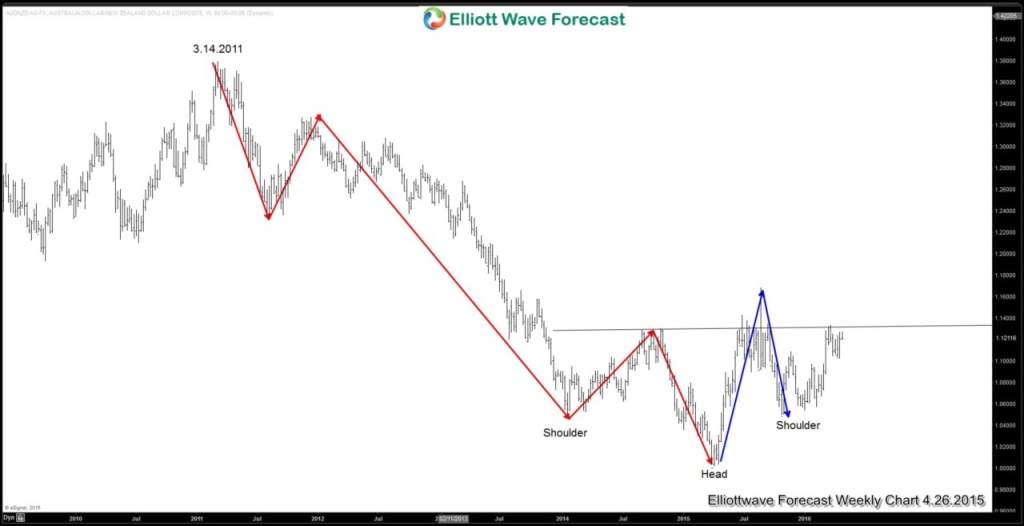 AUDNZD Weekly chart above shows a 5 waves move from 3.14.2011 peak. So far the rebound looks to be in 2 swing and another swing higher is possible. The pair is also showing what looks to be a weekly inverse Head and Shoulder. Overall this suggests a relative weakness in New Zealand Dollar as the pair continues to correct the decline from 3.14.2011 peak.
NZDJPY Weekly Chart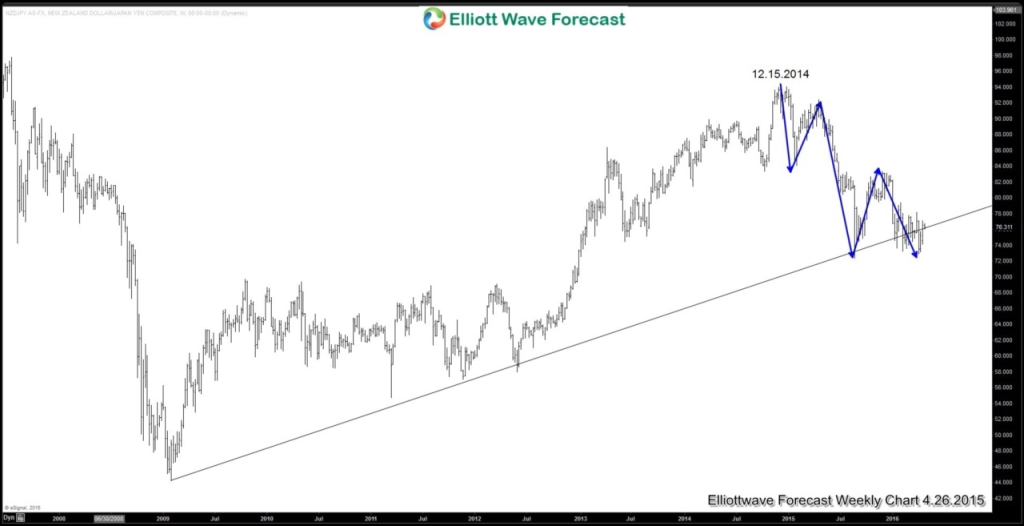 NZDJPY weekly chart above showing a promise a few weeks ago by breaking below the weekly trend line. Unfortunately, there was no follow through and the pair closed back above trend line. However, the pair is still showing a five swing sequence from 12.15.2014 and thus further extension to the downside is still ideal to finish a 7 swing sequence. If the anticipated 7 swing sequence happens, this suggests a relative weakness in New Zealand Dollar.
NZDCAD Weekly Chart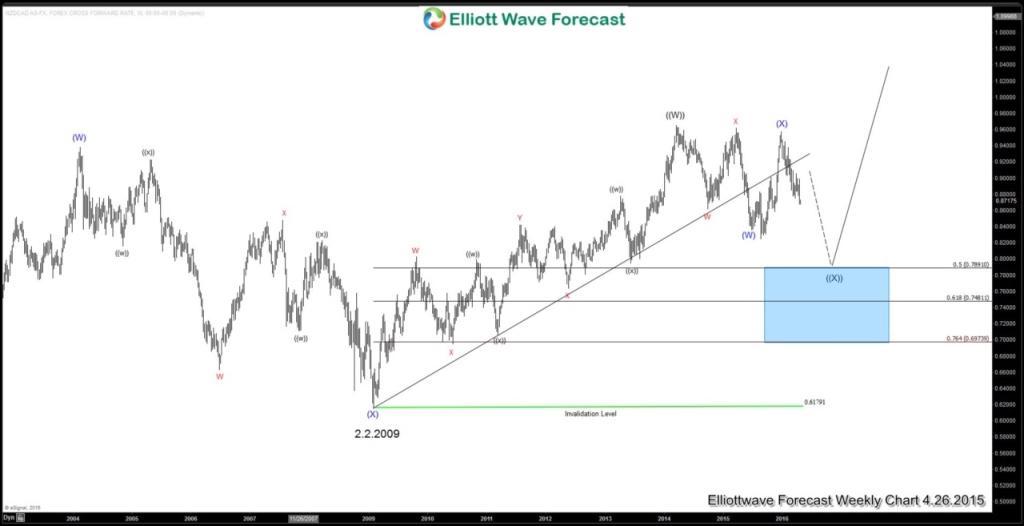 NZDCAD weekly chart above suggests the pair is still correcting the weekly cycle from 2.2.2009 low and can reach 0.748 – 0.789 area before the rally resumes. This view is valid as far as price stays below ((W)) high at 0.952. If this forecast plays through, then this suggests a relative New Zealand Dollar weakness.
Conclusion
Fundamentally, RBNZ is one of the only few central banks who can still ease more with conventional tool (i.e. rate cut), and they have indicated that further easing is maybe required. Technically, looking at various New Zealand Dollar charts, we can come into a conclusion that New Zealand Dollar outlook in the Q2 might be getting weaker.
If you enjoy this article, feel free to read other technical articles at our Technical Blogs and also check Chart of The Day. For further information on how to find levels to trade $USDJPY, or other forex pairs, indices, and commodities using Elliottwave, take our FREE 14 Day Trial. We provide Elliott Wave chart in 4 different time frames, up to 4 times a day update in 1 hour chart, two live sessions by our expert analysts, 24 hour chat room moderated by our expert analysts, market overview, and much more! With our expert team at your side to provide you with all the timely and accurate analysis, you will never be left in the dark and you can concentrate more on the actual trading and making profits.
Back