Emmanuel Macron won the presidential election last Sunday, defeating Marine Le Pen, a far-right nationalist who wanted to take France out of the European Union. Markets had feared that Le Pen's win could threaten the EU project, but Macron's win has eliminated uncertainty regarding France's membership of the Euro and removed the risk of near-term severe political shock to France and wider Europe. The Euro went above $1.10 briefly, but since then has pulled back. The upwards move was not dramatic than the first round of French elections as many traders have anticipated Macron's victory and thus victory was already well priced in.
The new president has promised economic reforms to restore France's competitiveness, but Macron currently only has a newly formed minor party and it's unclear how much support he will get given at least half of its parliamentary candidates will have no prior political affiliations. Thus, the market has now turned its attention to the next legislative election in June. Macron needs to get majority in the National Assembly, otherwise the Prime Minister who exercises the main executive authority, could be a part of the opposition and may ignore his program. It's crucial for Macron to succeed in parliamentary elections next month in order to enact his reforms.
Macron's task won't be easy as he is going to assume a presidency of a nation that is still very divided. One third of French people who voted preferring Le Pen and populism, and over a quarter of French people abstained in the voting. This is one of the highest abstention rates in the history of France and for the first time in the history of France, the election didn't have candidate from the main parties of the left and right.  If Macron falls short of a majority in the June's legislative election, he would need to form a governing coalition with other parties. And if another party wins a majority, then he needs to deal with the rival party during periods called cohabitation.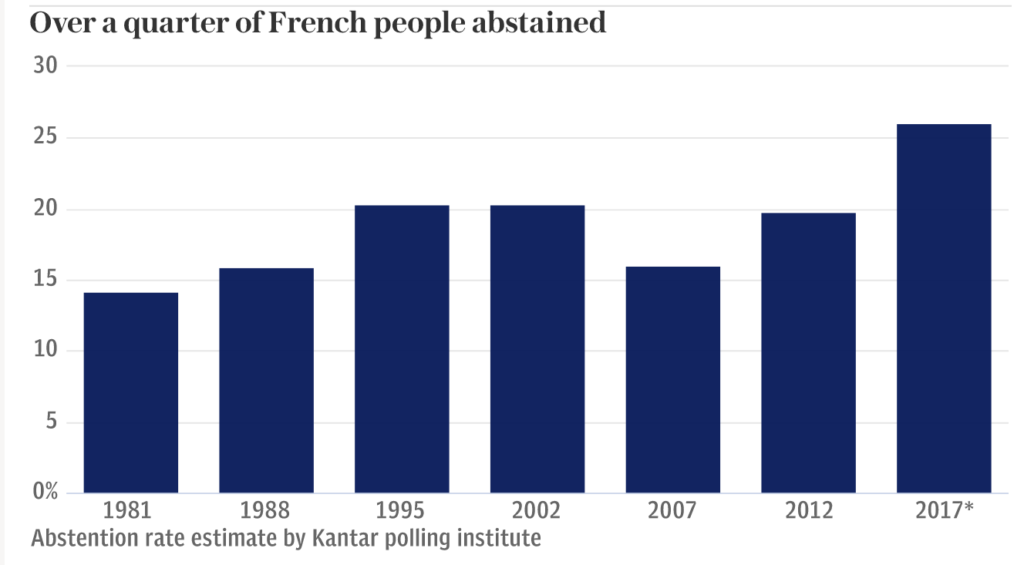 With France's traditional party system losing confidence by the voters, the risks of cohabitation and political dysfunction have increased. If an opposition party won the majority in National Assembly, Macron will likely be unable to carry out his ambitious political reform. During cohabitation period, normally the president will have a diminished role, and the Premier (Prime Minister) is the one who exercise main executive policy making authority. If, on the other hand, Macron's party secures parliamentary majority, Macron's presidency will be smooth and he will be able to implement his agendas.
Despite the uncertainty in the coming June 's legislative election, the triumph of Macron is still important as it has removed the worst case scenario for the short term, and this may provide some sort of floor to Euro dollar weaknesses.
EURJPY Long Term Elliott Wave View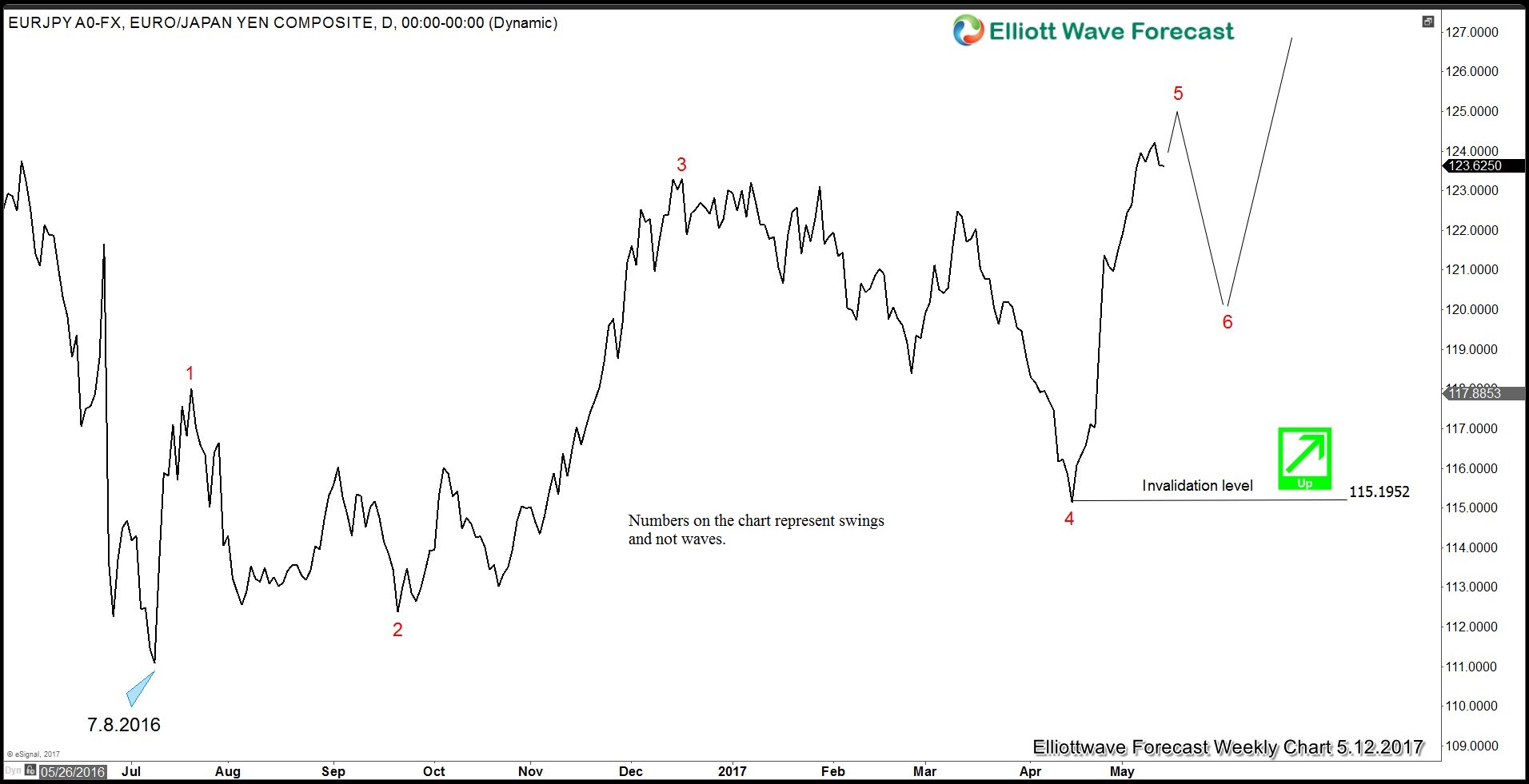 Daily chart of EURJPY is showing a 5 swing sequence from 7.8.2016 low, suggesting that as far as pair stays above swing #4 (115.19), it has scope to extend higher. How does this impact the more popular EURUSD? We can look at the correlation between the two pairs below
Overlay of EURJPY and EURUSD
An overlay of EURJPY and EURUSD chart above shows that the move in the two pairs could have a different degree of strength in certain period. For instance, the move during the period of 2015 – 2017 in EURJPY did not create a new low below 2012 low while the move in EURUSD in the same period produced a new low. Despite the different degree of strength, the two pairs still share remarkable similar oscillation and if one pair is trending higher, the other one is likely also moving in the same direction and vice versa. We have seen in the first chart that EURJPY has a bullish sequence from 6.24.2017 low and thus the pair can see an extension higher. Based on the correlation chart above, we may conclude that EURUSD should not see a lot of weaknesses if EURJPY is expected to continue to the upside in 7 swing.
If you enjoy this article and want to learn how to trade these pairs or other instrument, try our service 14 days FREE to get access to Elliott Wave Charts for 52 instrument in 4 time frames, Live Session, Live Trading Room, 24 Hour chat room, and a lot more.
Back