We have 2 important news events for British Pound on Wednesday 12.16.2015
-Average Earnings Index at 9:30 AM GMT (UK Time)
-Claimant Count Change at 9:30 AM GMT (UK Time)
Both news events could bring some volatility into GBP pairs on Wednesday morning, however $GBPUSD will be more affected by the $USDX reaction on the FOMC events at evening  7:00 PM GMT (UK Time) / 2:00 PM EST
It's well known fact that Technical Analysis is always a step ahead of Fundamental Events. We believe there is no way to make good trade decisions based on Fundamentals, however these events brings volatility to the market so we should be aware of them.
We are going to get through some GBPUSD data we have so far.  The chart below is  Elliott Wave analysis on 12.08.2015  ( NY Update).  The pair has given us nice rally from the marked area:1.4980-1.4954 and it has already reached extreme zone from the 1.4896 low.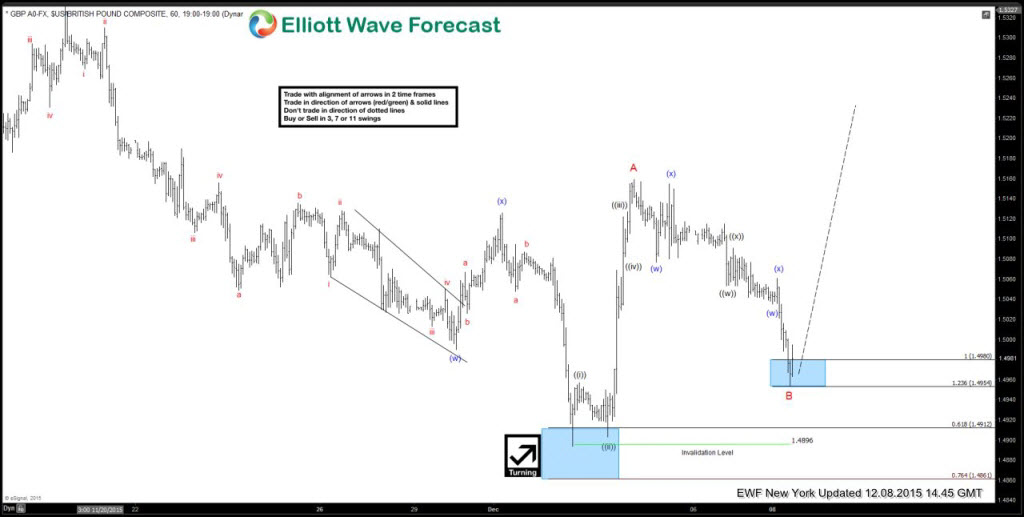 Current price structure suggests $GBPUSD has ended cycle from the 12/02 date as diagonal pattern and now doing pull back against the 1.4896 low. There are several options that might be seen on Wednesday. As far as the 1.4892 low holds we can see GBPUSD pushing higher. If that level breaks then GBPUSD could see extension lower towards 1.4800 – 1.4700 handle before a bounce occurs.
Please keep in mind the market is dynamic and the forecast could have changed in a mean time. If you want to get full 24h support from our market Experts, sign up for 14 days Free Trial so you can trade on right side of the market with EWF.
Note: All the labels and levels have been removed from chart analysis in order to protect clients privileges.
In Free Trial  you get access to Professional Elliott Wave analysis of 50 instruments in 4 different time frames,2 live webinars by our expert analysts every day, live trading room, 24 hour chat room support, market overview, daily and weekly technical videos and much more…
Welcome to Elliott Wave Forecast !
Back