Hello fellow traders.  In this technical blog we're going to take a quick look at the Elliott Wave charts of GBPUSD , published in members area of the website.  GBPUSD has incomplete bearish sequences in the cycle from the April 2018 peak. Consequently, we advised members to avoid buying the pair and keep on selling the rallies in the sequences of 3,7,or 11 swings whenever get chance. In further text we're going to explain Elliott Wave Forecast.
GBPUSD 1 Hour Elliott Wave Analysis 8.23.2019
Break of 12/30 2018 low made GBPUSD bearish against the 1.3381 peak . Cycle from the April 17th 2018 peak looks incomplete now, calling for further weakness.  Short term recovery is unfolding as Elliott Wave Zig Zag . The pair has already reached equal legs ((a))-((b)) . That area comes at 1.2225-1.2326 , marked as a blue box .  We are aware that turn can happen any moment however still calling for another leg up. At least another wave up is needed to complete 5 waves in ((c)) leg of ZIG ZAG pattern.  Besides that, EURGBP is still missing its equal leg area in equivalent cycle. So we expect GBPUSD to extend up within blue box in bonus time.  Anyway, we don't recommend buying it, and favor the short side from the blue box.  At 1.2225-1.2326 area we like to be sellers for proposed decline or 3 waves pull back alternatively.
GBPUSD 1 Hour Elliott Wave Analysis 8.28.2019
The price has been supported in near term and finally turn happened. At this stage we are calling recovery 4 red completed at 1.231. The price held nicely below upper line of the blue box : 1.2326.  Now, as far as the price hold below 1.231 peak, we can be doing next leg down. However, we need to see further separation down and break below 08/12 low to confirm next leg down is in progress.
GBPUSD 1 Hour Elliott Wave Analysis 9.4.2019
Eventually the price broke the 08/12 low. Current view suggests we are doing wave (4) blue recovery that is already at its equal legs area: 1.2142-1.2223 ( blue box).  We should be aware that wave (4) is correcting the cycle of the higher degree, so it can either complete whole correction there, or only the first leg alternatively. Anyway we don't recommend selling the pair at this stage.
Turning Black arrows shows the path we prefer , but highest probability path is not the same as highest probability trade which is why we focus on green / red right side tags or bullish / bearish sequence combined with blue boxes to trade.
GBPUSD 1 Hour Elliott Wave Analysis 9.5.2019
In the mean time the price break 1.618 fib extension level:1.2223. Third leg up was too extended to call Double Three still. So , alternative path has taken place. We are now most likely doing 5 waves up from the low, which should be only first leg A red of (4) blue as previously explained.
Keep in mind market is dynamic and presented view could have changed in the mean time. You can check most recent charts in the membership area of the site. Best instruments to trade are those having incomplete bullish or bearish swings sequences. We put them in Sequence Report and best among them are shown in the Live Trading Room.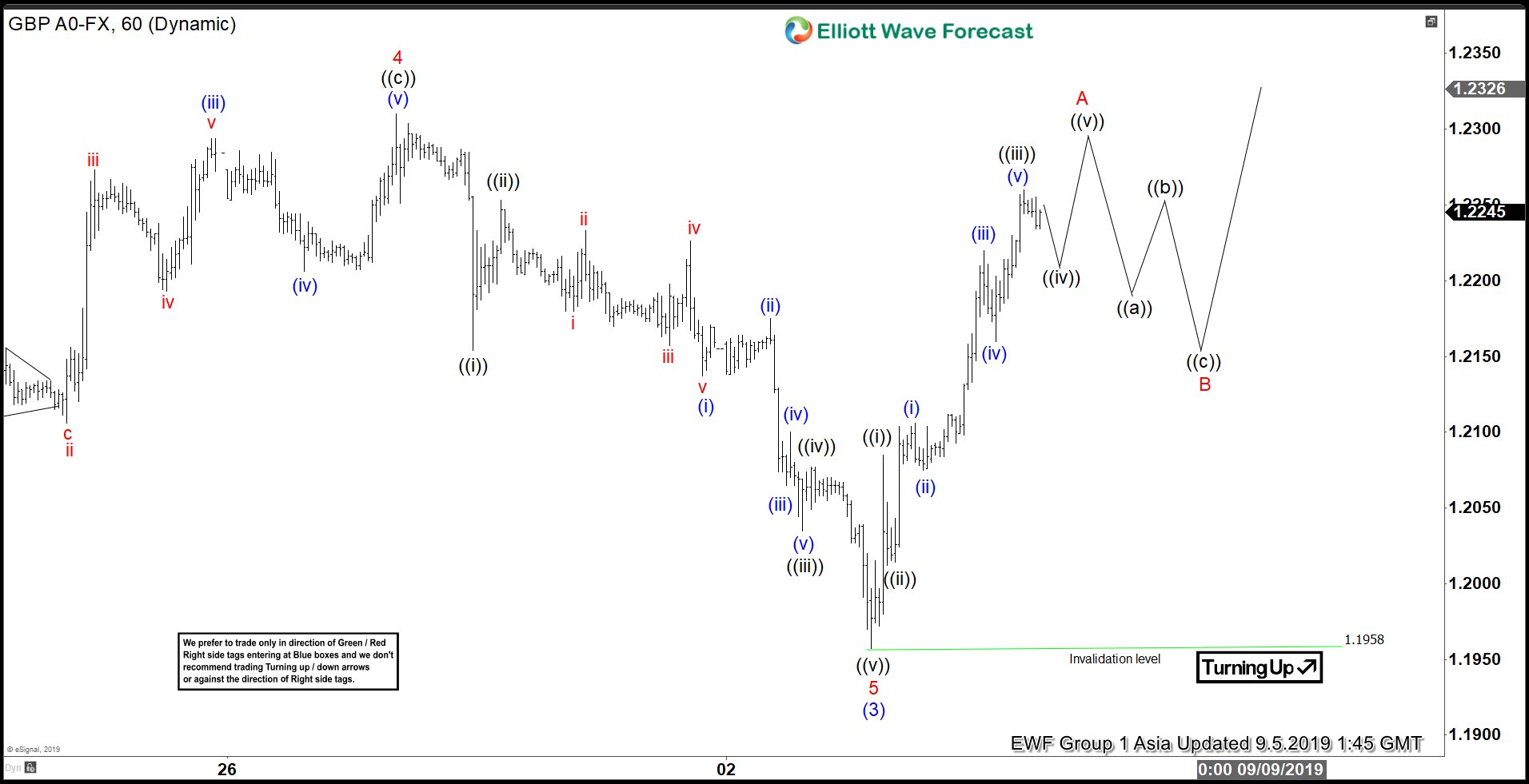 Elliott Wave Forecast
We cover 78 instruments in total, but not every chart is trading recommendation. We present Official Trading Recommendations in Live Trading Room.  If not a member yet,  Sign Up for Free 14 days Trial now and get access to new trading opportunities. Through time we have developed a very respectable trading strategy which defines Entry, Stop Loss and Take Profit levels with high accuracy.
Welcome to Elliott Wave Forecast !

Back