At the beginning of September our Elliott Wave analysis of $GBPAUD suggested that we were still in large correction from the 2.24059 high. The pair was doing correction ((x)) against the mentioned high and our Elliott Wave analysis was calling for  futher decline once it's done.
Let's take a look at H1 Elliott Wave charts from the 01. September 2015 to see how we were guiding our members through the $GBPAUD price structure.
$GBPAUD 09.01.2015 London Update Elliott wave analysis suggests we're still in wave (Y) of ((X)) recovery. The pair is calling for more strength toward 50-76.4 fibonacci retracment area to complete ((X)) recovery against the 2.24059 high
$GBPAUD 9.8.2015 NY Update We got rally in wave (Y) of ((X)), as expected.  61.8-76.4 fibonacci area is reached at 2.20207-2.21675 and we got nice reaction lower from there.
Our system suggests wave ((X)) is done at 2.2109, and while the price holds below that short term high, further decline should follow.
$GBPAUD 9.9.2015 Asia Update The pair is pushing lower nicely as expected…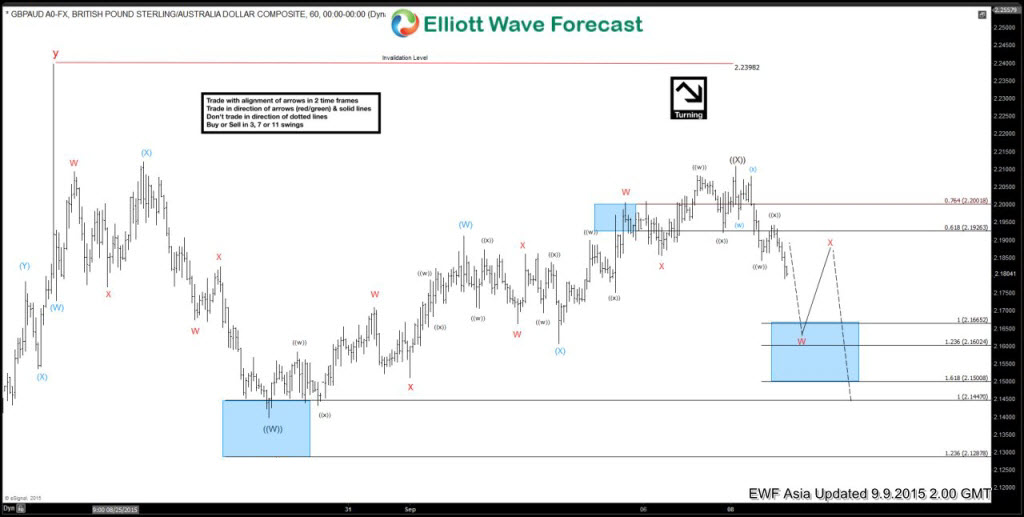 $GBPAUD 9.12.2015 Weekend Update The price retested the ((X)) high and dropped again. Next important technical area comes lower at 2.1493-2.12239 from where we might see short term recovery before the decline resumes.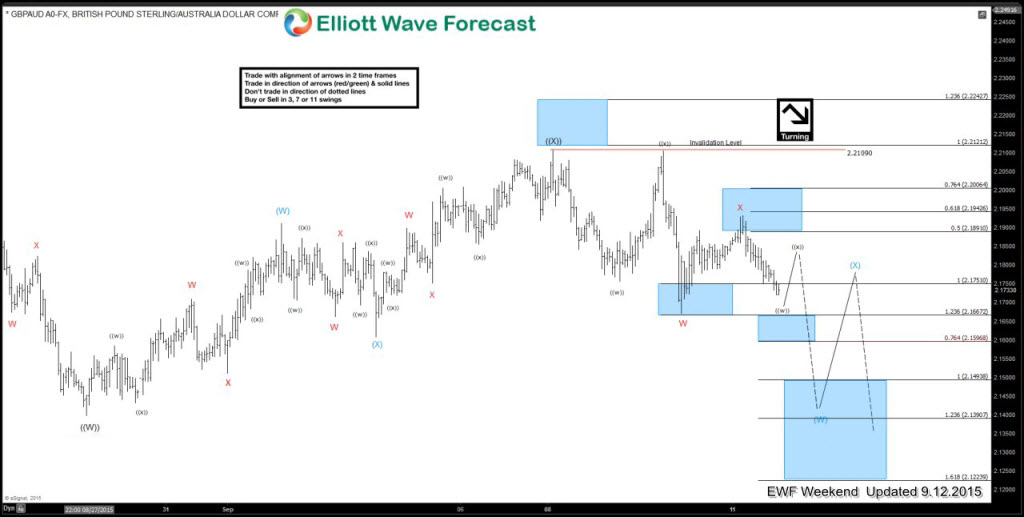 $GBPAUD 9.18.2015 Asia Update The decline from the 2.21124 high took the form of triple three structure and completed at short term tech area @ 2.13833-2.13342. Current view suggests the price is still in wave (X) recovery which could extend toward marked area 2.18995-2.19557 (potential reversal zon) . Once (X) is done further decline should follow toward new lows.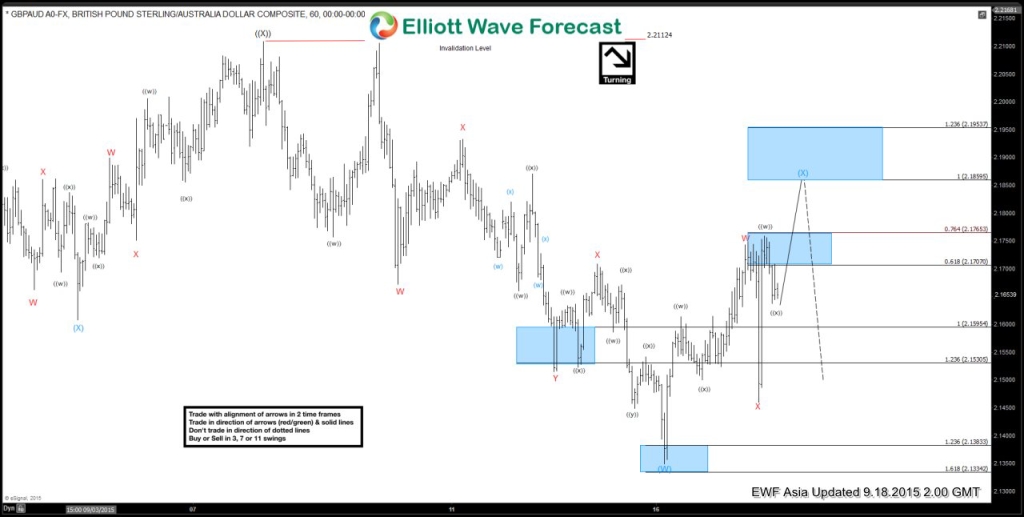 $GBPAUD 9.24.2015 New York Midday Update The pair slightly exceeded 1.236 fib ext and turned lower. Current view suggests (X) is done at 2.2009 and while that high holds more weakness is expected toward new lows…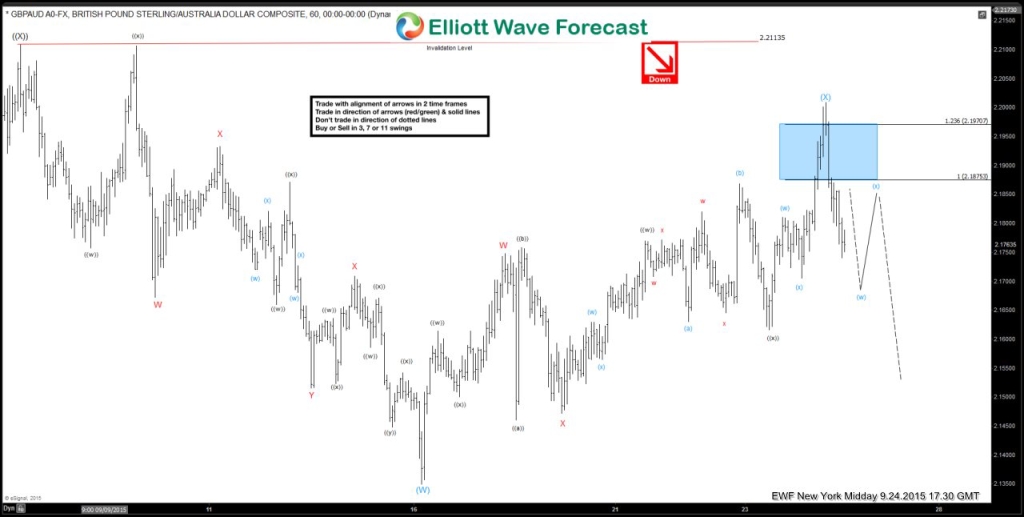 $GBPAUD 9.29.2015 Asia Update The price is about to complete wave (x) bounce at 2.1829 area. Current Elliott Wave analsysis suggests more downside in wave (y) of W  toward 2.14325-2.13425 area .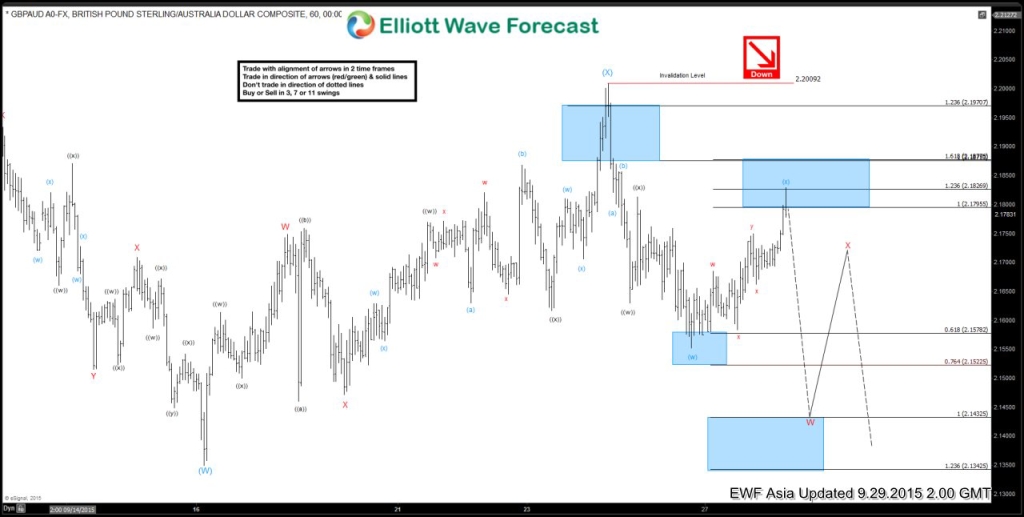 $GBPAUD 10.1.2015 New Yord Update Short term recovery ended at 2.1863 and we got decline as expected. Mentioned equal legs area is reached and X bounce is currently in progress…
$GBPAUD 10.9.2015 New York Update X recovery ended right at equal legs area : 2.16972-1.17486 and decline resumed as Elliott Wave analysis suggested.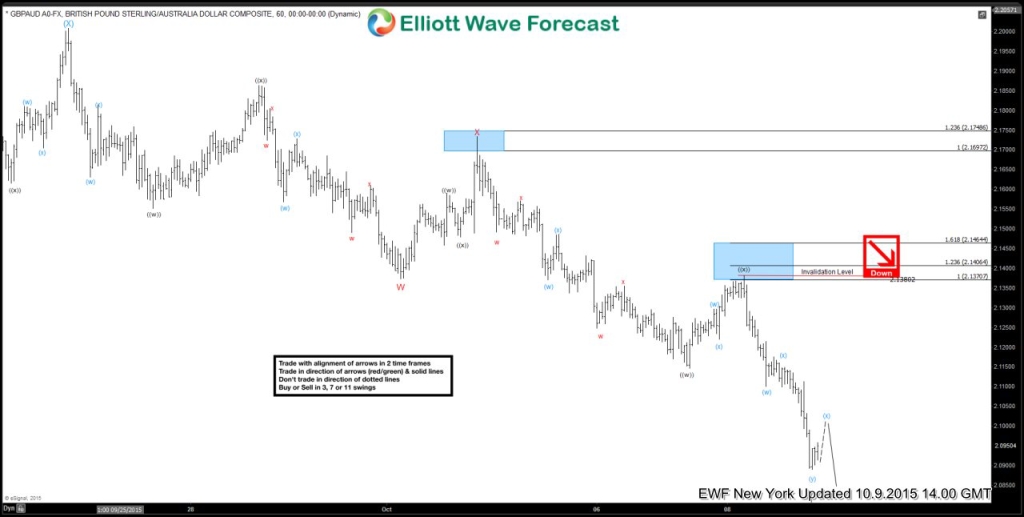 If you are lookin for professional forecasting service, you came to right place.  All you need to do is to sign up here and you will get 14 days EWF Trial for Free !
In Free Trial  you get access to Professional Elliott Wave analysis of 50 instruments in 4 different time frames,2 live webinars by our expert analysts every day, live trading room, 24 hour chat room support, market overview, daily and weekly technical videos and much more…
If you have any questions , feel free to contact me on twitter.
Welcome to Elliott Wave Forecast !
Back