EURUSD Short Term Elliott Wave view suggests that the decline to 1.1821 on 5/09/2018 low ended Primary wave ((3)). The move lower came from 4/17/2018 peak as a 5 waves impulse structure. Above from 1.1821, pair ended the correction of cycle from 4/17/2018 high in Primary wave ((4)) at 1.1997. The internals of that rally unfolded as Elliott Wave Double three structure. Intermediate wave (W) of ((4)) ended at 1.1946 as zigzag, pullback to 1.1874 ended Intermediate wave (X), and rally to 1.1997 high ended intermediate wave (Y) of ((4)).
Down from there, the pair already broke to new low below 1.1821 confirming the next leg lower in primary wave ((5)) has started. The internals of the decline is unfolding as Elliott Wave impulse structure with lesser degree subdivision of each leg down as 5 waves structure. Intermediate wave (1) is currently in progress as 5 waves where Minor wave 1 ended at 1.1909, Minor wave 2 ended at 1.194, Minor wave 3 ended at 1.1819 and Minor wave 4 ended at 1.1875.
Near-term focus remains towards 1.1806-1.1784 to end Minor wave 5 of (1) lower. Afterwards, pair should bounce in Intermediate wave (2) to correct cycle from 1.1997 high in 3, 7 or 11 swings before further downside is seen. However, in case of further extension in Minor wave 5 of (1), the pair can see 1.1789-1.1769, which is  100%-123.6% 5=1 Fibonacci extension area where Minor wave 5 = Minor wave 1. before Intermediate wave (2) bounce takes place. We don't like selling the pair.
EURUSD Elliott Wave 1 Hour Chart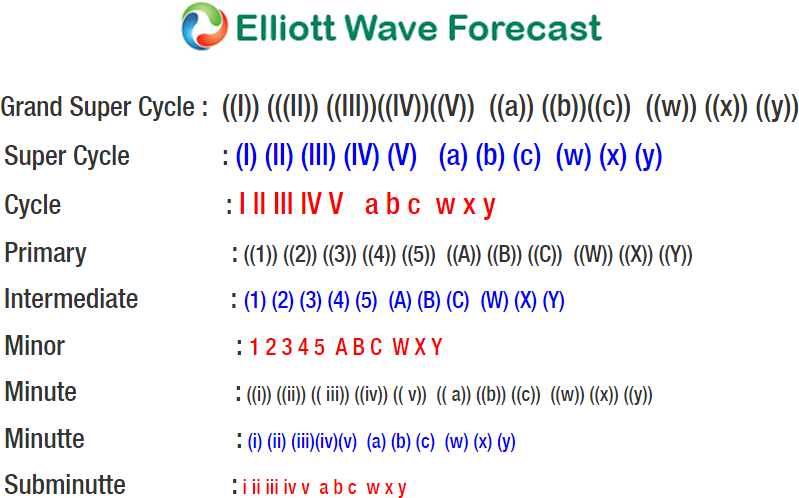 Back