EURUSD short-term Elliott wave view suggests that the decline to 1.1524 low ended Primary wave ((2)) pullback. Above from there, Primary wave ((3)) remain in progress as impulse structure looking for a further extension higher. It's important to note that the pair is having bullish sequence tag & also the right side tag is calling higher. Therefore, dips are expected to remain supported against 1.1524 low looking for extension higher.
Up from 1.1524 low, the initial rally to 1.1814 high ended lesser degree Minor wave 1 as leading diagonal structure. Where Minute wave ((i)) ended in 3 swings at 1.1720. Down from there, the pullback to 1.1616 low ended Minute wave ((ii)). Then a rally to 1.1801 high ended in 3 swings as zigzag in Minute wave ((iii)). A pullback down from there to 1.1723 low ended Minute wave ((iv)) in 3 swings. Then finally a rally to 1.1814 high ended Minute wave ((v)) & also completed Minor wave 1.
Below from there, the pair is be doing a correction against 1.1524 low in Minor wave 2 pullback in 3, 7 or 11 swings before upside renew. Near-term focus remains towards blue box area at 1.1706-1.1652 100%-161.8% Fibonacci extension area of Minute wave ((a))-((b)) to complete the 3 wave pullback from the peak within Minor wave 2. Afterwards, the pair is expected to resume the upside provided the pivot at 1.1524 low stays intact or should do a 3 wave bounce at least. We don't like selling it and expect buyers to appear within Minor wave 2 pullback in 3, 7 or 11 swings.
EURUSD 1 Hour Elliott Wave Chart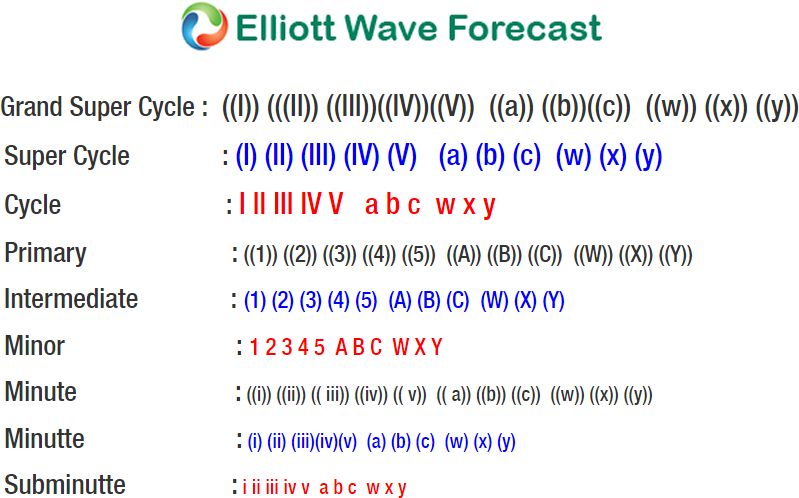 Back