The EOS token is the cryptocurrency of the EOS network which is using the blockchain technology architecture to enable vertical and horizontal scaling of decentralized applications.
2018 was the worst year for cryptocurrency investors as the market saw a significant price drop but despite that, ESO coin managed to make new all time highs during that period and reached a price of $23.
We'll take a look at the technical chart of the token using Elliott wave Theory to understand the structure:
EOS Daily Chart 02.09.2019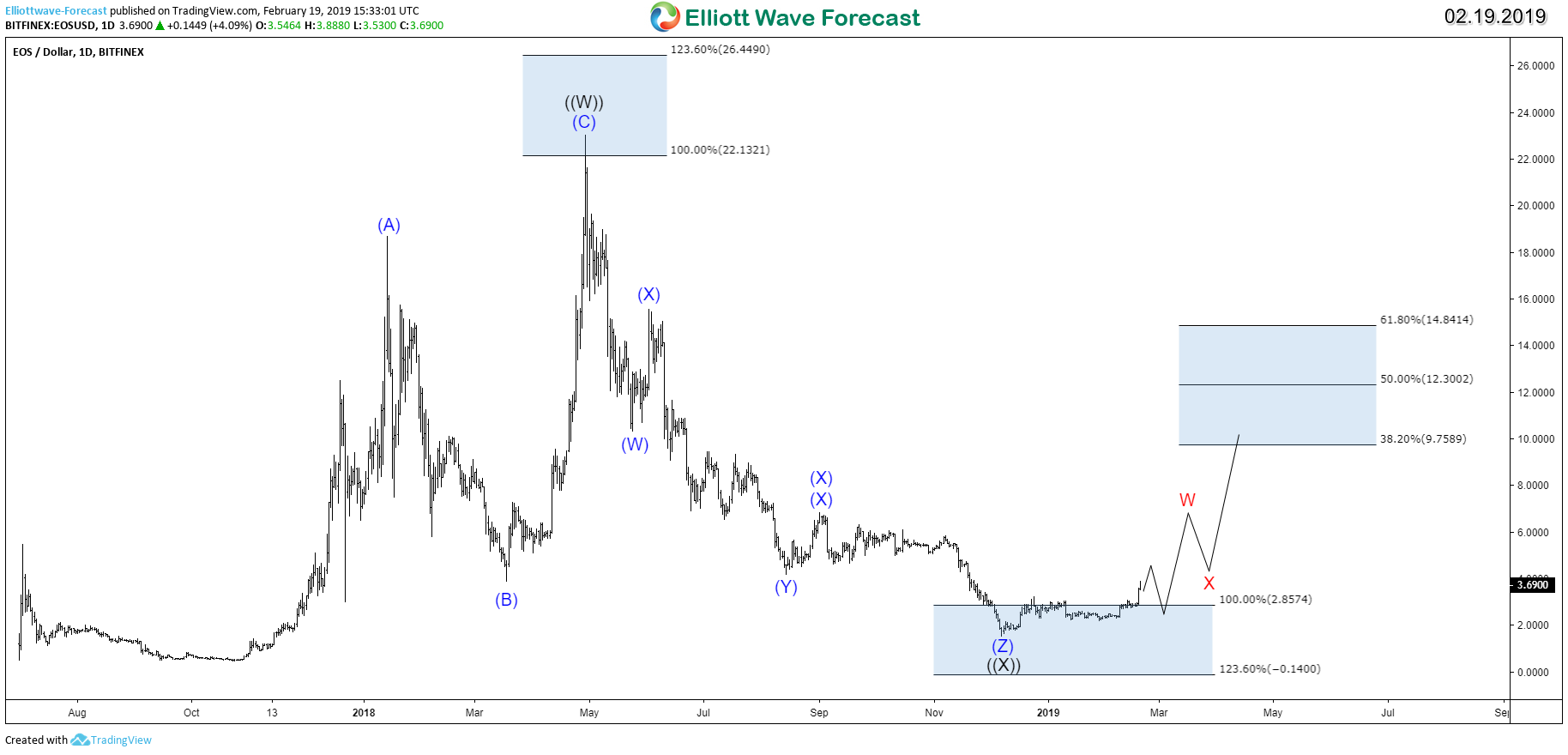 EOS first rally from July 2017 was in 3 waves higher which found sellers around blue box area $22 – $26. Down from there, the price declined in a corrective triple three structure before finally finding a low around the 100% Fibonacci extension area $2.8.
The nature of the bounce at this stage isn't yet defining the new cycle as it's only showing 3 swings from the low but it managed to end the decline from April 2018 peak. Therefore, EOS at this stage is either starting a new cycle to the upside or looking to correct the previous decline at least toward $9 – $14 area.
The cryptocurrency market witnessed it's longest bear market and there is no clear signal that it ended. However with the recovery in EOS and with further data later on, the situation could switch if the major coins like Bitcoin and Ethereum show a similar bounce.
---
Get more insights about Cryptocurrency Market by trying out our services 14 days to learn how to trade our blue boxes using the 3, 7 or 11 swings sequence. You will get access to our 78 instruments updated in 4 different time frames, Live Trading & Analysis Session done by our Expert Analysts every day, 24-hour chat room support and much more.
Back