AVAX (Avalanche) is one the top cryptocurrency having market cap around $25.9B. In cryptocurrency segment, it is ranked 11th by market cap having current price at around $106.1. Since June-2021 low, it rises more than 10 fold in the price, which shows the tremendous strength & trend in past few months.
Since September-2020, AVAX (AVAXUSDT – Binance) started the higher high sequence & gains the initial momentum in early 2021. It favored ended the impulse sequence as I red at $60.30 on 2/10/2021 high started from 9/22/2020 low. Thereafter the larger correction of II unfolded & ended at $9.32 low on 6/22/2021. The correction was 0.854 as dip retracement of previous wave I.
In the previous blog, it expected to extend higher in ((3)), while dips remain above $51.04 low. But it gave dip correction from ATH, which favors the idea of ((1)) ended at $147 high followed by ((2)) correction at $75.50 low.
AVAX – Elliott Wave Daily Latest View: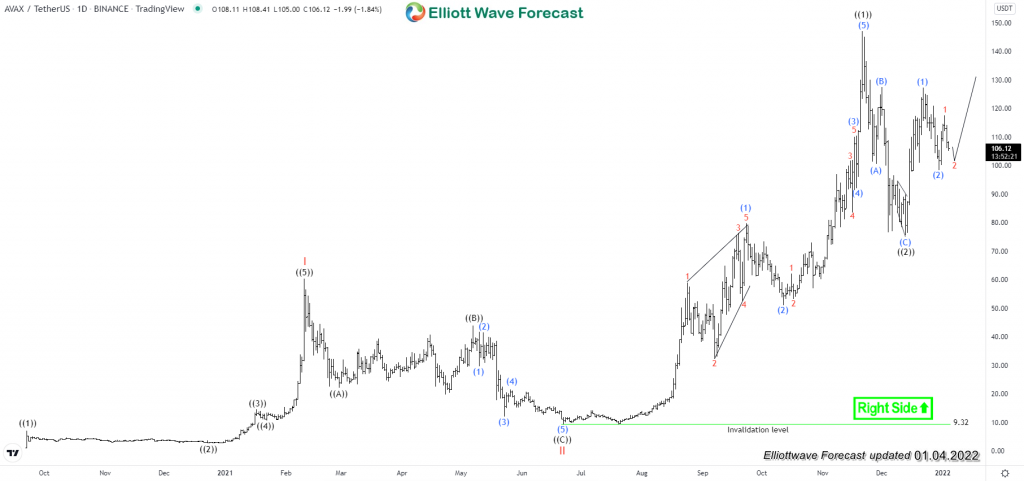 It gains the huge momentum in the sequence started from 6/22/2021 low & placed ((1)) at $147 high on 11/21/2021. It favored ended (1) at $79.80 high on 9/23/2021. It placed (2) at $51.04 low on 10/12/2021 as 0.382 retracement against the previous cycle of (1). It proposed ended (3) at $110.41 high & (4) at $92.00 as 0.236 retracement of wave (3). Finally it favored ended (5) at $147 high on 11/21/2021 as ((1)). While below $147 high, it proposed ended ((2)) as zigzag correction at $75.50 low. ((2)) was 0.5 retracement of ((1)).
It proposed ended (1) at $127.32 high & (2) at $98.25 low on 12/30/2021. While dips remain above $98.25 low, it expect to extend higher in (3), which will confirm when it breaks above $127.32 high of (1). Alternatively, if it breaks below $98.25 low from current level, we can see double correction lower in (2) towards $88.45 – $81.60 area, which ideally should remain above $75.50 to resume higher.
Elliottwave Forecast updates 1-hour charts four times a day & 4-hour charts once a day for all our 78 instruments. We do a daily live session where we guide our clients on the right side of the market. In addition, we have a chat room where our moderators will help you with any questions you have about what is happening in the market at the moment. You can try us for 14 days for only $9.99.
Back