Canadian Dollar had a relief rally last week after the U.S. excluded Canada and Mexico from steel and aluminum tariffs. President Trump's administration enacted these tariffs under section 232 Trade Expansion Act of 1982 on the ground of national security. President Trump said that the importation of steel and aluminum was "in such quantities and under such circumstances as to threaten to impair the national security of the United States."
Sentiment has become increasingly bearish in Canadian dollar over the past few weeks before the exemption announcement. The reason is because Canada is America's number one steel supplier with 16.5% market share and also America's number one aluminum supplier. However, despite the relief rally in Canadian Dollar, the tariff exemption is only temporary. The administration wants to use this exemption as a lever to get a NAFTA deal. Trump said: "We're going to hold off the tariff on those two countries to see whether we can make the deal on NAFTA."
Controversial Steel and Aluminum Tariffs
The Administration makes it no secret that the 25% tariffs on steel and 10% tariff on aluminum are directed primarily towards China. The administration has long criticized China with unfair trade practices by flooding the US market with cheap commodities. What makes this move controversial however is the fact that China only accounts for 2% of U.S. steel imports. On the other hand, U.S. allies such as Canada (16.5%), European Union (14.5%), and South Korea (10%) account for much larger share. No wonder critics have warned that steel tariff will do more harm to U.S. allies than it would do to China. Critics have also said that President Trump has started a global trade war and will hurt global growth as well as industrial metal's demand.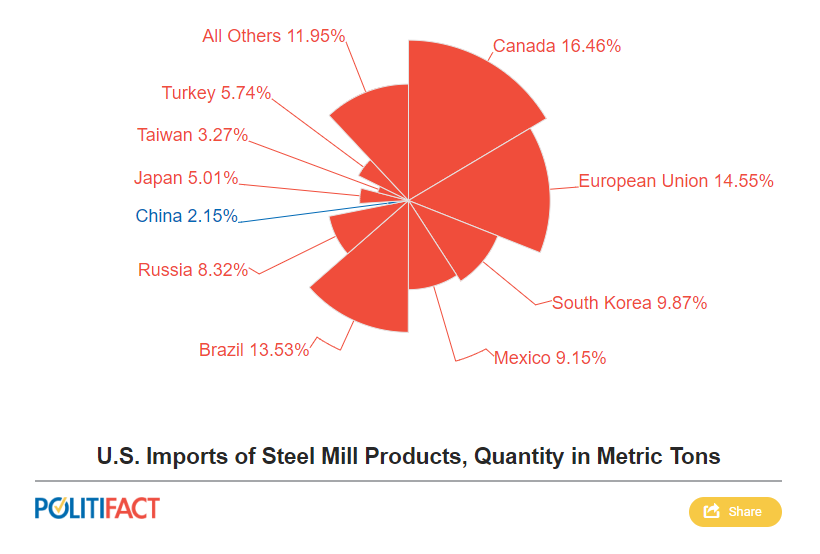 Despite the data, the Administration argues that China uses a backdoor to export steel to U.S market through other countries. This is a practice known as transshipment. Trump said in his March 6 remarks at the White House "If you talk China, I've watched where the reporters have been writing 2 percent of our steel comes from China. Well, that's not right. They transship all through other countries. It doesn't look good when it all comes out of China, so they send it through other countries, and it comes to us. And it's putting our steel mills out of business."
The Commerce Department however was unable to quantify Trump's claim. Their latest report says that an unknown portion of Chinese steel is further processed in third-party countries before entering the United States. Thus, there is no solid evidence to back up the claim. Experts have also argued that it's not a transshipment if third party countries perform value added conversion from Chinese steel raw materials before exporting to the U.S. The word transshipment implies the same piece of metal arrives in third party countries, then reshipped to U.S. without any transformation.
Canadian Dollar (USDCAD) Daily Elliott Wave Chart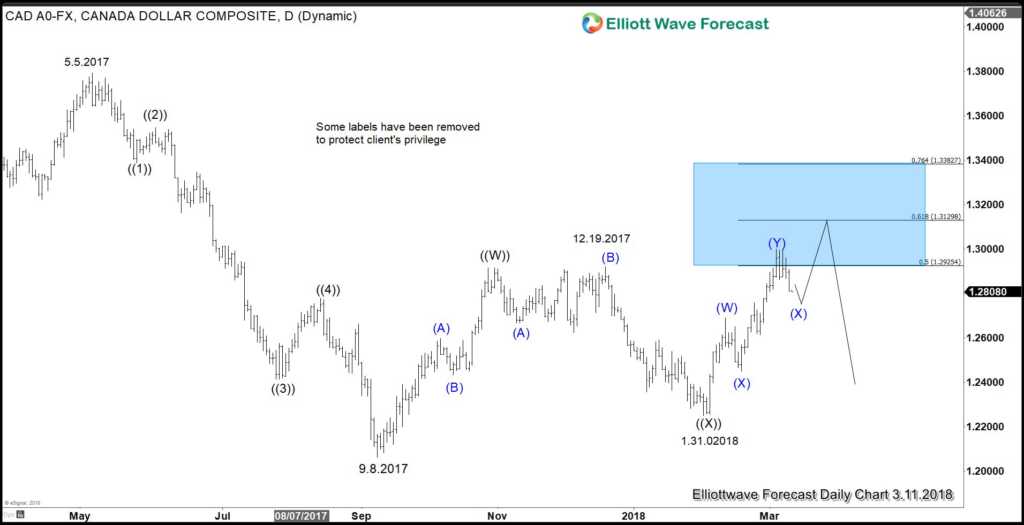 Canadian Dollar's rally from 9.8.2017 low (1.2062) is unfolding as a double three Elliott Wave structure. Up from 1.2062, wave ((W)) ended at 1.2917 and wave ((X)) ended at 1.225. The pair has managed to break above the irregular wave (B) at 1.292 on 12.19.2017. The break creates a bullish sequence (higher high sequence) from 9.8.2017 low. Ideally, the rally from 9.8.2017 low reaches 100% in 3 swing towards 1.31 – 1.33 before pair either extends the decline to new low or at least pullback in 3 waves. Thus, in the short term, pair still has scope to extend higher before larger pullback takes place. Alternatively, pair has ended cycle from 9.8.2017 low without reaching 100% and already starts the decline lower or at least larger pullback to correct entire rally from 9.8.2017 low.
If you enjoy this article, check our work and just click –> 14 days FREE trial to get access to Elliott Wave charts for 78 instrument, trading signal, 24 hour chat room, and much more.
Back