Bitcoin has been rallying for the last few weeks and this week it managed to make a new high above August 17, 2020 peak. The low seen on 8th September 2020 was 9825 and last week's high was 13235 which makes it 3410 and equates to 34.7% rally since 8th September 2020. In today's article, we will look at the Elliott wave picture for Bitcoin to conclude what should be next for this major and most popular cryptocurrency. Let's take a look at the daily chart of Bitcoin starting from March 2020 low.
Bitcoin Elliott Wave View: Wave (1) of ((3)) in Progress
Chart below shows wave (1) completed at 5990.35, wave (2) completed at 4435.85, wave 1 of (3) completed at $7469, wave 2 of (3) completed at 6472.67, wave 3 of (3) completed at $10074, wave 4 of (3) completed at 9326 as a triangle, wave 5 of (3) completed at 10429 and wave (4) pull back completed at 8830. Wave (5) of wave ((1)) completed at 12473. This complete Elliott wave impulse structure and was followed by a quick 3 waves pull back to 9834 after which Bitcoin started rallying again. Bitcoin has rallied over 34% into a new high, rally from 9834 is impulsive with extension in wave 3 and hence we are going with the more aggressive view that wave wave ((2)) is completed at 9834 and we are currently in wave (1). After some more upside, we expect wave (1) to complete which should be followed by a pull back in wave (2). Wave (2) pull back can take any corrective structure and as wave (2) pull back holds above 9834 low, expect rally to resume in wave (3) of ((3)). We don't like selling and expect buyers to appear in wave (2) pull back in 3, 7 or 11 swings for extension higher.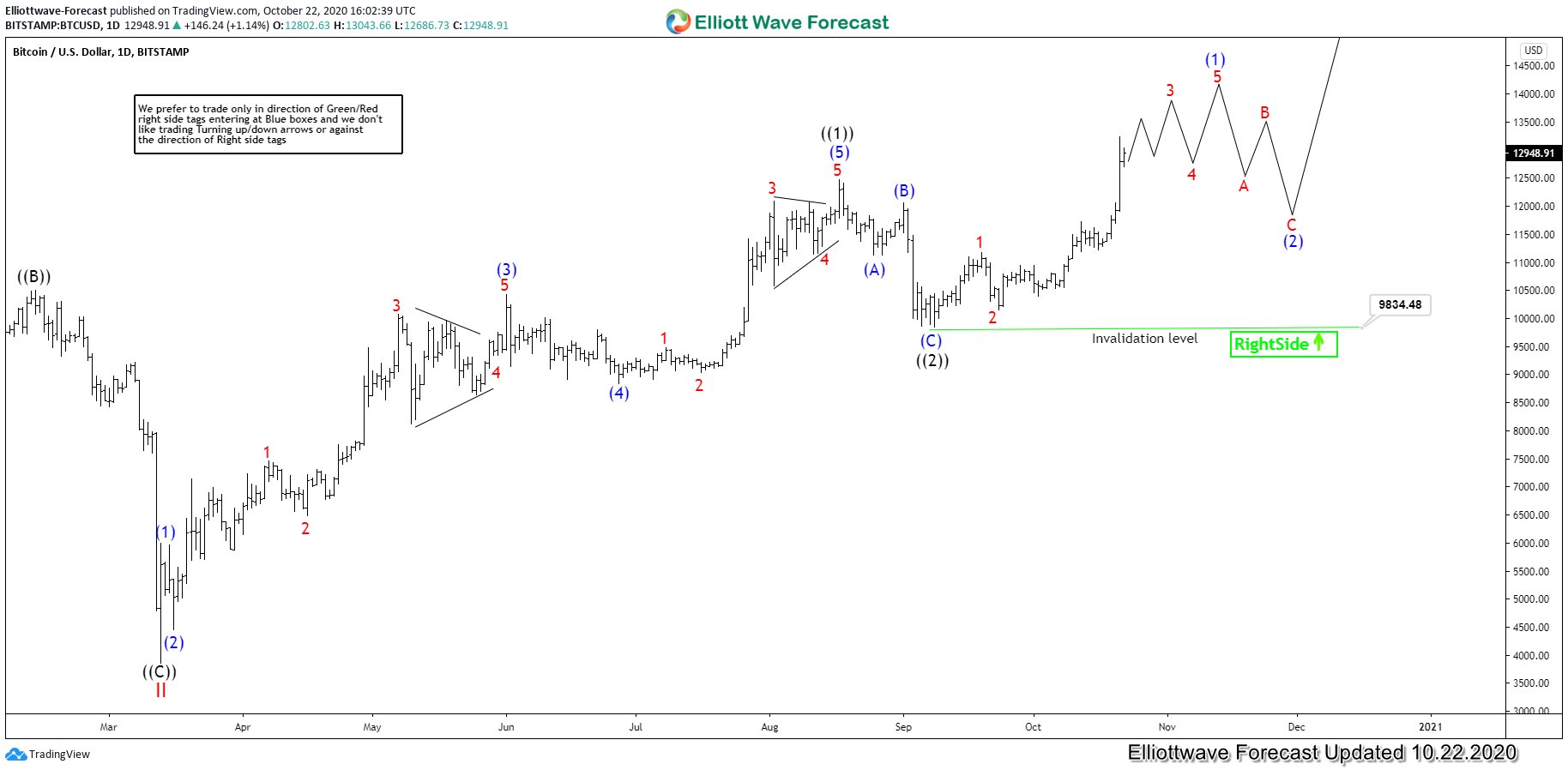 Bitcoin Wave (5) of ((1)) in Progress
Alternatively, dip to 9834 was wave (4) and the rally sine then is wave (5) of ((1)). Under this scenario, BTCUSD still has scope to make the deepest pull back since March 2020 low which should be wave ((2)) and after that rally should resume again. In either scenario, BTCUSD remains bullish and should remain supported in the dips in 3, 7 or 11 swings because Gold is bullish against USD and Bitcoin also trades against US Dollar so Bitcoin should also be bullish and remain supported in the dips.

Gold Incomplete Sequence from All Time Low
Back