Triangle is an Elliott wave pattern seen during sideways market consolidations, it is composed of 5 corrective sequences. This pattern presents a balance of forces between buyers and sellers, causing a sideways movement that is usually associated with decreasing volume and volatility. Triangle is continuation pattern which breaks in direction of the preceding move. It could occur in wave 4 in an impulsive structure, wave B in a zig-zag and wave X connector in double and triple threes Elliott wave structures. It could also occur in wave Y of a WXY structure  in which case it marks the end of correction.
Within Running triangle structure, wave B always goes above start point of wave A , in case of bullish triangle or below start point of wave A in case of bearish triangle, like presented at the picture below.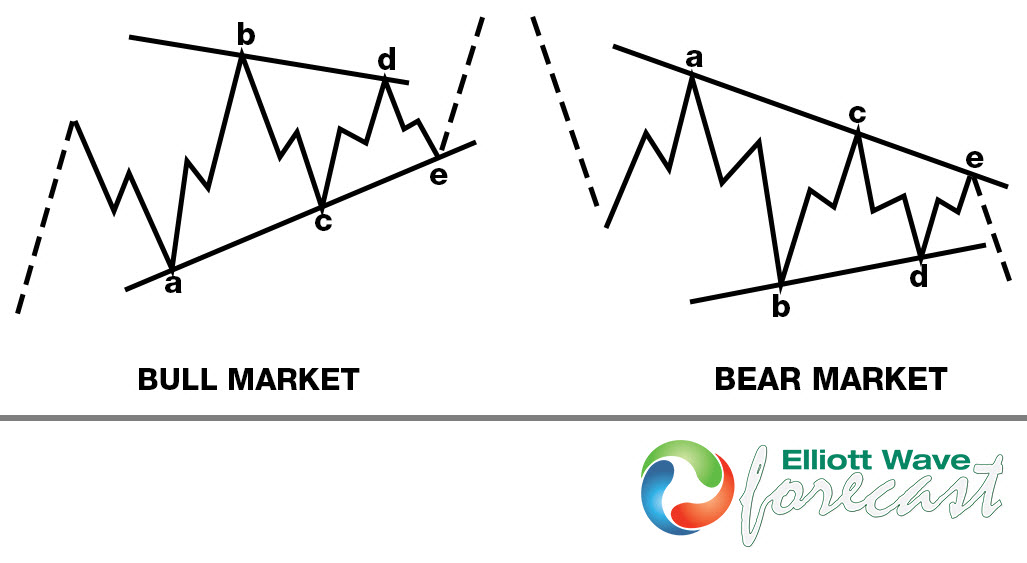 Now let's take a look what Running Triangle looks like in real market.
 $AUDJPY 6.25.2015 H4 Update Current view suggests X red short term recovery has the form of Elliottwave Triangle. Wave ((b)) ended below the start point of wave ((a)) that makes it running Triangle structure. We asume that Triangle ended at 96.183 and while the price holds below that short term high, further drop is expected.Next technical area comes at  91.1-92.4 which is expected to produce recovery against the 97.306,  before further decline resumes.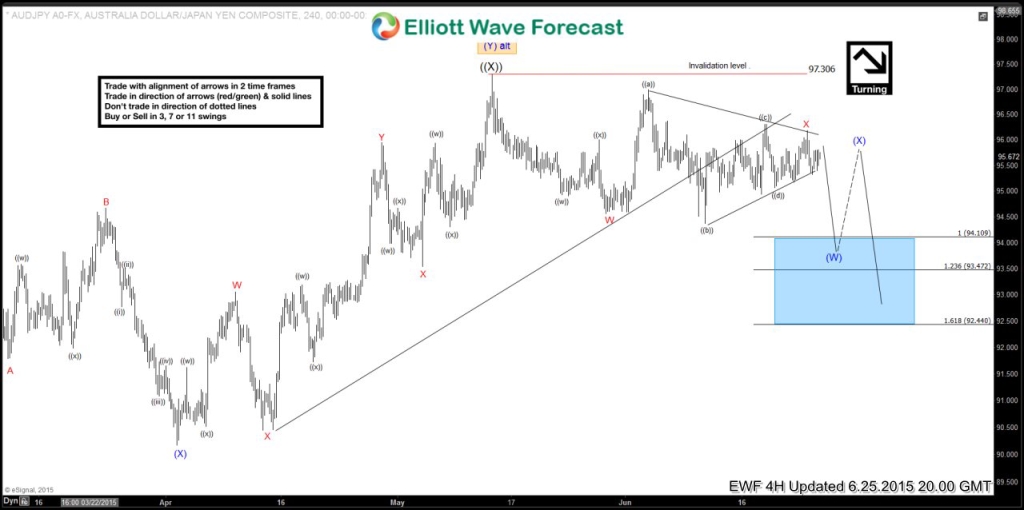 $AUDJPY 7.9.2015 H4 Update The price held nicely below 96.183 as expected and we got nice decline.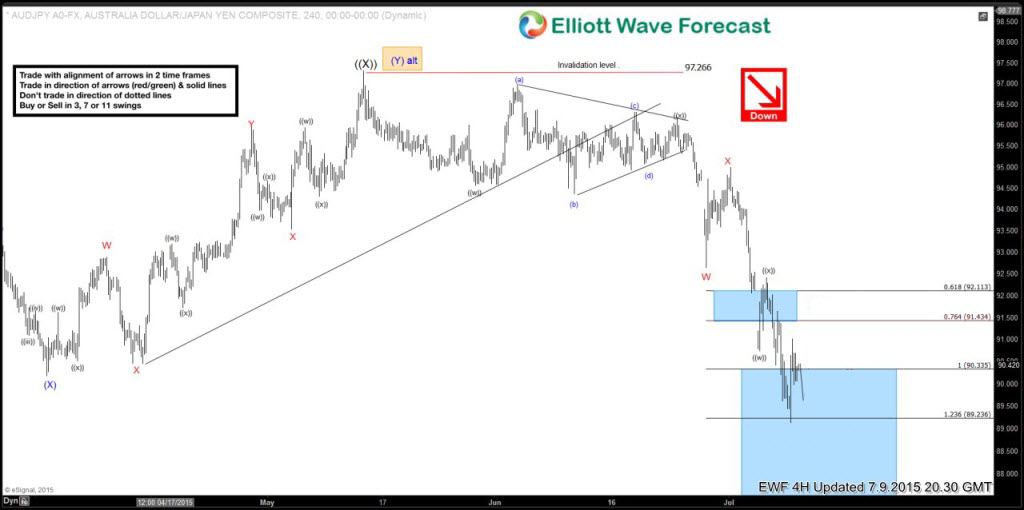 These days $AUDJPY  has very clear Elliottwave structure, which is going to provide some great trading opportunities. More about that could be find at Chart Of The Day section.
If you would like to have access to EWF charts in real time and learn from Market Experts, feel free to join us .Now you have an opportunity to sign up for Free 14 Days Trial and get a Full access of Premium Plus Plan in 2 weeks.We provide Elliott Wave analysis in 4 different time frames, 2 live webinars by our expert analysts every day, 24 hour chat room support, market overview, daily and weekly technical videos and much more.
If you are not member yet, just sign up here to get your 14 days Premium Plus Trial for FREE.
Welcome to Elliott Wave Forecast !
Back