Many traders overlook the process of selecting the right instruments to trade. Trading is a process which requires a lot of discipline and a good technique to be consistently profitable. Selection is one of the aspects which can define the life of a trader because without the right selection process, most traders are going to have a very short life.
Selection, by definition, is the process / action of carefully choosing someone or something as being the best or most suitable scenario and that simple concept can be applied to trading as well. Most traders fall in love with trading one instrument or one group of instruments among the whole market spectrum. Reality is that the market is made up for different groups and each group can have different instrument in it. Even though, we believe there is just one market as a whole but still not every single structure or sequence is always clear and there is a stage in the market which is called sideways. An instrument can be trending and following either a bullish or bearish sequence and another instrument from the same group could be sideways at the same time.
If you pick an instrument to trade within a group but it is the one which is sideways, then your trading results would suffer and you won't be able to benefit from your ideas even when your idea of direction is correct. At Elliottwave-Forecast, we trade based in sequences, cycles, distribution and other tools that we developed combined with Elliott wave theory. The idea is that we scan 50+ instruments every single day and what we do as traders is to pick the instrument showing an incomplete sequence and it could be a different instrument every day rather than trading the same instrument every day. This selection process allows us to be more profitable and make more money for the risk that we take. Every trader needs to understand that when you trade, you are taking a side and taking sides comes with risk involved. A trader always needs to find ways to make the most return for the money they put at risk because no one can win all the trades. There will always be losses which we need to minimise as traders and maximise the returns using a good risk / reward ratio.
Using this concept, a trader needs to filter every decision, in other words, every plan is going to pass through a filter that is called the selection process. Elliott wave is a great tool to trade but if we use Elliott wave combined with the selection process presented here, we can come up with simple steps that is going to make us better traders. Steps are as follows:
1. Look at as many instrument as you can
2. Spot incomplete sequences in 3, 7 and 11 and so on OR 5, 9 and 13 and so on
3. Use different times frames to locate the trend.
4. Trade the sequence and cycles with the trend.
5. Look at the crosses to be able to locate which instrument (currency is likely to perform better)
Using these steps, a trader can locate a trending instrument and avoid sideways instruments. Crosses analysis can help to determine which instrument is likely to outperform against a third currency. In the below example, we are going to explain that when we were bullish US Dollar Index, why we chose to buy USDCAD (USD long) rather than selling EURUSD (USD long).
If we look at the charts around 10.19.2016, we were expecting more USDX strength. EURUSD was showing a sideways consolidation, whereas, USDCAD, on the other hand was showing a bullish sequence, five swings up from 5.3.2016 low which made the sequence bullish against 8.18.2016 low. Thus, on 10.19.2016 our selection process told us that we should be favoring USDCAD over EURUSD to take a trade. That's why we bought USDCAD and didn't sell EURUSD. USDCAD reached the target at 1.3500 on 11.9.2016 and EURUSD on the same date was 200 pips higher than where it was on 10.19.2016.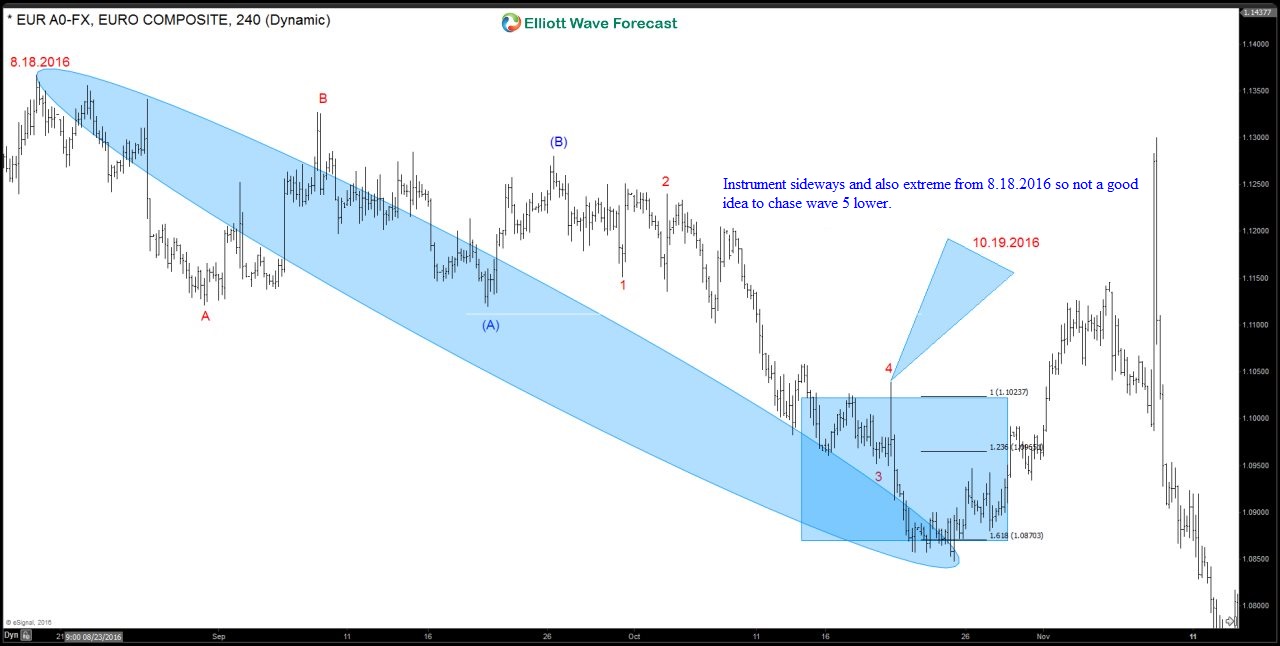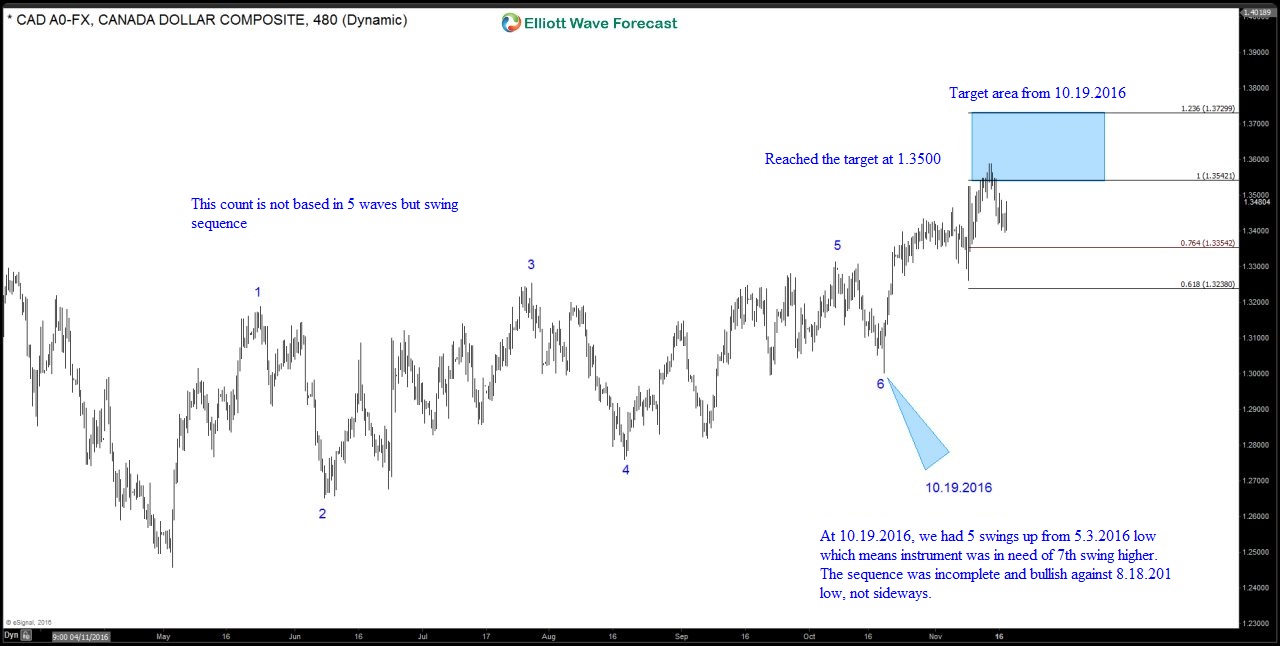 USDCAD 4 Hour chart update 10.19.2016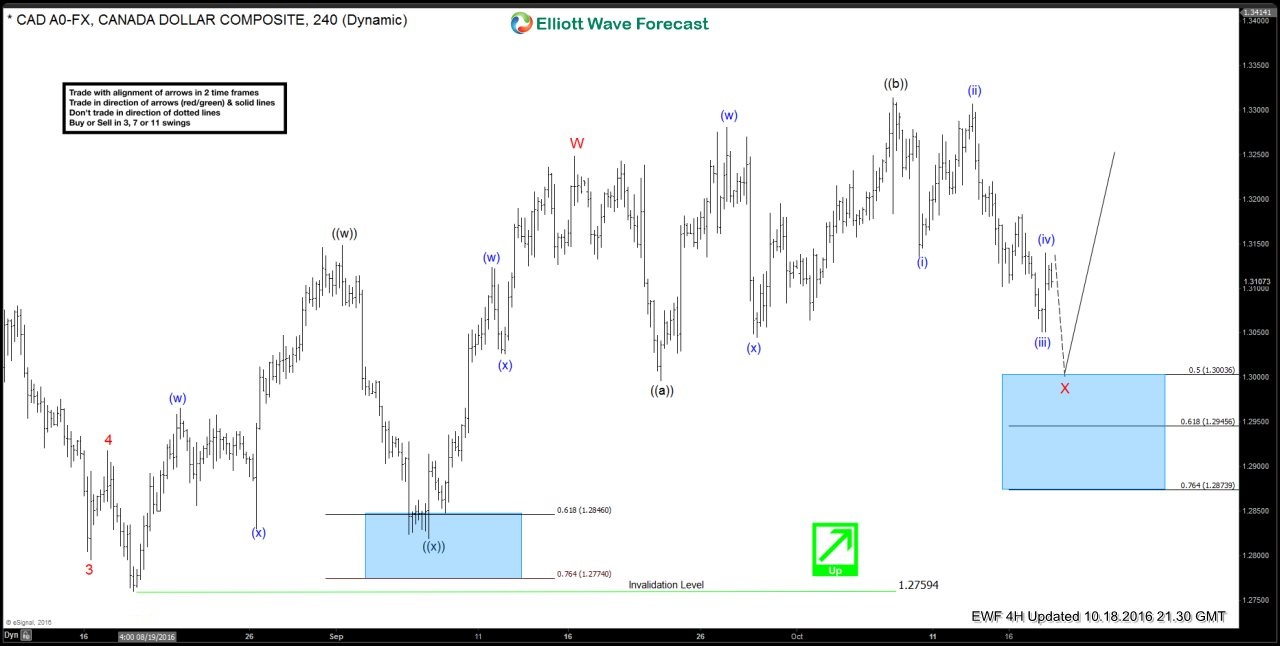 EURUSD 10.19.2016 1 Hour chart
Also, we looked at EURCAD which was showing an incomplete sequence to the upside further supporting the idea that we should be buying USDCAD instead of selling EURUSD.
It looks very simple but it's something that many traders lack which is the selection process to select the right instrument to trade instead of trading the one they love. Professional traders scan the market, select the right instrument which will provide more gain for the risk. If you follow these steps, your life as a trader is going to increase and let's not forget the fact that 97% of the traders don't last more than one year. We at Elliottwave-Forecast are here to help traders last more than a year and become successful and we do that through teaching, our forecasts and providing trade setups through live trading room and strategy of day / week in which we apply the selection process. If you would like to learn more about our selection process and access our setups, sign up for 14 day Trial.
Back