At the middle of September our Elliott Wave analysis for SPX suggested that we were ending wave III- impulsive cycle from the 1269.91 low. Wave III has 5 wave structure with Ending Diagonal in wave ((5)). The price was  approaching 1.236-1.618 fib inverse extension of wave (4)  at 2014.9-2049.06  & diagonnal was about to complete .
Let's take a look at H4 Elliott Wave charts from the 10. September 2014. to see how we were guiding our members through the $SPX price structure.
SPX September 18/2014 The price is approaching important technical area 2014.9-2049.06/ 1.236-1.618 fib inverse extension of wave (4). Pull back in wave IV is expected.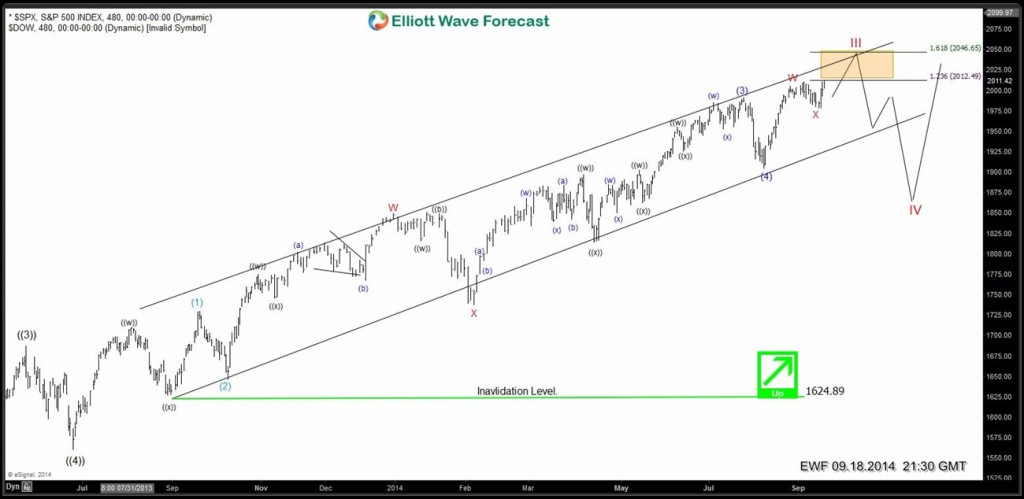 SPX October  02/2014
Wave III is in place at 2019.83 , wave IV is in progress … The price has entered technical are from where short term recovery might be seen before another leg lower takes place to complete wave IV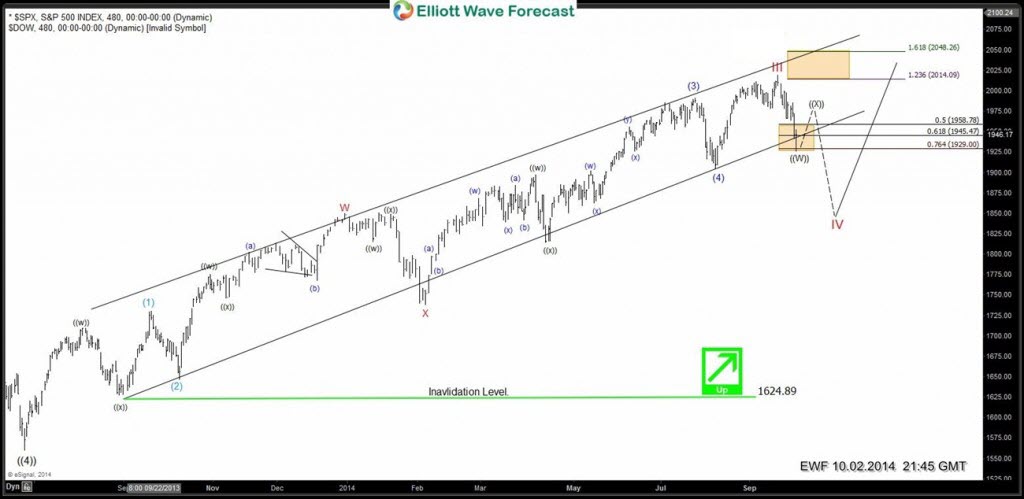 SPX October  07/2014 Wave ((X)) of IV has reached 50% fib area and we're now in ((Y)) lower…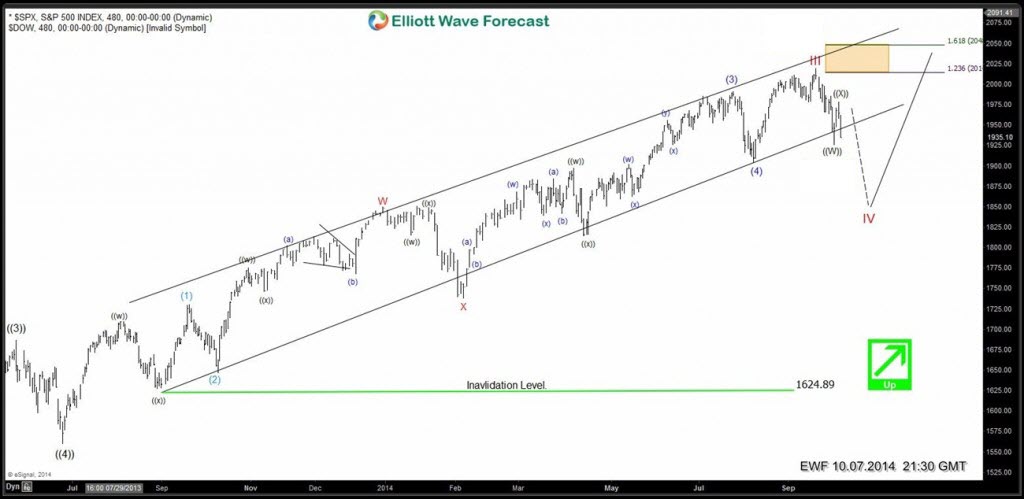 SPX October  15/2014   Wave IV is about to complete as double three structure and further rally is expected. Buy zone comes at 1851.55-1815.66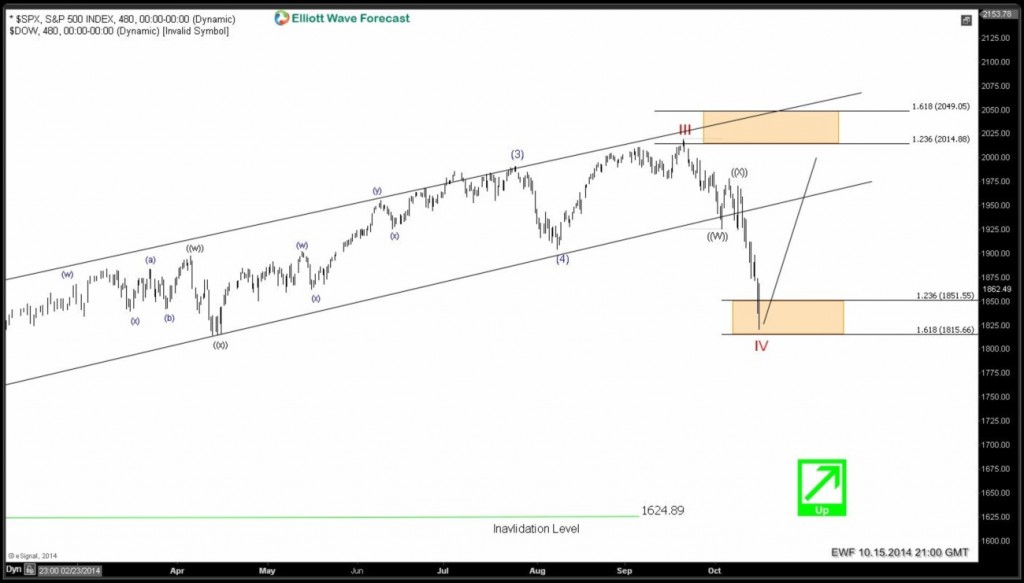 SPX October  18/2014 Nice reaction from our buy zone. Wave IV is in place at 1819.71 and more strength is expected toward new highs in wave V.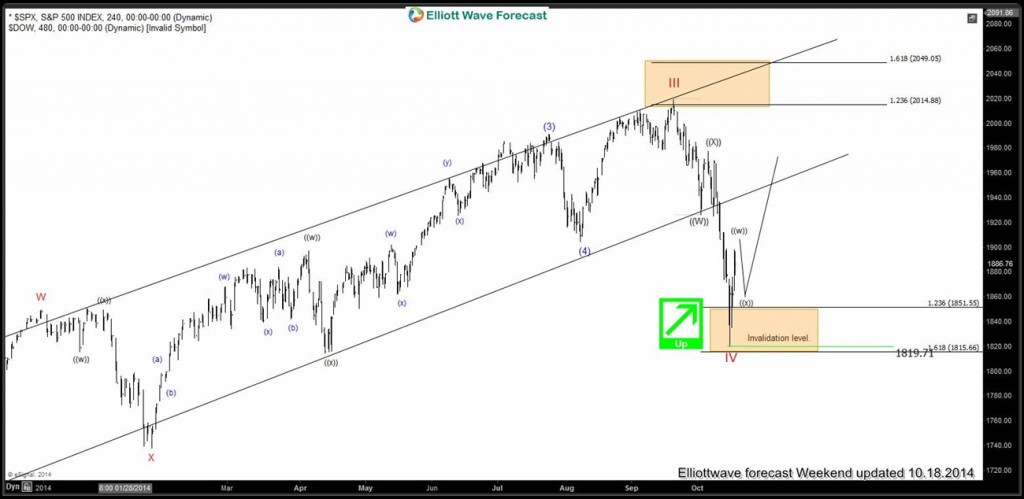 SPX October  28/2014 SPX has reached short term equal legs area-1.236 fib extension area at 1974.88-1986.28. Pull back might be seen from there before rally resumes toward new highs.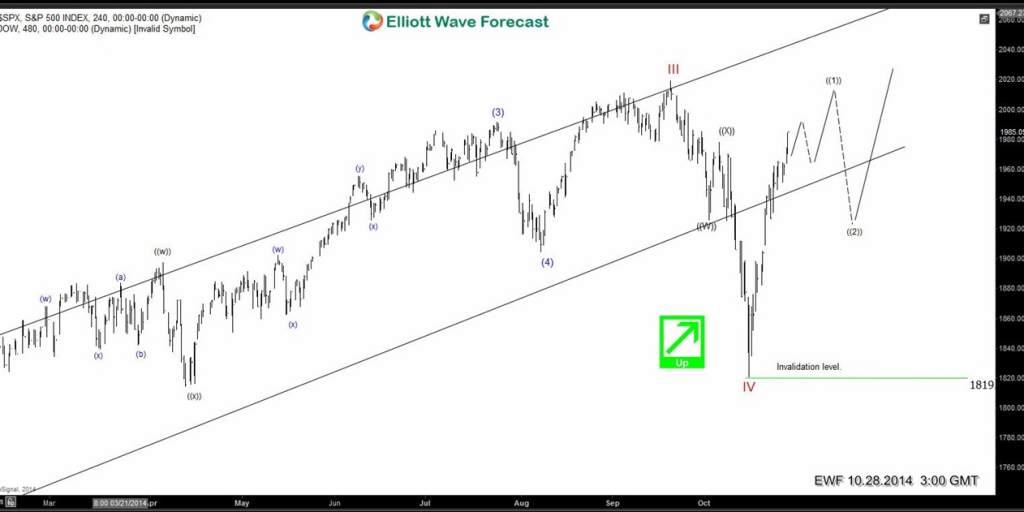 SPX November 15/2014

We got shallow pull back and continuation higher. Elliott wave theory suggests,  wave V would usually end in inverse 1.236 – 1.618 fibonacci extension area of wave IV which lies between 2066 – 2144.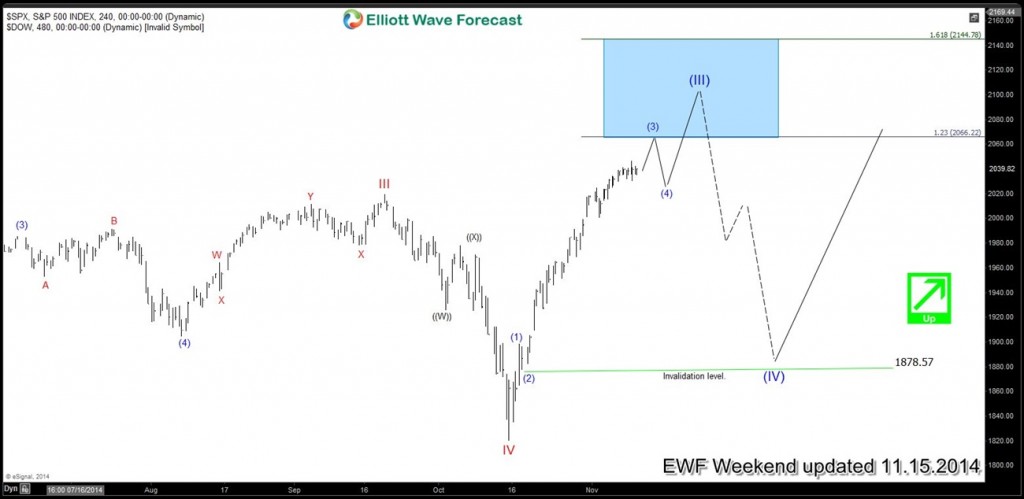 SPX November 25/2014

SPX is about to complete wave (3) of V and short term pull back is expected in Elliott wave (4) to correct rally from 1876.98 low before the next push higher is seen to end Elliott Wave cycle from 15 October low (red wave IV)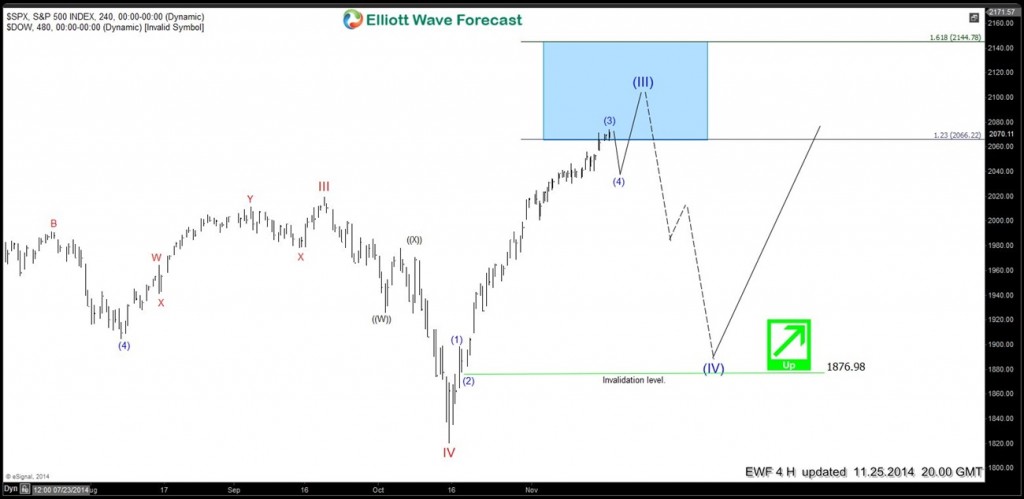 SPX December 01/2014 We got pull back wave (4) as expected. Although the price has already reached inverse 1.236 fib ext of wave IV, another push higher is expected before decline takes place in wave (IV)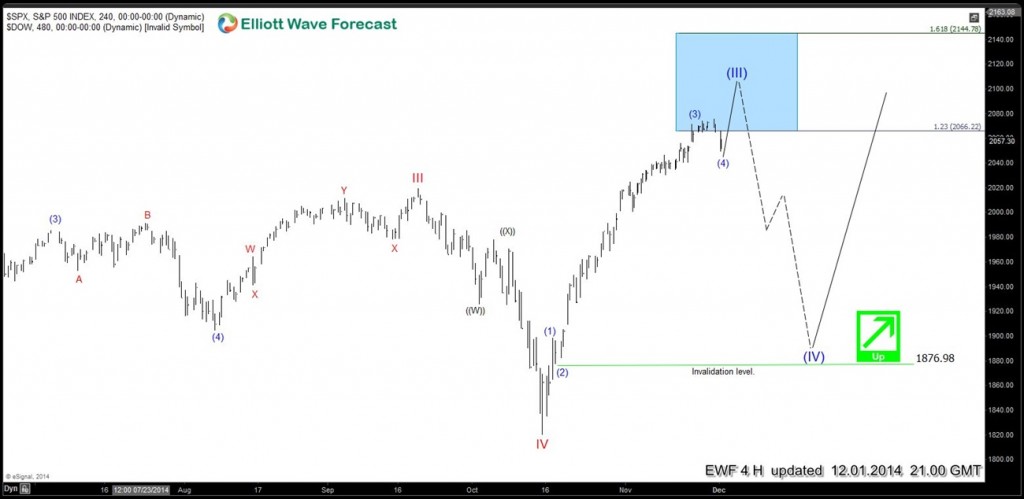 SPX December 13/2014 We got another high and turn lower that we were expecting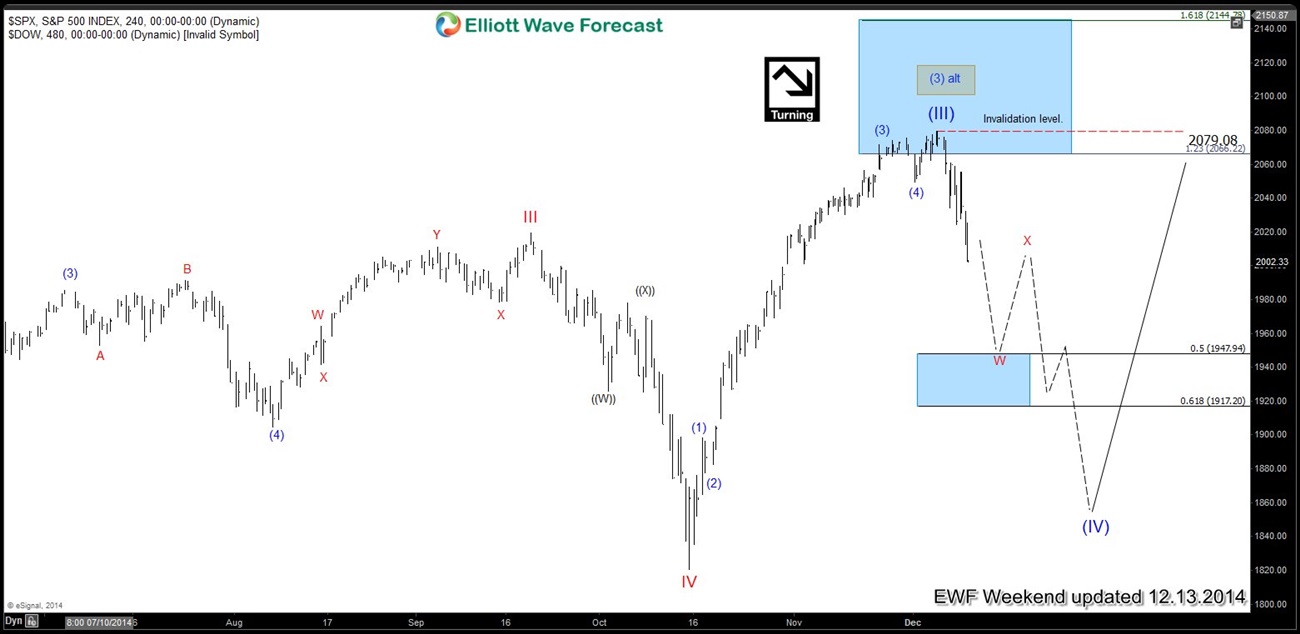 One way to forecast a fifth wave target with Elliott Wave is to take an inversion 1.236% -1.618% extension of the length of wave (4). If you would like to have access of EWF analysis in real time& learn more about Elliott Wave forecasting, feel free to join us.  Now You have an opportunity to sign up for FREE Trial here and get Full acces of Premium Plus Plan in 2 weeks.
As our member, you have access to EWF Live Analysis Sessions and we advise you to attend them , so you could learn from our Market Experts.
End of Year Sale  (expires at Mid night on 31 December 2014) Sign up now  &  save 50% . Welcome to EWF !
Back