Hello fellow traders, in this technical blog we're going to take a quick look at the past Elliott Wave charts of NZDJPY to see how we guided our members through this instrument.
The chart below is $NZDJPY daily update from  11.07.2016 It's  suggesting we're in the potential pull back X red from the 76.90-78.01 area, before resumes higher again toward target area : 79.81-81.61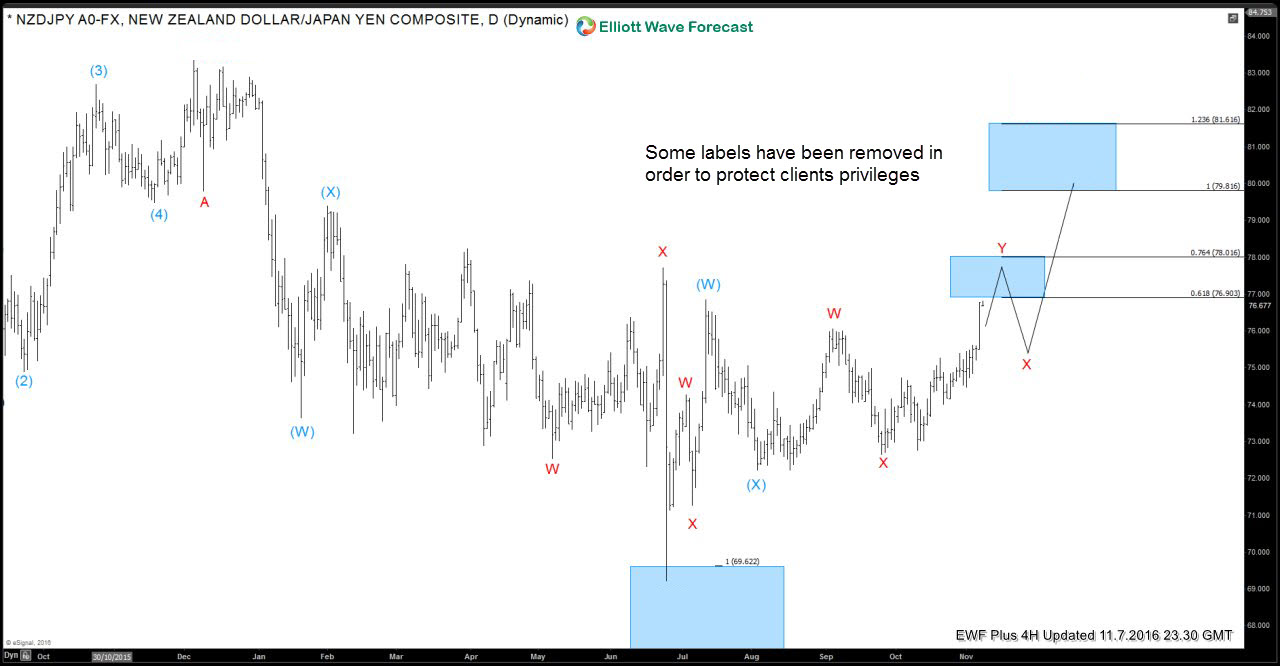 Now let's take a look at the short term structures…
Since November 08/2016 when the pair broke July 12th peak, we got 5 swings in the cycle from the 06/24 low which was confirmation for our bullish forecast. The day after,short term peak at 77.85 got broken, so we got incomplete bullih sequences in the cycle from the 08/03 low as well. We knew that buyers are going to push the price higher, targeting the 79.8 area. We suggested our members to avoid selling NZDJPY pair and advised buying dips in the ((x)) black pull back against the 73.66 pivot. Eventually, wave ((x)) pull back has reached proposed entry area (75.77-75.27 ), and so far it made rally of approximately 500 points.
Now, let's take a quick look at our Elliott Wave Forecasts.
$NZDJPY 11.13.2016 Weekend Update The pair is reaching 50-61.8 Fibonnaci retracement area at 75.77-75.27 ( buy zone) . It's expected to complete wave ((x)) pull back before rally resumes toward new highs ideally.
$NZDJPY h1 NY Update 11.14.2016 The pair Reached 50-61.8 fibs and made nice reaction from there. We're calling ((x)) black pull back completed at 75.64 low, suggesting further strength toward new highs while the price holds above mentioned low.
$NZDJPY Asia h1 Update 11.30.2016 The price made nice rally of approximately 500 pips, making only shallow pull backs and keep find buyers. It has finally reached mentioned target at 79.81-81.61 .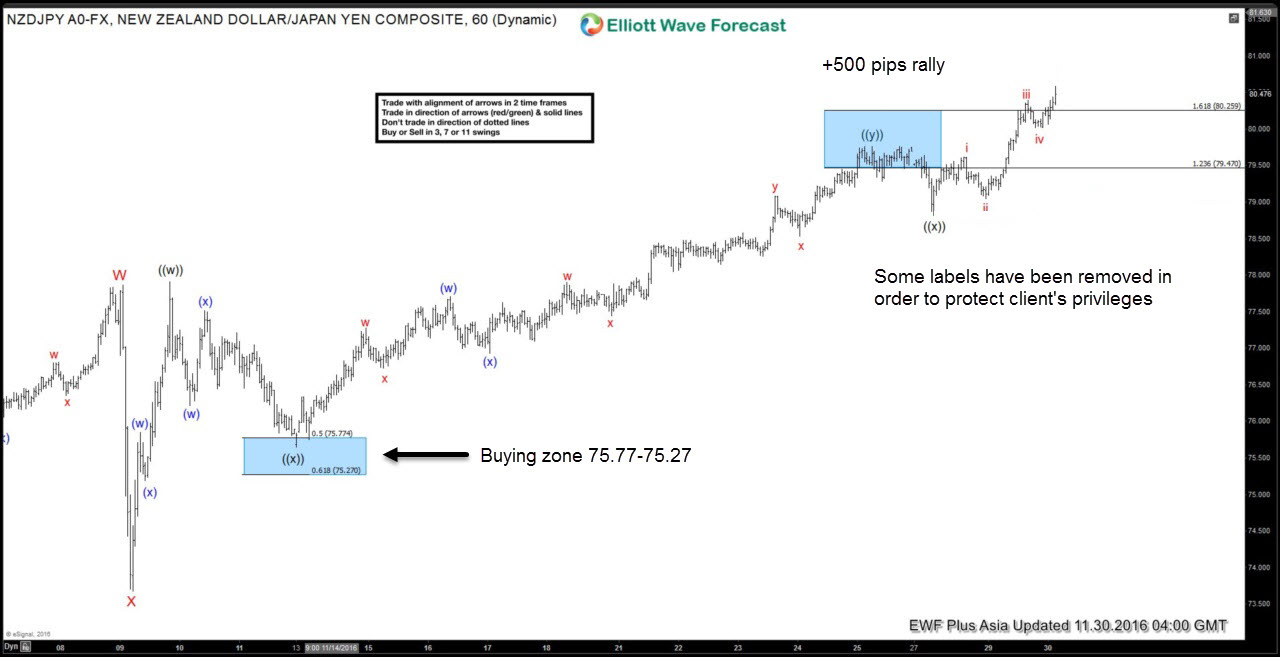 Note: Some labels have been removed in order to protect client's privileges. If you're interested in the future path of $NZDJPY or in any of the other 50+ instruments we cover, you can find Elliott Wave analysis in the membership area of EWF. ( If not a member yet,  you have opportunity to take 14 Days Free Trial )
Through time we have developed a very respectable trading strategy which defines Entry, Stop Loss and Take Profit levels with high accuracy and allows you to make position Risk Free, shortly after taking it, protecting your account. If you want to learn all about it and become a professional Trader, join us now for Free.
You will get access to Professional Elliott Wave analysis in 4 different time frames, Strategy of the Day/Week Video, Live Trading Room, 2 live Analysis Session done by our Expert Analysts every day, 24 Hour Chat Room support, Market Overview, Weekly technical videos and much more…
Welcome to Elliott Wave Forecast!

Back