CrowdStrike Holdings, Inc. is an American cybersecurity technology company based in Austin, Texas. Providing cloud workload and endpoint security, threat intelligence, and cyberattack response services.
They have a market value of $51b. They generated sales of up to $1.5b within the last 12 months. We have noticed a huge demand of CrowdStrike due increase numbers of remote working which increased the demand for cloud computing.
CrowdStrike could reach $3 billion in annual revenue in 2023, a year earlier than the company's guidance, according to a BI analysis.
Lets take a look at why we like this stock this quarter throughout to the end of the year.
Weekly Timeframe – 25th May 2022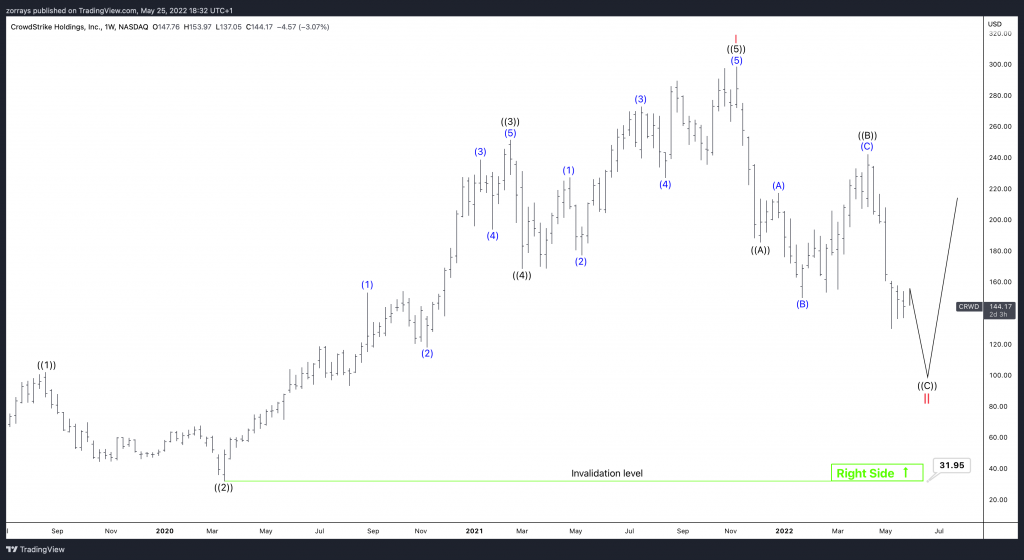 As you can see here, we completed a 5 wave sequence to complete wave I on a higher degree. Ever since November 2021 highs at $298, we have been correcting in a 7 swing structure to the downside with an invalidation level at $31.95.
Lets take a look at the correction we are unfolding at the moment.
Daily Timeframe – 25th May 2022
Daily timeframe, we are unfolding a double correction. This is a good sign considering that a WXY is more corrective in nature as opposed to a ZigZag – ABC. Currently within wave ((Y)) we are unfolding in wave (B) as a triangle and should be unfolding in a 5 wave sequence into wave (C).
In order to complete this corrective cycle, I would like to see a 5 wave sequence to the upside to confirm this correction is done.
I believe we will continue to see this climb in the near term future for a long time as more security would be required due to everything going into the cloud.
We pride ourselves to providing real-time analysis on asset classes such as FX, commodities, stocks, ETFs and Indices. To get an exclusive deep dive into our content, we suggest signing up to our 14 day trail! Our strategy has been proven successful within the professional world of trading.
Back