Another year is almost over. What an interesting year it has been. Two major and rather unexpected geopolitical developments: Brexit and the election of Donald Trump, are not able to halt the march of the world indices. The American Indices in particular manage to rally to all-time high. With only a few trading days left in 2016, let's take a look at the return of  major asset classes. At the top of the list is Bitcoin providing 110% return as of Dec 27.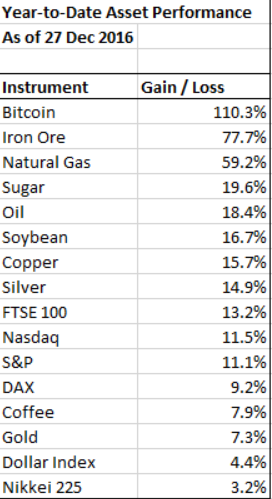 Interestingly, a good portion of the rally in Bitcoin happened in Q4 2016 since the US election. Although Bitcoin has not passed above the record level against the dollar, the crypto-currency has already hit new all time high against the Pound and Euro. Against the Pound, one bitcoin is worth 784.19 today, above the £694.65 reached on November 2013 as the chart below shows
Against the dollar, it currently sits at $952, still below the $1137 set in 2013. Against the Euro, the crypto-currency has also made all-time high at €918 as the chart below shows:
Although the price of bitcoin is still below the record level in dollar terms, in terms of market capitalization, Bitcoin has now made an all time high market cap of $15 billion due to larger number of bitcoin on the market now. This market cap is comparable to the market cap of silver, but compared to the total value of gold in the world at $7.8 trillion, bitcoin is only 0.17% of the value.
The rise in Bitcoin is attributed to several factors. The recent currency policy by India's Modi and Venezuela's Maduro are credited as one of the factors, as the leader of these two countries tried to replace the old currency notes. Although there are valid reasons for the policies, it creates obvious side effects with public confidence in the national currencies taking a hit. Another driver for Bitcoin is the strict capital controls in some countries like China which may drive capital into bitcoin to circumvent the control, as well as the steady devaluation of Chinese Yuan. Most bitcoin trading takes place in China so financial conditions in the country can have a huge impact on Bitcoin's price.
Bitcoin's popularity is due to its role as an alternative form of paper currency. Unlike the fiat (paper) currency which the government can manipulate by printing in unlimited amounts or getting replaced (as in the case of India and Venezuela), the crypto-currency is not controlled by the government or the central banks. Bitcoin also has another advantage compared to other alternative forms of currency such as gold: It is accepted as a valid medium of payment by various merchants.
This year, Bitcoin beats gold by a big margin with Bitcoin doubling in value while Gold is only up 7.3%. However, the drawback of Bitcoin is it's only 7 years old and so it still has a very short period of life and it has a very erratic movement, which is not suitable for everyone. In addition, there's also the threat of hacker as Bitcoin experienced in August 2016 when hackers stole 119,756 bitcoins. Thus, as an investment vehicle, it still has many questions and thus is hard to be used as a large store of values.
We wrote an article about Bitcoin back on Sept this year titled "The rise of Crypto-Currency Bitcoin" highlighting the potential of this digital currency. If you would have bought Bitcoin after our article, it would have been up 100% by now in just a few months. That's how volatile it is. Going forward, we think that BTCUSD (Bitcoin in US Dollar terms) is going to rise and eventually take out the previous $1137 peak, joining BTCEUR and BTCGBP which have made an all-time high. Below is the weekly chart of BTCUSD with possible extension to 1316 – 1589 at minimum in coming years. With Bitcoin being as volatile as it is, the target could easily been reached in 2017.
If you enjoy this article, feel free to read other Technical Blog and take our 14 days trial FREE to get access to Elliottwave charts for 52 instrument in 4 time frames, Live Trading Room, Live Session, 24 hour chat room, and much more.
Back