Last week, we have been calling out a short based blue box zone on BA which was triggered successfully for our clients to get their landing gear ready and go short!
H4 chart – 17th March 2022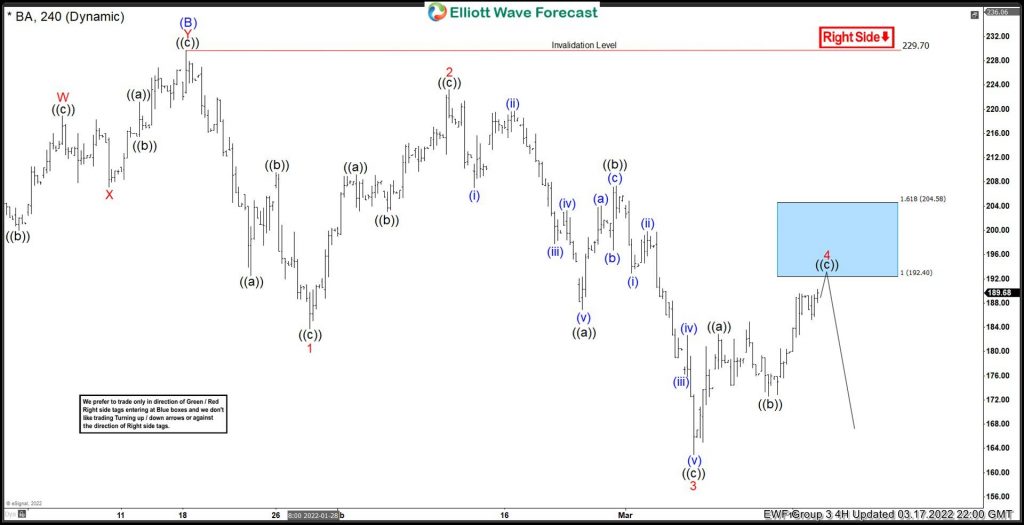 As you can see here that on a bigger picture we are playing within wave (C) to the downside in a zig zag corrective pattern. Zigzags usually unfold to the downside in a 5-3-5 sequence, therefore Wave (C) would present a 5 wave sequence.
We were not able to catch the whole of wave (C) but we did manage to go short on wave 5. Within wave (C) wave 4 was developing as a zigzag pattern as well and we draw a blue box zone between 192.40 – 204.58. This is based on equality of wave ((a)) of 4 to 1.618 against wave ((c)).
H4 Chart – 21st March 2022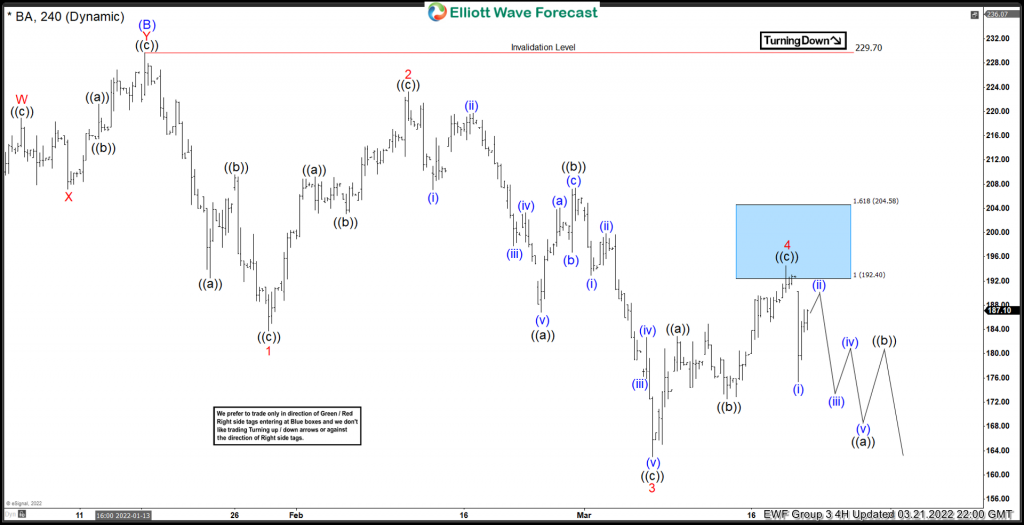 So, what happened? Well as expected, wave ((c)) matured near enough exact around our equal leg zone of wave ((a)). This unfolded to the downside to complete wave (i) of ((a)) of 5. Currently, we are risk free as we have taken 50% of the profit, therefore, anything happens now, we are not at risk anymore. This is the beauty behind our strategy, its conservative, safe and we tend to go risk free early on without disturbing our analysis.
So what are expecting next? Well, this will continue to unfold to the downside until it completes wave (C) corrective cycle, as long as price does not breach the extreme of wave (B).
We pride ourselves to providing real-time analysis on BA including other asset classes such as FX, commodities, stocks, ETFs and Indices. To get an exclusive deep dive into our content, we suggest signing up to our 14 day trail! Our strategy has been proven successful within the professional world of trading.

Back