In this Technical blog we are going to take a quick look at ASX ($XJO-ASX) All ordinary from Australia cycle from February 2017 lows, here's the short review of previous blog from February 1, in which the index was showing 5 swings corrective sequence from January 09,2017 peak & we were looking for 1 more leg lower at our blue box buying area. But then index broke the 1 hour invalidation level & truncated the last leg lower. Since then index has rallied significantly & broke to new highs above January 09,2017 peak, thus suggesting the pullback in wave X completed at 2/07 low (5583) & index has started the next leg higher already as shown below 4 hour 2/19 weekend updated chart. Now while above that level, Index has scope to resume higher to complete the larger cycle from February 2016 lows.
ASX 4 Hour chart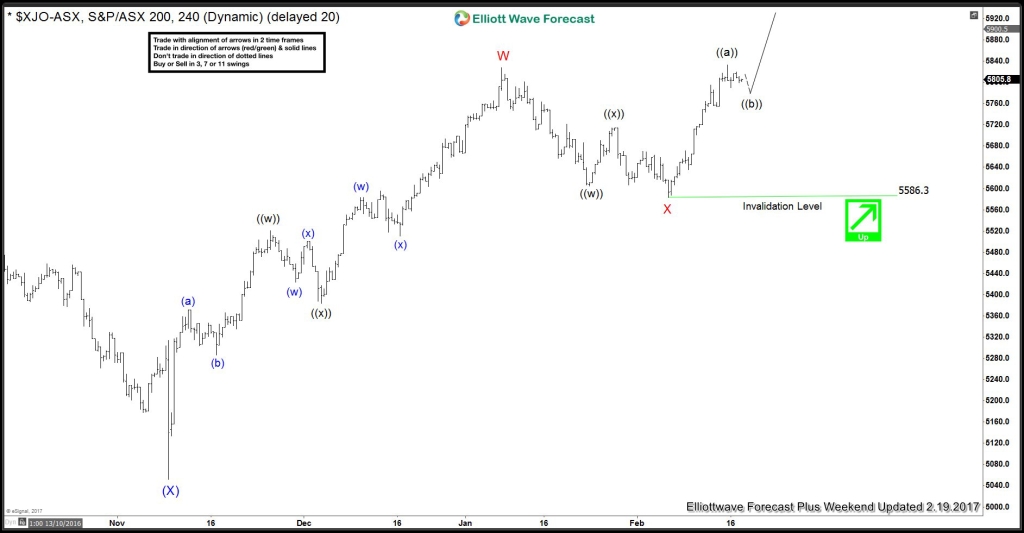 The cycle from 2/07 low (5583) is appeared to be in 5 waves impulsive sequence, in which Elliott wave theory suggest after 5 waves (impulsive) move there should be 3 waves pullback then another 5 waves moves should happen into the direction of first leg also known as (5,3,5) A,B,C structure. Hence the 5 waves up from 5583 low has ended the first leg higher labelled as wave ((a)) at 5831 peak. Below from there index has already started the 3 waves pullback in wave ((b)) & we expect buyers to appear in the dips in 3, 7 or 11 swings as far as pivot from 2/07 low (5583) low remains intact. And within the current pullback 5778-5751 blue box area is expected to end the wave ((b)) pullback in the index or alternatively could finish the first leg of a current pullback. Also it is important to note that since the weekend update we have already hit the 5778 low and there were buyer's as expected.
ASX 1 Hour chart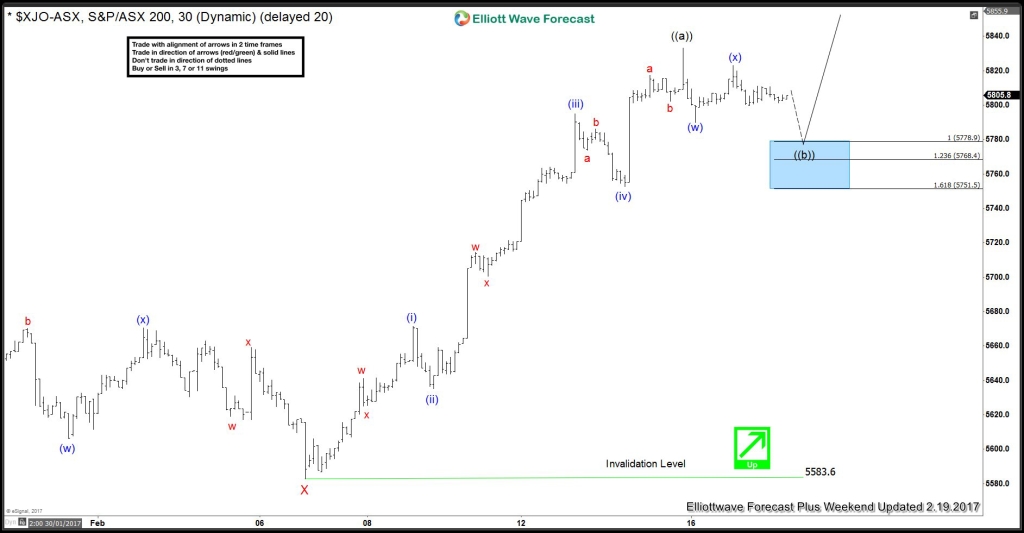 If you enjoyed this article, feel free to try our Free 14 day trial . we provide Elliott Wave charts in 4 different time frames, up to 4 times a day update in 1 hour chart, two live sessions by our expert analysts, 24 hour chat room moderated by our expert analysts, market overview, and much more! Try us out for Free 14 day trial & starts making profits with us.
Back