We at Elliottwave-Forecast.Com have been providing coverage of Bitcoin (BTCUSD), Ethereum (ETHUSD) and Litecoin (LTCUSD) for the last few years. We always received a lot of requests both from memebrs and non-members to increase our coverage of cryptocurrencies by adding more coins. We have listened to the feedback and added three new cryptocurrencies in our regular coverage. We believe this will help our clients by providing them more options to follow the forecasts and look for trading opportunities among cryptocurrencise group. Today, we will look at the three new cryptocurrencies that we added to the service.
New Cryptocurrencies Added
Cardano (ADAUSD)
Cardano is a blockchain platform for changemakers, innovators, and visionaries, with the tools and technologies required to create possibility for the many, as well as the few, and bring about positive global change. Cardano is a proof-of-stake blockchain platform: the first to be founded on peer-reviewed research and developed through evidence-based methods. It combines pioneering technologies to provide unparalleled security and sustainability to decentralized applications, systems, and societies. With a leading team of engineers, Cardano exists to redistribute power from unaccountable structures to the margins – to individuals – and be an enabling force for positive change and progress. It's trading symbol is ADA and when traded against US Dollar, it becomes ADAUSD.
Polygon (MATICUSD)
Polygon believes in Web3 for all. Polygon is a decentralised Ethereum scaling platform that enables developers to build scalable user-friendly dApps with low transaction fees without ever sacrificing on security. Polygon is committed to fostering the growth of Web3 applications by providing the infrastructure needed for Web3. Polygon is a blockchain platform that enables blockchain networks to connect and scale. It aims to create a multi-chain blockchain ecosystem compatible with Ethereum. As with Ethereum, it uses a proof-of-stake consensus mechanism for processing transactions on-chain while deriving its security from Ethereum. It's trading symbol is MATIC and when traded against US Dollar, it becomes MATICUSD.
Dogecoin (DOGEUSD)
Dogecoin is a cryptocurrency created by software engineers Billy Markus and Jackson Palmer, who decided to create a payment system as a "joke", making fun of the wild speculation in cryptocurrencies at the time. It is considered both the first "meme coin", and, more specifically, the first "dog coin". It is an open-source peer-to-peer digital currency, favoured by Shiba Inus worldwide. At its heart, Dogecoin is the accidental crypto movement that makes people smile! It is also an opensource peer-to-peer cryptocurrency that utilises blockchain technology, a highly secure decentralised system of storing information as a public ledger that is maintained by a network of computers called nodes. More than this, though, is the ethos of Dogecoin and its amazing, vibrant community made up of friendly folks just like you! It's trading symbole is DOGE and when traded against US Dollar, it becomes DOGEUSD.
ADA, DOGE and MATIC have ended their respective cycles from December 2022 low and are now pulling back. ADA is showing 5 swings down from the peak at 02.02.2023 peak and hence calls for more downside to complete the pull back.
MATICUSD Elliott Wave Analysis – Daily Chart 02.13.2023
MATIC daily chart below shows an incomplete 5 swings up from 6.18.2022 low and calls for more upside against 01.01.2023 low and any dips should see buyers entering the market after pull backs in 3, 7 or 11 swings.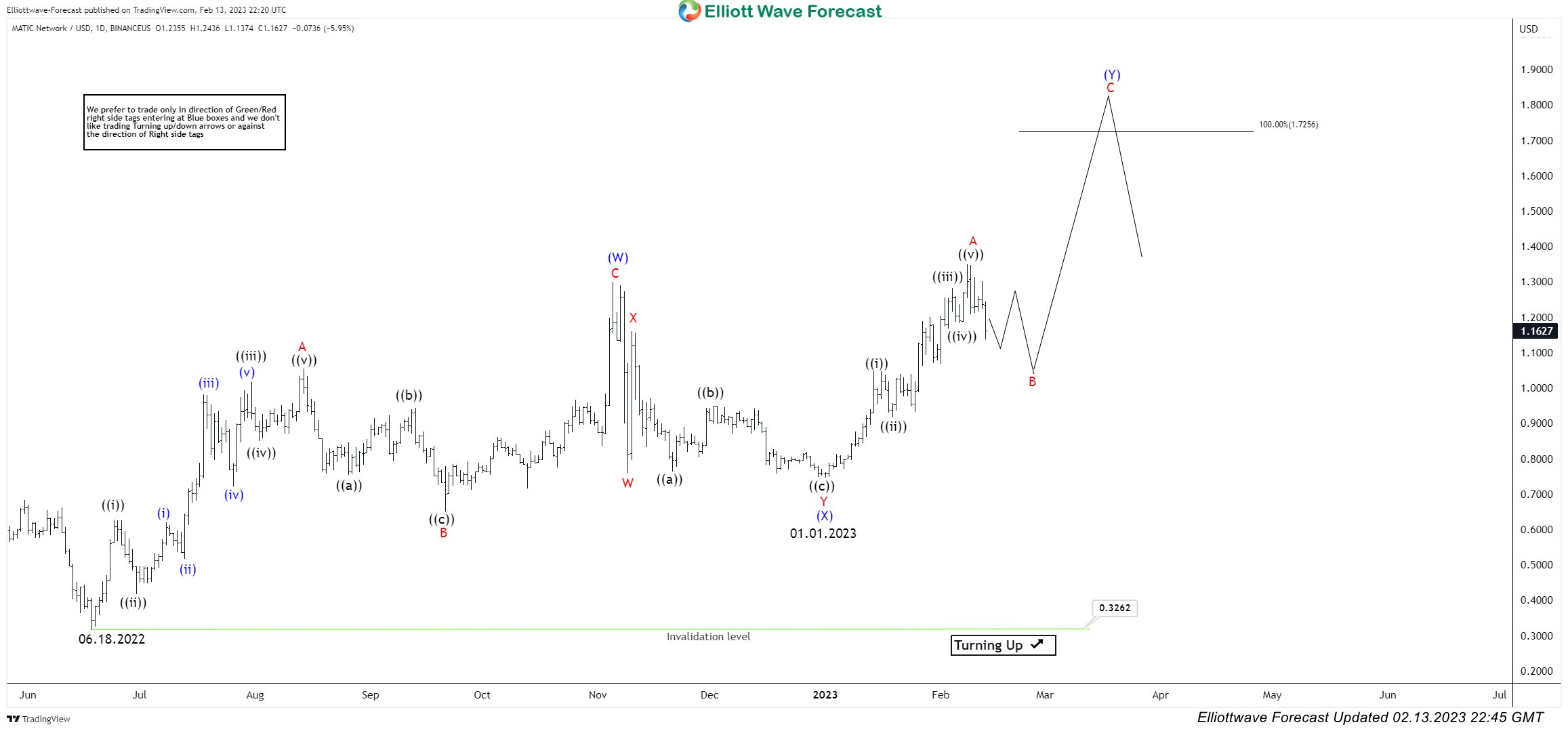 Access charts in 1 Hour, 4 Hour, Daily and Weekly time frames for MATIC, ADA, DOGE, BTC, ETH and LTC inside members area. If you have never had a trial before or never been a member before, you can check us out with a 14 day Trial.
Back