Binance Coin is the cryptocurrency issued by Binance exchange and carries BNB symbol. With a volume of $7.6 billion, as of Q2 2022, Binance Exchange was the largest cryptocurrency exchange in the world. One-fifth of Binance exchange's profits are used to repurchase and permanently destroy, or "burn," Binance coins held in its treasury. Binance was created as a utility token for discounted trading fees in 2017, but now it's used for other things as well such as entertainment, travel bookings, financial services, online services etc.  In this article, we will look at the long-term Elliott wave analysis of Binance Coin (BNBUSD) and what is expected next in the cryptocurrency.
BNBUSD Elliott Wave Analysis – Weekly Chart – 6 February 2023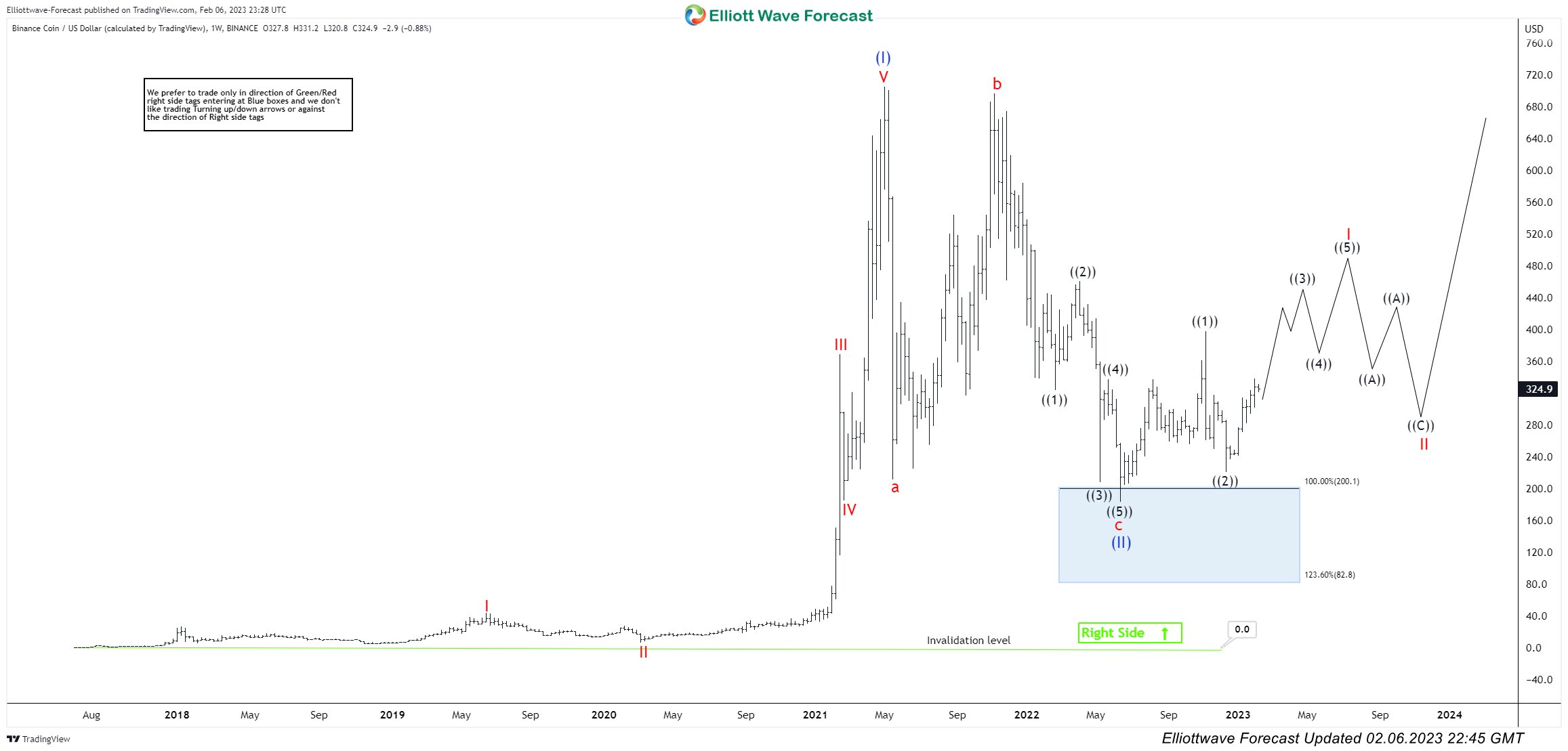 Weekly chart below shows super cycle wave (I) completed at 704.6 in May 2021. Within this super cycle, wave I ended at 43.2, wave II pull back ended at 6.5, wave III ended at 368.2, wave IV ended at 184.7 and wave V ended at 704.6. This was followed by a 3 waves pull back within which wave a completed at 255.6, wave b completed at 696.1 and wave c completed at 183.4, this was just below 100% Fibonacci extension of a-b at 200.1. Cycle from wave b high is confirmed to be over s the logical call is for wave (II) pull back to be called completed at 183.4 low and expecting a turn higher to take place. As dips hold above 220.1 and more importantly while above 183.4, expect continuation higher. A break below 183.4 low will make it 5 swings down from May 2021 peak and would then result in a larger abc lower or extension lower within wave c to make it 7 swings. Break above November 2021 peak will expose 438,4  571.9 area to end 3 waves up from 183.4 low.
Back