In the past few weeks, the world has been shocked by the killing of Jamal Khashoggi inside Saudi Arabia's consulate in Istanbul. Mr. Khashoggi is a Washington Post journalist and he was at the consulate for marriage-related document. Initially, the Saudi's government said Mr. Khashoggi left the consulate alive. However, they changed their narrative on the weekend and admitted that Mr. Khashoggi was dead. The official explanation is that he died in an altercation.
The explanation contradicts the leak by Turkish officials which paints a grisly detail of the murder. The media reported that 15 Saudi hit squad flew to Turkey and ambushed Jamal Khashoggi inside the Saudi Arabia's consulate. They then dismembered his body with bone saw and flew back to their home country at the same day. Turkish officials identify these people as high-ranking officials with close ties to MBS (Mohammad Bin Salman), Saudi Arabia's crown prince.
This week we will be waiting for the world's response to this explanation by Saudi Arabia. Last week, the Riyadh government issues a warning emphasizing Saudi's important role in the global economy and that "any action would be met with greater action." Saudi State media also responded "If the price of oil reaching $80 angered President Trump, no one should rule out the price jumping to $100, or $200, or even double that figure."
President Trump initial response was to say that the explanation is a great first step. He also stressed that Saudi Arabia is an ally and he didn't want to unravel the arms deals. He has also floated the idea of a "rogue army" and the crown prince didn't know about the killing. US Senators however is much more skeptical, as seen from their reaction in twitter below: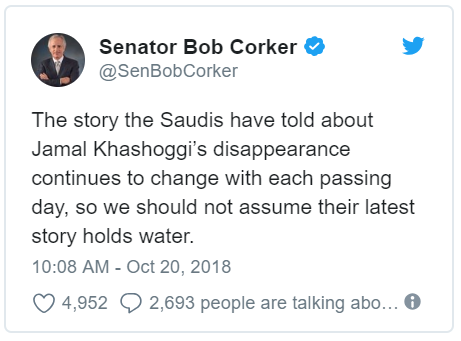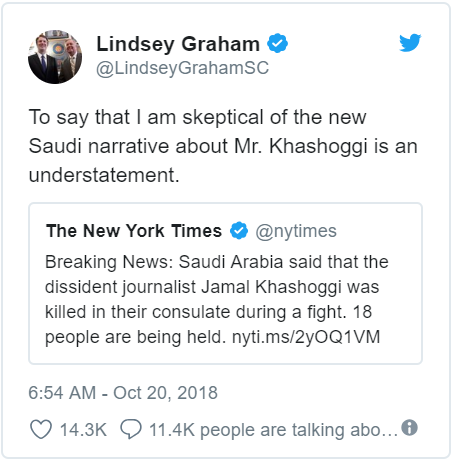 The contrast between the President's conciliatory reaction and the US Senators from both parties foreshadows difficult debate in coming days. It remains to be seen what sort of reaction comes from the US and the world this week and whether Saudi Arabia retaliates and follows up on their threats of using oil as a weapon. What looks clear is that the rapidly developing geopolitical risk in Saudi Arabia has the potential to have profound impact to Crude Oil's price.
Long Term Elliott Wave Outlook for Crude Oil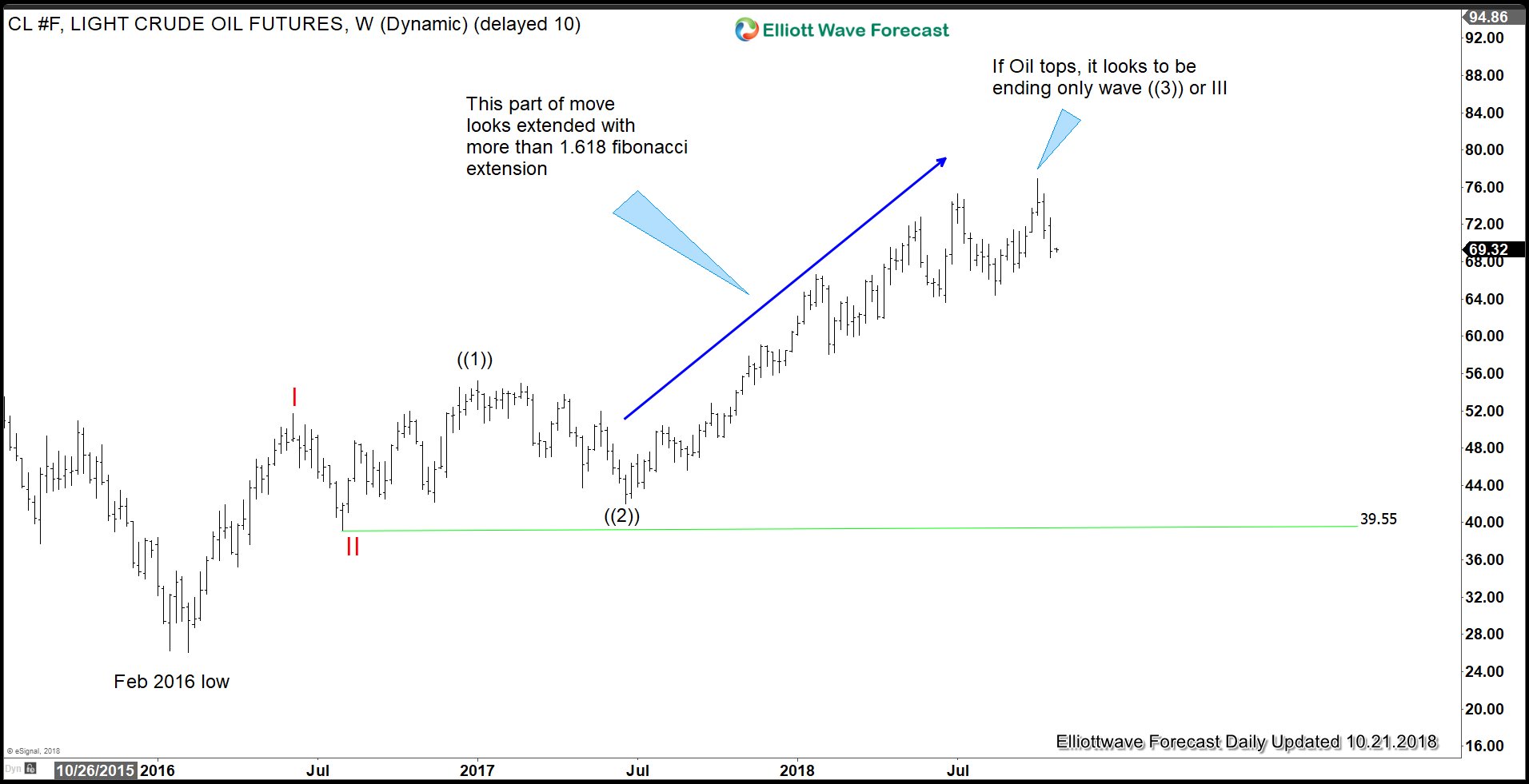 Weekly Chart of Oil above suggests that the rally from February 2016 low looks to be unfolding as a 5 waves impulse with a nest. The rally from proposed wave ((2)) low at $42.05 on 6/21/2017 low looks extended with more than 161.8% Fibonacci Extension relative to wave ((1)). This suggests that even if Oil has made medium term top, it's likely ending only either wave ((3)) or III with further upside in the longer term. Thus, as far as near-term / medium-term pullback stays above $39.55, long-term Oil can extend higher again.
Short Term Elliott Wave Outlook for Crude Oil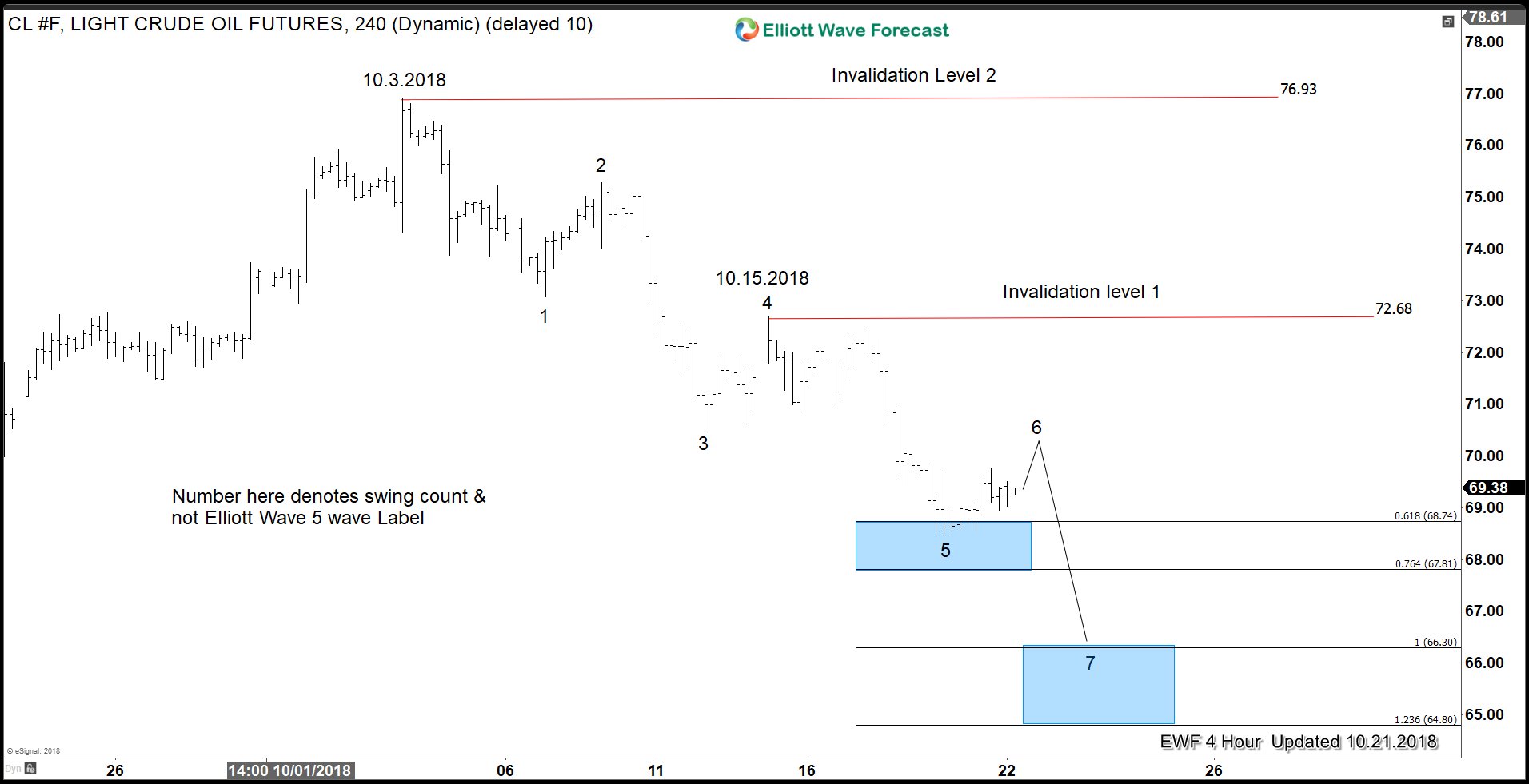 Short term / Medium term outlook for Crude Oil price shows a 5 swing sequence from 10.3.2018 high. This favors further downside in the short/medium term cycle despite the long term bullish outlook. There are two possibilities with the current structure. If the move lower is taking the form of a double three (WXY) structure, then bounce should fail below swing #4 at $72.68 and extends lower to $64.8 – $66.3 area. Another possibility is the move lower is taking the form of 5 waves impulse, in which case Oil can end wave A. Rally in wave B then should correct cycle from 10.3.2018 high and fail below there for more downside.
Conclusion
Geopolitical risk in Saudi Arabia is rising and it can drive up Crude Oil's price. Depending on the outcome of the next few weeks, tension between Saudi Arabia and the rest of the world can escalate, resulting in economic sanctions and retaliation. With Saudi Arabia's role as the world's top producer in Oil and the de-facto head of OPEC, any escalation could cause Oil's price to spike. The Elliott Wave analysis in Oil suggests a longer term bullish view. However, short-term / medium-term view suggests possible further downside correction.
Interested to get professional Elliott Wave update and trading setup? Sign up now and take the 14 days Free trial –> I Want to get 14 days FREE Trial We provide Elliott Wave analysis service for 78 instrument ranging from Forex, Commodities, Indices, and Stock in 3 different plans.
Back