Gold is enjoying a strong run in recent times due to the recent decision market shake Britain to leave the European Union. Healthy boost the yellow metal is exhibited by an increase roughly 24 % of its value since the beginning of this year. Gold prices rebounded as much as about 8 % to its highest level in two years crossing the $ 1,300 per troy ounce in the previous month, after Britain voted to leave the EU, sending global stock markets in shaken (Many of them recovered Brexit losses sharply in previous week).
The results of the referendum on the historic EU, which saw the side 'Leave' win 52% of the vote, triggered safe-haven buying as investors panicked that Brexit would bring political and financial instability in Europe and could cause serious damage to the global economy. Gold prices also settled higher in 1336 over the weekend. The rally influenced Brexit bullion has fueled an upward trend in the gold market. It is expected that the intense market uncertainty brought forth by Brexit to continue feeding the appetite of investors, particularly gold safer assets. It is expected that the ongoing uncertainty to continue in courage gold demand in the coming days ahead, supporting metal prices. Gold, under normal circumstances, the benefits uncertainty in the economy and is considered a safe haven amid economic and geopolitical tensions.
Gold is also finding support from the dovish stance of the US Federal Reserve. The Fed earlier this month left interest rates constant reference in the range of 0.25 to 0.50 percent, also sharp drop in US Non-farm payrolls  in May that raised doubts about the strength of the labor market and the health of the US economy. The central bank gave no clues about when the next rise and said a clearer economic picture is needed before to raise rates again. A delay in raising interest rates raises the demand for gold, which does not produce income, but is based on the appreciation of prices to entice investors. Moreover, a rise in interest rates tends to increase the profitability of income-generating assets and therefore does not impact performance commodities, including gold.
An environment of low interest rates bodes well for gold. In fact, gold had been the best performing asset in the first quarter of 2016, eclipsing the main equity indices, investment grade and high yield bonds and commodities indices. The increase in gold prices has also led to an increase in stock prices of many gold miners this year. As conditions of recent gains remain in place bullion, Gold mining companies measure some gains since the beginning in the year. B2Gold Corp analyst expects earnings growth of astonishing 700 % for the year. The stock previously seen soar of about 146 % year to date. Goldcorp inc. is expected to earnings growth of about 354 % for the year. Moreover, the stock has gained about 60 % so far this year. IAMGOLD Corp expects earnings growth of 225 % for the year. Harmony has seen its actions arise roughly 274 years % to date. Sandstorm Gold Inc is expected to earnings growth of about 115 % for the year. The action has also won 83 % year to date.
Technical Watch.
GOLD 22 June 4 hr chart: was pointing the move to the upside regardless the outcomes of "Brexit" will bring to the table, We could count 5 waves up from 1199.35 low to 1315 high which means that after a 3 wave pull back metal should see more upside against 1199.35 level. Ideal area where we expected the pull back to end was between 1257.22 – 1243.54. Yellow metal found a low at 1250.11 and made new highs as expected.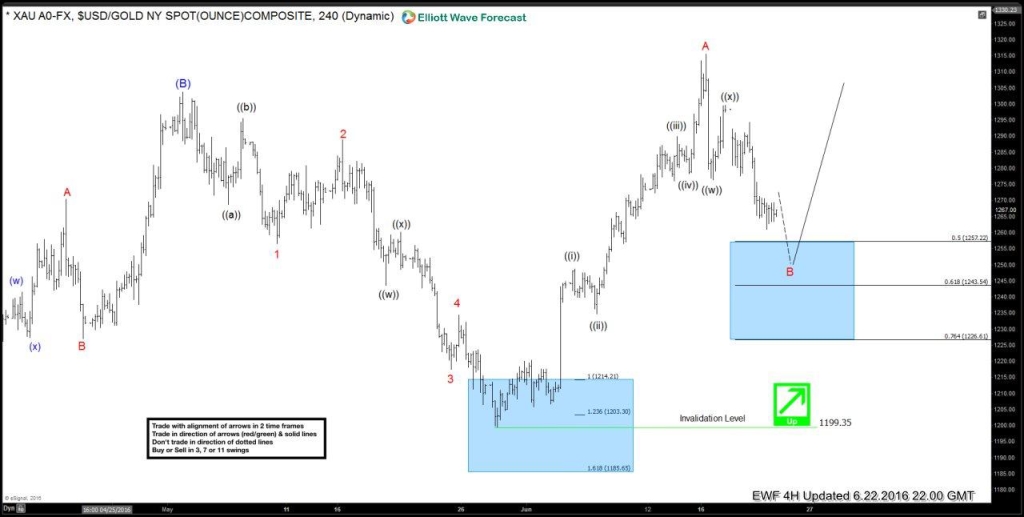 Hecla mining Corp. 
Daily chart of Hecla mining corp is showing 5 swings from January 2016 lows. The 5 swing sequence suggests that the upside is likely incomplete and at least need another leg higher to complete 7 swing WXY structure from the lows. If you are not familiar with 7 swing WXY structure, you can click this video to learn.
Proper Elliott Wave counting is crucial in order to be a successful trader. If you want to learn more on how to implement Elliott Wave Theory in your trading and to learn more about next trading opportunities in the Market,  try us free for 14 days. You will get access to Professional Elliott Wave analysis in 4 different time frames, Daily Elliott Wave Setup Videos ,Live Trading Room and  2 live Analysis Session done by our Expert Analysts every day, 24 hour chat room support, market overview, weekly technical videos and much more. If you are not member yet, use this opportunity and sign up now to get your (free trial).
Back