The past decade has seen massive reliance on Monetary Policy by Central Bank to maintain economic momentum, but not enough Fiscal Policy or stimulative government intervention. The election of Donald Trump as the new U.S. president is thought to change that. In his first speech as president-elect, Mr. Trump highlighted investment in infrastructure, reinforcing the shift to fiscal stimulus in 2017. The prospect of expansionary policy – fiscal spending and tax cuts helped calm financial market. There was a rotation out of bonds with global bond markets selling off nearly $2 trillion and 10 year Treasury yield rose 20 bps to 2.35% on expectation that increased US government spending could lead to higher inflation.
10-year Treasury Yield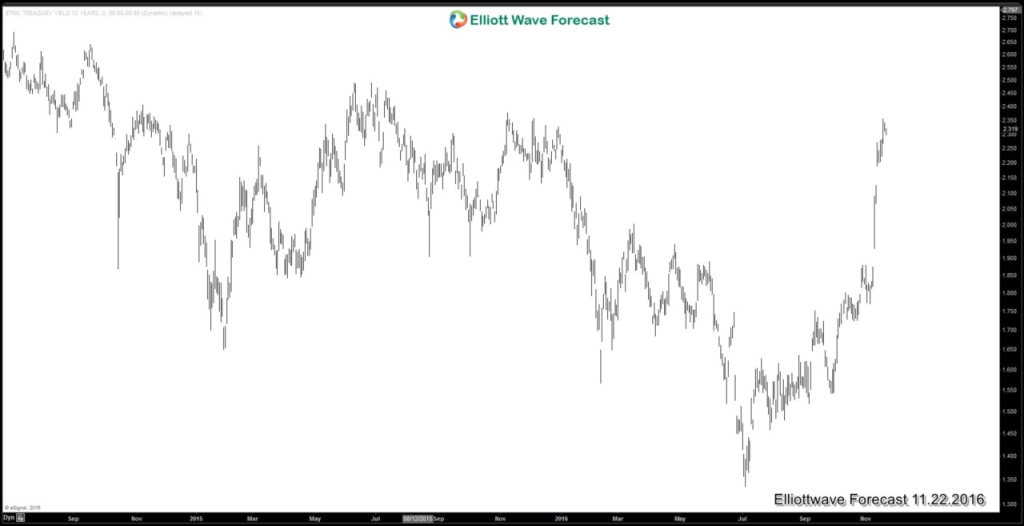 Besides the rising yields, global equity markets also see the inflow of funds. The US equity ETFs took US$34 billion of inflow and American Indices reached all-time highs. In addition, the US$ has strengthened and reached 13 year high, while commodities also rally. Driven by rising PMI across all regions, we also see big move in the commodity sectors this year. Below is a table of some of the biggest commodity mover

On the back of increased domestic infrastructure spending, higher commodity demand and thus higher price is expected in 2017. The main risk for this rally in global commodities is how much of the campaign rhetoric translate into policy reality. Mr. Trump still needs to articulate well defined policies. If Mr. Trump's fiscal stimulus is not as large as investors anticipate, the inflation trade may suffer a setback.
Iron Ore Weekly Chart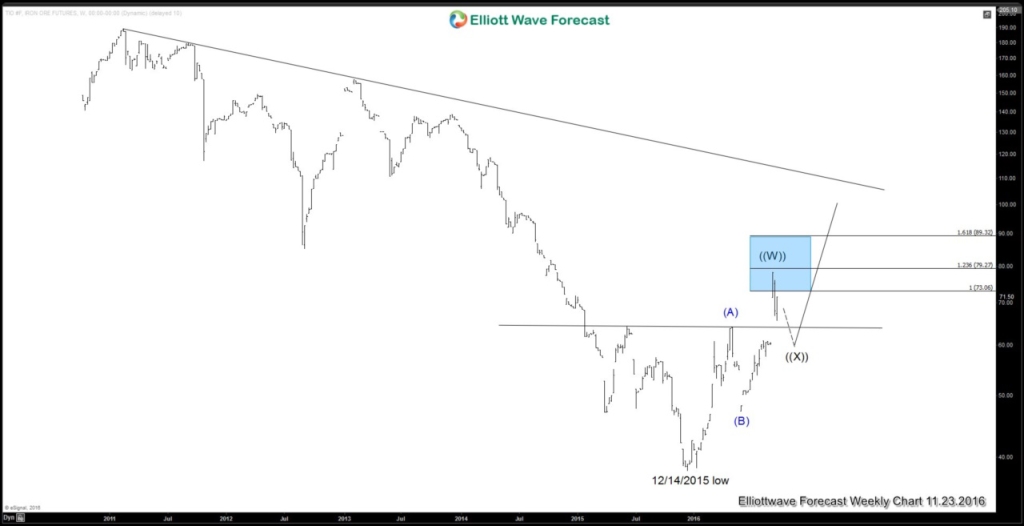 Iron Ore Weekly chart above suggests that it has reached the inflection area where cycle from 12/14/2015 low may end and a 3 waves pullback can take place. The chart is also showing a pattern of what looks to be inverse head and shoulder with the neckline already broken. Overall, the pattern favors more upside once the correction is complete, and this is also supported by the fundamental background above.
Take our free 14 Day Trial to access our services. We provide 24 hour coverage of forex, indices, and commodities. Our services include professional Elliott wave forecast in 4 different time frames, 24 hour chat room, live sessions, live trading room, education, and more!
Back