Introduction | SILVER:XAG and GOLD:XAU
Let's start from what we know so far. Gold:XAUUSD has been devaluated by approximately 42% since 2011's all times highs 1.920 level and Silver:XAGUSD has been devaluated by almost 73% respectively from 2011's all times high 49.780 level.
Plain and simple Gold has lost almost half of its value while Silver almost 2/3rds.
The US Dollar | DXY, USDX
While Precious Metals devaluation has been attributed mostly to the US Dollar:DXY,USDX Rally we believe both metals and the Dollar will reverse within 2016. Below a long term weekly chart of the US Dollar currency indicating that we have a downtrend resistance trend line holding approximately at the 111.00 – 112.00 mark, plus, by the end of 2016 the Dollar will reach equal cycles, cycle from 2001 – 2016 with the cycle during 1986 – 2001.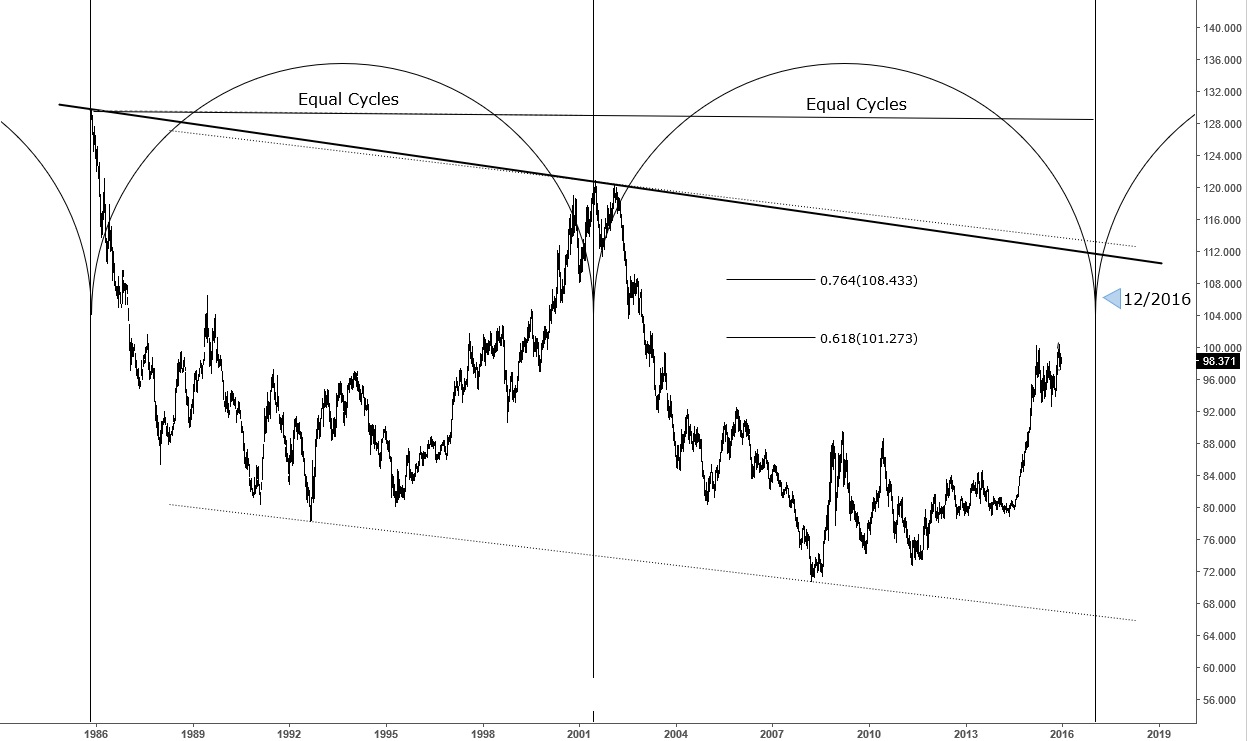 We do not know what fundamental events are hiding under the technical view of the US Dollar as triggers, yet in either case, the Dollar will reverse into a large scale pull back and metals will reverse into a large scale bounce.
Adding the Correlation | GOLD, SILVER and US DOLLAR
If we take a look at the following chart, we can compare the path of the Dollar with the path of Gold and Silver and consequently analyze the correlations between.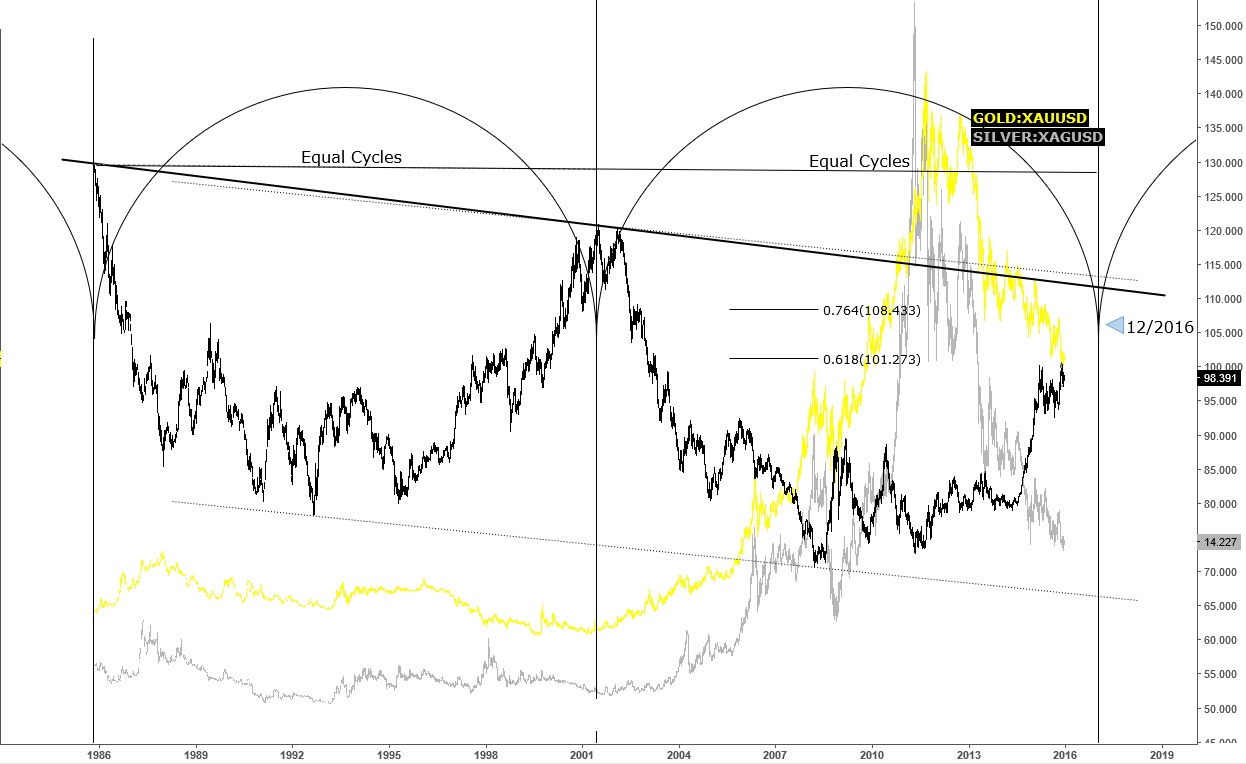 Since 2001, we can undoubtedly perceive that Gold and Silver are inverse correlated to the Dollar. When the Dollar reversed from the highs of the 120.50's level in 2001 and begun a new downtrend cycle, metals started to advance from the lows and extended higher exponentially. Let's keep the `exponential ` extension and to use it later while examining cycles length.
Adding Cycles
Getting into the examination of Cycles (time periods), worth to mention at this point that Dollars' downtrend cycle ended around the 70.00 level at 2008, yet metals continued to advance post Dollar cycle completion to complete the uptrend cycle 3 years later, during 2011. Safe to call that both Gold and Silver are lagging and Dollar leading at this point, yet if we add the `exponential` extension, we can grasp from the chart, metal's rate of climb during the last 3 years post Dollar's cycle completion was enormous, commonly known as `trying to catch up` the extension levels before Dollar extension higher become too obvious.
Final Verdict
While we will continue to analyze the markets and the lesser degree cycles, at current phase we cannot be certain what will be the case, that is if Gold and Silver will lead or lag against the Dollar. Historic price action supports the lagging case yet while Silver is almost at the 76.4% Fibonacci retracement level from all times lows – highs, the hypothesis might be reversed and call a leading case in favor.
One thing is for sure, we in ElliottWave-Forecast.com will be able to recognize and trade the reversal in time. If you would like to join us you can sign in for a limited time only 14 Free Trial and take a look at our Gold's, Silver's and Dollar's 1 Hour to weekly charts.
Trade Safe,
Spiridon C. Dalietos
Back