Silver rose to a new high of 2016 in the second quarter as a result of strong investor and speculative demand amid an environment macro support for precious metals. Overall this year silver has been a star performer. White metal ingots outshone well, marking an increase of 37 % compared to 22% increase in Gold. Concerns about the global economy, market volatility Brexit actions induced, the position of the Federal Reserve to keep interest rates unchanged, and the introduction of negative interest rates by several central banks gave a boost to assets safe haven like gold and silver. Silver could continue to outperform gold in the coming months due to growing uncertainty about rate hikes after recent disappointing US data.
Silver has varied industrial applications driving demand significantly. Industrial demand for silver is expected to increase from 54 % last year. The growing interest in safe-haven assets also boost demand for physical silver investment. Demand in jewellery manufacturing will remain strong and India will emerge as one of the main consumers of courtesy greater investor interest and growth in jewellery, decorative items and manufacturing of cutlery. However, the upward trend in silver prices has ignited a massive rally in silver mining stocks this year, most of which have tripled.
Hecla Mining is US's leading producer of silver mines operating in Alaska and Idaho. The stock has outperformed the S&P 500 by 178.56% year to date. The company has a growth rate of expected long-term benefits of 1%. Last quarter, the company delivered a positive surprise of the benefits of 250%. Their average earnings positive surprise is 131.25% over the trailing four quarters. Pan American Silver, along with its subsidiaries is engaged in exploration, mine development, extraction, processing, refining, and the recovery of the silver mines. The stock has outperformed the S & P 500 by 148.72% year to date. The company has a growth rate of long-term benefits expected 4% and a positive surprise of 54.04% average earnings in the trailing four quarters. Among others, Alexco Resource Corp. and Athena Silver Corp AXU are the main engines AHNR year to date, obtaining 477 % and 327 %, respectively.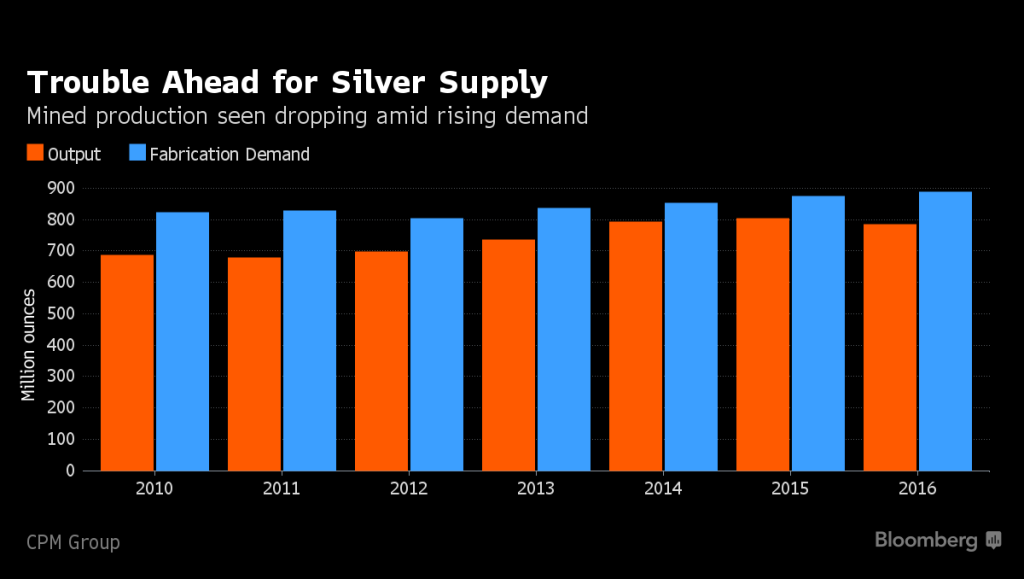 Courtesy Bloomberg
While last year, the slowdown in China and the consequent fall in prices of commodities miners had left in a lurch. The miners saw millions being expelled and following the drop in demand, the only way to stay afloat was to cost control. Saddled with debt, most of the miners had to sell under-performing assets. This year, the mining industry seems to be in better condition, having carried out a comeback. This year, gold and silver have been the main engines. However global production of mine supply is expected to fall 5% in 2016 – the first decline in world silver mine production since 2002. The environment soft prices in previous years had dissuaded producers to invest in expanding capacity at existing operations. It is anticipated that world production of silver mine to decline until 2019 primary silver production as the most mature operations begins to decay. And many analysts are convinced that decline in production is just as signs of stabilization in China's economy fuel optimism for stronger global demand.
Technical watch
Silver August 3, 240 minute chart was suggesting metal was doing a double three Elliott wave correction from July's peak and while below 8/2 (20.77) peak and more importantly below 7/4 (21.13) peak, it could make a push lower towards 18.48 – 17.84 area and find buyers to resume the rally for new highs or bounce in 3 waves at least.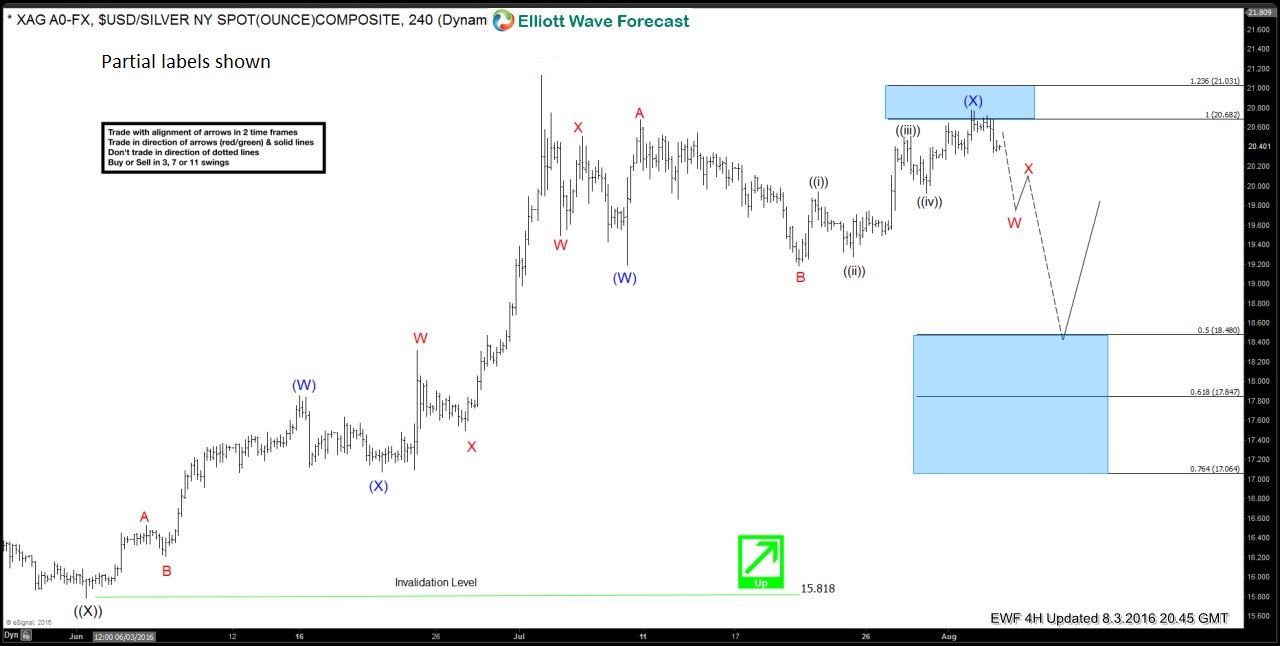 On August 29, metal reached a low of 18.35 and bounced to a high of 20.12 on September 6 which means we got the minimum 3 wave reaction from the expected area already and traders who bought the metal in 18.48 area, should be risk free already and it could now extend higher as far as price stays above 18.35 low. Break below 18.35 low would open another extension lower as a larger 7 swings structure from 7/4 peak and it would then be correcting the entire cycle Elliott wave from December 14 2015 peak.
Alexco Resource corp
The chart of Alexco resource group suggesting larger cycle from 2011 peak favored to have ended at January 2016 low (0.2429) and up from there it has scope to develop another larger cycle or to correct the 2011 peak at minimum towards 5.2565-6.4436 area. Currently instrument is favored to be correcting the Elliott wave cycle from January lows & while below September 6th peak (2.1850) it has scope to reach 1.2635-1.0466 area before buyer's appears again ideally towards new highs or for bounce in 3 swings at least.
Proper Elliott Wave counting is crucial in order to be a successful trader. If you want to learn more on how to implement Elliott Wave Theory in your trading and to learn more about next trading opportunities in the Market, Try us free for 14 days. You will get access to Professional Elliott Wave analysis in 4 different time frames, Daily Elliott Wave Setup Videos ,Live Trading Room and  2 live Analysis Session done by our Expert Analysts every day, 24 hour chat room support, market overview, weekly technical videos and much more. If you are not member yet, use this opportunity and Sign up for your Free Trial now
Back