IMF (International Monetary Fund) projects the European nations will experience a 7.5% GDP contraction this year. EU nations have been some of the hardest hit by Covid-19. Even before the pandemic, the European economy is already sluggish. The NIRP (Negative Interest Rate Policy) and ZIRP (Zero Interest Rate Policy) have not produced better results. These policies may have in fact weakened the condition of the European banking sector.
To soften the impact of the pandemic, European Central Bank (ECB) introduced new measures. The central bank promises to buy 750 billion euros ($815 billion USD) in sovereign bonds this year. The data however suggests that this measure can reach the limit by October this year assuming constant purchasing pace.
ECB might use another powerful tool such as helicopter money if current policy is inadequate. Helicopter money refers to a policy where central banks print additional money and gives it directly to the citizens. The goal is to boost consumer spending, speeding up economic recovery and preventing recession. This idea goes back to Milton Friedman who wrote about it in 1969. Ben Bernanke then revived the idea in 2002. The idea of helicopter money can potentially lead to inflationary consequences. If ECB really takes this step, Gold should find strong bids as a hedge against inflation.
Gold against Euro (XAUEUR) Elliott Wave Chart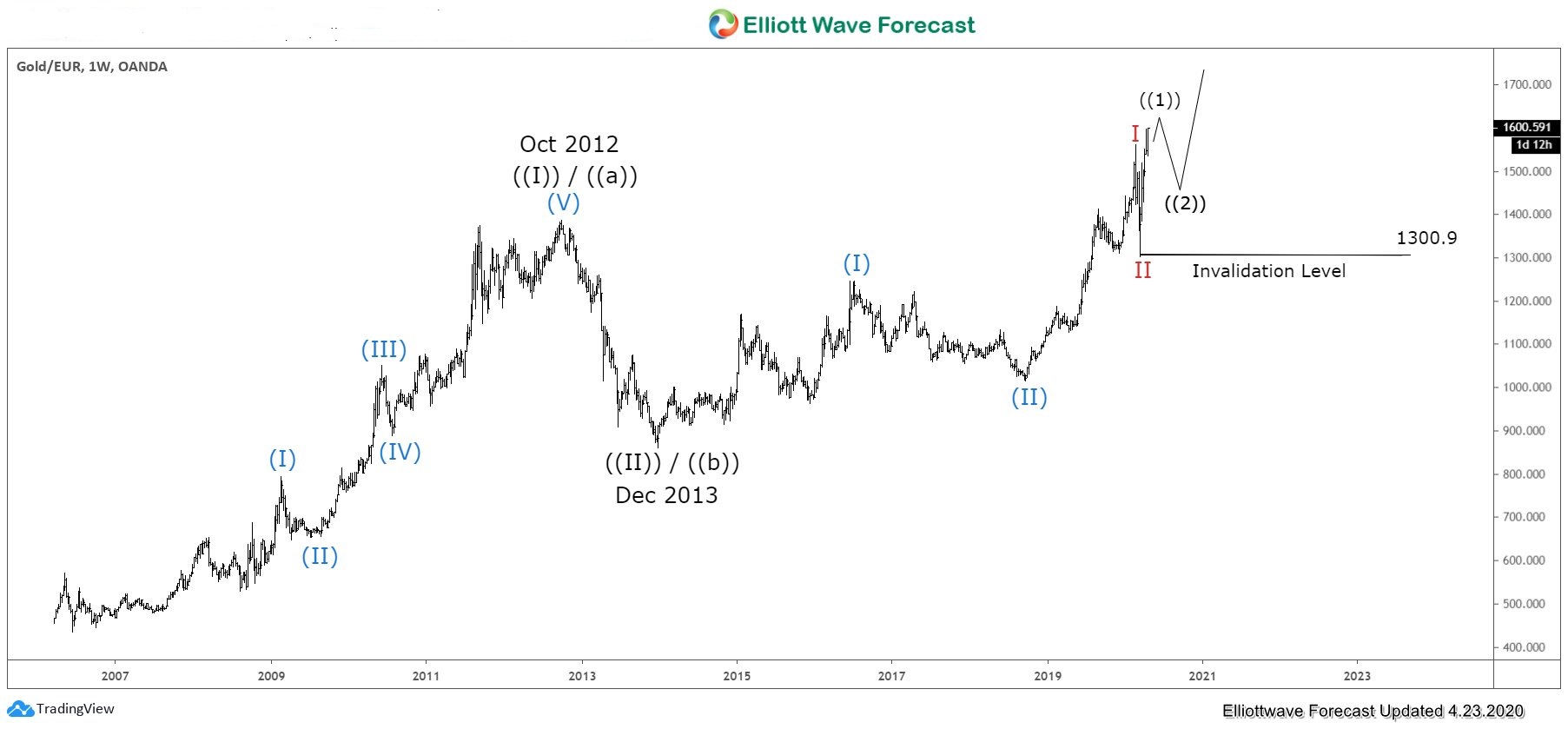 Gold against the Euro dollar (XAUEUR) continues to make all-time high after breaking above October 2012 prior high at $1386.5. Structure of the rally from December 2013 low is unfolding as a 5 waves impulsive structure, favoring more upside. We prefer to continue buying any dips in 3, 7, or 11 swing against $1300.9 in the first degree.
If you would like to check our service, feel free to try 14 days here –> Free 14 days TRIAL. We cover 72 instrument in 3 different groups with live session, daily technical video, 24 hour chat room, live trading room, and more. Welcome to EWF.
Back