In this Technical blog, we are going to take a quick look at the Gold 1 hour chart from Feb 21,2017. In which the bounce from 2/15/2017 low (1216) appeared to be in 5 waves sequence & the bounce was impulsive rather then corrective sequence. Thus suggesting the cycle from 1216 low could be following the Elliott wave Zig-zag pattern. Where the cycle from 1216 low ended at 1242 that we have labelled as wave (a) of the possible zig-zag pattern.  According to Elliott wave theory Zigzag is a 3 wave structure having internal subdivision of (5-3-5) swing sequence. The internal oscillations are labeled as A, B, C where A = 5 waves, B = 3 waves and C = 5 waves. This means that A and C can be impulsive or diagonal waves. The A and C waves must meet all the conditions of wave structure 5, such as: having an RSI divergence between wave subdivisions, ideal Fibonacci extensions, ideal retracements etc. As the cycle from 1216 low to 1242 highs was in 5 waves swing sequence, our Strategy was to buy the 3 swing pullback in wave (b) in between 50-61.8% Fibonacci retracement area between 1229- 1222 (highlighted with a blue box) for the next leg higher into the direction of previous wave (a) or for 3 swings pullback at least to allow our members at elliottwave-forecast to create a risk free position at least. 
Gold 1 hour chart 2/21/2017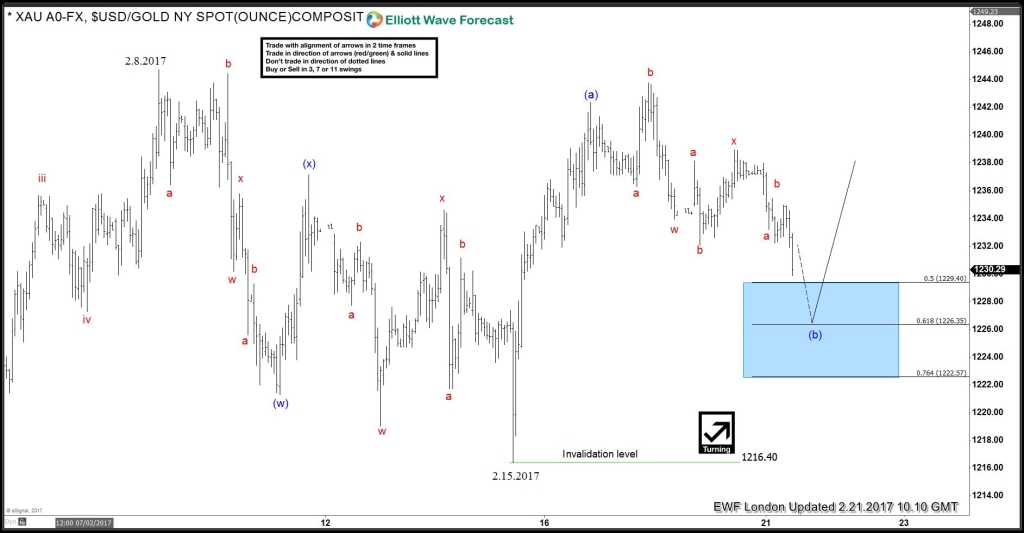 Here's the Gold latest 1 hour chart showing the bounce from 1229-1222 blue box area as expected in 5 waves within (c) higher. Currently metal has reached another blue box area which is a profit taking area and we think the zig-zag structure from 1216 low can end in this area between 1251 – 1267 resulting in a 3 wave pull back at minimum.
Gold 1 hour chart 2/24/2017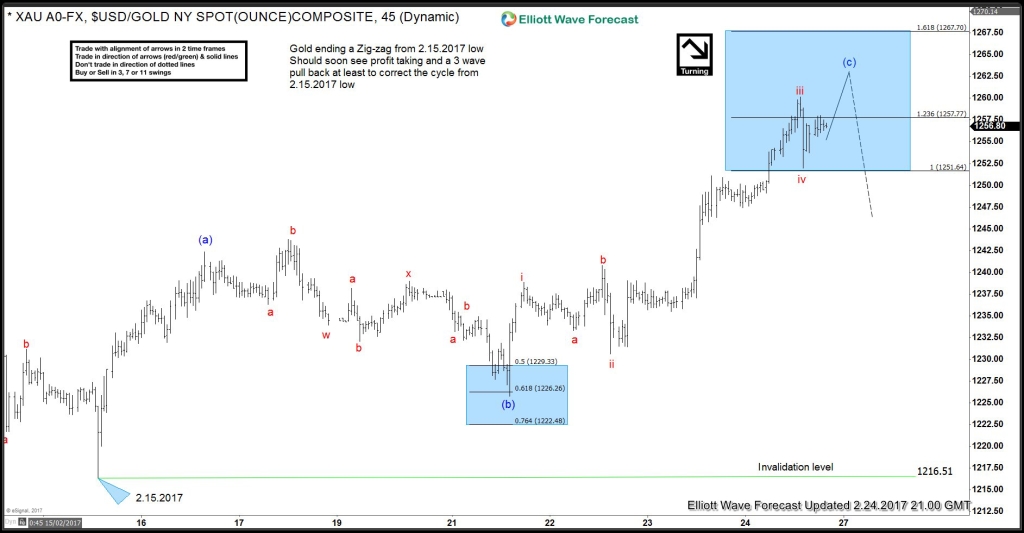 If you enjoyed this article, feel free to try our Free 14 day trial . we provide Elliott Wave charts in 4 different time frames, up to 4 times a day update in 1 hour chart, two live sessions by our expert analysts, 24 hour chat room moderated by our expert analysts, market overview, and much more! Try us out for Free 14 day trial  & starts making profits with us.
Back