In November 30, the OPEC members agreed to cut oil production by 1.2 million barrels causing a 9.3% rally in CL_F. Since then, U.S. crude futures continued to rally and took out the previous high of the year made on October 18 at $50.78. We've suggested that from technical point of view, CL_F is showing a daily Elliottwave sequence of 5 swing, which favors further upside. Below is the chart we posted on Dec 4th article titled "Oil Elliottwave sequence is bullish"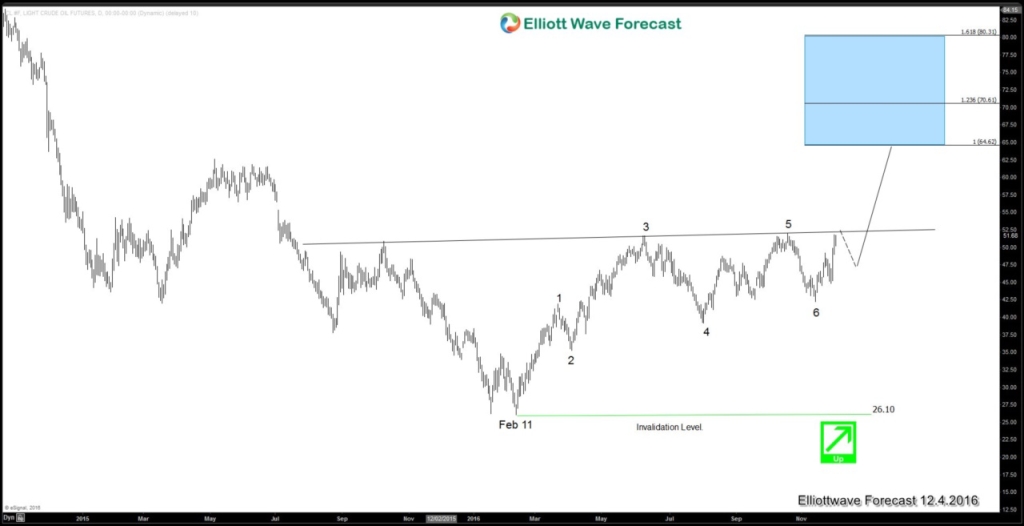 With the break above $50.78, the bullish pattern in Oil has been confirmed. Last Monday, Oil made further advance of $1.33 or 2.58% to $52.83 at the Asia open after a followup meeting last weekend with the non-OPEC members results in further production cut. Over the weekend, a group of big oil producing countries outside OPEC, including Russia, agreed to collectively reduce their output by 558,000 barrels a day. The total reduction of output by OPEC and non-OPEC members now represent almost 2% of the global supply. There was also a report that Saudi Arabia is willing to do a deeper cut than the 486,000 barrel reduction that it previously agreed in the November meeting.
With a sense of urgency from OPEC and now added with participation from Russia, the deal helped to add more fuel to the oil-futures rally. Crude Oil now is trading at the highest level since July 2015 and it is currently sitting above the neckline in what looks to be an inverse head and shoulder pattern above. The production cut deal with start on Jan 1 next year, then the oil producers will meet again in six months to assess the deal. We think further upside in crude oil futures price is likely in 2017, and any pullback ideally stays above pivot at 8/2 low at $39.26.
One currency we believe should benefit from a higher Oil price is Canadian Dollar. Canada is an exporter of Oil, currently constitutes the single biggest export category at 27%. Majority of Oil consumed in the United States in fact comes from Canada. Below we will take a look at the daily chart of $CADCHF: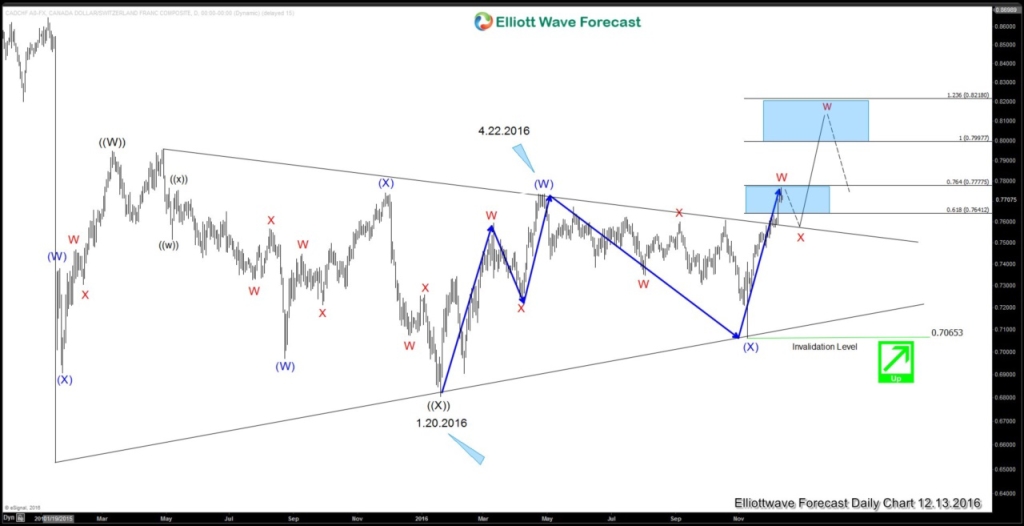 $CADCHF has broken above a 2 years of sideways consolidation from 1.15.2015 low. Pair has further made a new high above the previous peak on 4.22.2016 high at 0.7737, thus forming a 5 swing sequence from 1.20.2016 low (as the blue arrow is showing) and favoring more upside. While pivot at 0.706 stays intact, pair should continue higher towards 0.8 – 0.822 area next. When pair reaches this area, it would also break above previous peak on 4.29.2015 high at 0.7958, which then should form another larger bullish 5 swing sequence from 1.15.2015 low. Pullback therefore is favored to be bought in 3, 7, or 11 swing.
To learn more about Elliott wave and get regular updates on CL_F and other instrument, try our service 14 days FREE here -> 14 days Trial. At EWF, we cover 52 instrument from forex, commodities, and indices. We provide Elliottwave forecast in 4 different time frames, Live Trading Room, 24 hour chat room, live sessions, and much more.
Back